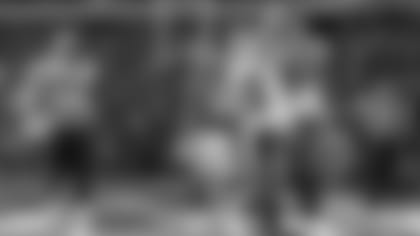 The win moves Carolina to 5-7 all-time against the Eagles, including a 3-4 mark at Philadelphia.
Carolina trailed 17-0 entering the fourth quarter. The comeback was the largest fourth quarter comeback in franchise history. Carolina had twice overcome 17-point deficits in the third quarter in 2004 (San Francisco) and 2003 (Jacksonville).
It marked the first time since 1985 that a team on the road that was held scoreless through three quarters came back from 17 or more points to win in the fourth quarter (Minnesota at Philadelphia - Dec. 1, 1985).
The Panthers scored 21 points in the fourth quarter. For the season, Carolina has 65 fourth-quarter points. Those points were the most scored in the fourth quarter since 10/16/16 when the Panthers scored 21 against New Orleans.
Carolina rushed for 121 net yards, marking the fifth game this season that the Panthers have eclipsed 100 rushing yards. The Panthers are 4-1 when rushing for over 100 yards.
The Panthers defense recorded four sacks, including stops from Mario Addison, Luke Kuechly and Julius Peppers. Carolina has tallied seven sacks in the last two games.
Philadelphia rushed for 58 net yards, the fewest that the Eagles have managed this season.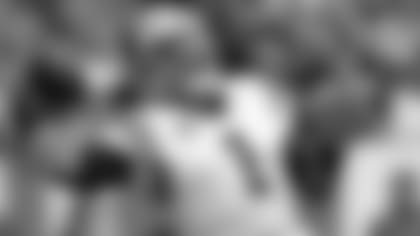 Cam Newton capped his 17th game-winning drive, his second this season, with a one-yard touchdown pass to Greg Olsen with 1:22 remaining. In the fourth quarter, Newton completed 16-of-22 passes for 201 yards and two touchdowns.
Newton rushed for two first downs against the Eagles, passing Michael Vick's career mark of 343 rushing first downs as the most by a quarterback in NFL history. Newton rushed for 49 yards on seven carries in the game.
Devin Funchess tallied 62 receiving yards on six catches, including an 18-yard touchdown reception in the fourth quarter. It marked the second consecutive week that Funchess has a receiving touchdown. Funchess passed Ted Ginn (2,047) for 8th place in receiving yards in franchise history. He also passed Stephen Davis (120) for 10th place in career points scored.
Julius Peppers had a strip sack in the game-sealing fourth down play that was recovered by Kyle Love. It marked the second-straight game that Peppers has recorded a sack and forced fumble. Peppers now needs four sacks to pass Kevin Greene for the third-most sacks in NFL history.
Greg Olsen scored his first touchdown of the season with under two minutes remaining in the fourth quarter that proved to be the game-winner. It marked his 54th career touchdown, tying Wesley Walls and others for 12th place all-time for receiving touchdowns by a tight end.
Carson Wentz went 30-for-37 for 310 passing yards and an 81.0 completion rate. That marked a career high for Wentz and was the 11th-best in the NFL this season.
Sunday's win marked just the second time since 2015 that Carolina has overcome a halftime deficit to win.