CHARLOTTE – Steve Smith enjoyed a reunion of sorts with the Panthers this past season, but his relationship with Charlotte has been a constant throughout his adult life.
"Our kids go to school here. We live here, pay taxes here," Smith said. "I have businesses here. We have our foundation here."
The Steve Smith Family Foundation held its sixth annual Strike Out Domestic Violence Bowling Event at 10 Park Lanes on Saturday. This year's event is expected to raise more than $40,000 for the foundation in support of the Smith Family Wellness Center, which provides medical and counseling services to those in need around the Charlotte region.
The event raised more than $180,000 over its first five years.
"This goes right back into our community," Smith said. "We have a building – something tangible that you can see – and we're constantly raising money to invest into the clinic.
"You don't hear a lot about the clinic because we don't want to make it about media exposure; we want to make it about what we're doing. That's what it's about."
As Smith told the bowlers lined up along 32 lanes for the first of two sessions, the cause is near and dear to his heart. The T-shirts for this year's event posed the question, "What's Your Why?"
Smith offered his personal response to those in attendance.
"What's my 'why'? My 'why' is that we want to help, want to serve this community," Smith said. "My mom is a survivor of domestic violence, and to this day, every single week I seek counseling to figure out what role did I not play or did play in how my mom was abused and the impact that has made on my life."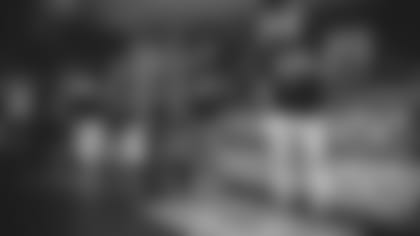 Smith, who grew up in Los Angeles, was selected by the Panthers in the third round of the 2001 NFL Draft out of the University of Utah. He starred, first as a return man and later as a wide receiver, for 13 seasons in Carolina, making five Pro Bowl appearances along the way.
The Panthers released Smith after the 2013 season, and he spent his final three years with the Ravens before retiring after the 2016 season. This past year, at the prompting of longtime linebacker Thomas Davis and wide receiver Torrey Smith – who played with Smith in Baltimore – Smith attended a Panthers practice. Now an analyst for the NFL Network, Smith also attended the Panthers-Saints primetime game late in the season and served as an honorary captain.
"It was good, but I try to do my job objectively. I try to talk about all 32 teams," Smith said. "Coming out to practice, was really unique because I got to hang out with Pep (Julius Peppers) a little bit before he retired."
Ever the competitor, Smith managed to bowl a few frames during Saturday's event despite everything he had going on, but he said he and his wife were considering bowling for their date night later in the evening.
"I'm hit or miss," Smith said of his bowling ability. "A month ago, I'm not fibbing, I hit a 212. And then the second game, I bowled like 101.
"I'm consistently inconsistent. But the 212? Oh man. I was feeling myself."
View photos from The Steve Smith Family Foundation's sixth annual Strike Out Domestic Violence bowling event at 10 Park Lanes on Saturday February 23rd, 2019.