CHARLOTTE — Steve Smith, Sr., has always been one to put on a show.
The franchise's all-time leading receiver did it with 836 receptions and with dazzling runs and ankle-breaking cutbacks on the way to the end zone for 89 career touchdowns (yup, you read that right). And he did it just as effectively with, "Ice up, son."
So when it was his turn to be inducted into the Hall of Honor at Bank of America Stadium Sunday, Panthers fans expected … well, something.
"We laughed and said, 'What is he going to do?'" said fan Tara Manning.
Smith, Sr., approached the mic, pairing his bright new Panthers blue sports jacket with a black NFL Network ball cap, like only he could. As he waited for the crowd's roar to give him an opening, he flashed his trademark smile and brushed away a single tear from his left eye, like it was an NFL defensive back.
He thanked Panthers leadership from past and present, then took the crowd to a fever pitch.
"I never thought I'd be able to wear a Carolina Panthers jersey again," he said. "So I thought … one last time."
With that, Smith, Sr., peeled away his jacket and lifted off his dark shirt to reveal what was hidden underneath — his own white No. 89 Super Bowl XXXVIII jersey.
It was something No. 89 — and only No. 89 — could pull off. The stadium's reaction confirmed that, once again, Smith, Sr., had delivered. And in true Smitty fashion, he closed by saying the next step is to make sure no Panther ever wears No. 89 again.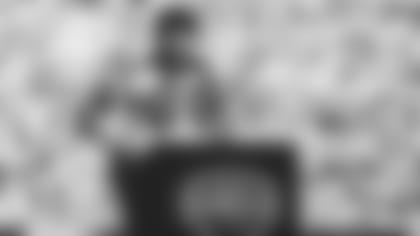 "So we were surprised … but not that surprised," said Manning. "It was awesome. I'm just so happy he got to come home."
Smith, Sr., was back in Charlotte to be inducted into the Panthers Hall of Honor along with teammates Jake Delhomme and Jordan Gross and one of the franchise's earliest stars, Wesley Walls.
Sunday was a day where the Panthers' past collided with its present and instilled its future in a way it never had before. Prior to Sunday, the only player in the Hall of Honor was linebacker Sam Mills, who was added in 1998, five years before his famous "Keep Pounding" speech and untimely 2005 death. This time, there were four Panthers legends there together for fans to recognize, thank and cheer.
Fans like Charlotte's John Derr, a season ticket holder since the team's first season in its home stadium. When Derr worked in retail, Walls was a regular customer and a relatable star who, like everyone else, had electronics to buy. Derr arrived on Mint Street Sunday in a Walls jersey he's had for two decades. He breaks it out at least once a season, and Sunday was the clear 2019 option.
Walls, a five-time Pro Bowl tight end, was the first to address the fans at halftime and showed his emotions through his dark sunglasses. He said it took him seven pro seasons to find a football home, but he found one in Carolina.
"I'm honored to have my name in this stadium," he said.
Gross, a three-time Pro Bowl offensive tackle, was next. He spoke of growing up with a dream inside of him and encouraged those in the stadium to pursue theirs by quoting the Avett Brothers' lyric, "decide what to be and go be it."
Delhomme, the quarterback of Carolina's first Super Bowl team, found it ironic to be honored at halftime of a Panthers game against Jacksonville, as it was during halftime of Carolina's 2003 season opener against the Jaguars that he was first pressed into duty. That day, he hit Ricky Proehl for the game-winning touchdown with 16 seconds left and set the team on course for its first championship appearance.
"This is the greatest sports day of my life," he said.
Charlotte transplant Alex Smith was one of the fans wearing Delhomme's No. 17 jersey Sunday. He attends most home games and always liked the way Delhomme played, despite not being the most talented signal caller in the league.
"He was high-energy and got everybody going on the same path," said Smith.
Delhomme did some more quarterbacking Sunday.
After the players' black and blue signage was unveiled in the stadium's northwest corner, the media scattered and the crowd began settling in for the third quarter, Delhomme pulled the other three honorees together for a private moment as they walked off the field.
The four locked arms, pulled one another close and spoke quietly, like they had a secret play-call. With wide smiles and pats on the back, they broke from their first official Hall of Honor huddle and left the field.
But those four names will remain alongside Sam Mills above the northwest corner of the stadium forever.
View photos from the halftime ceremony where the Panthers inducted Steve Smith Sr., Jake Delhomme, Jordan Gross and Wesley Walls into the team's Hall of Honor.