Taylor Zarzour has done it, but never quite like this.
(There's a reasonable chance nothing is going to be quite like this.)
Still, there's an immediate sense that the retired wide receiver and the veteran broadcaster will be able to pull this next gig off, since they workshopped one of the most memorable quotes in franchise history in Zarzour's South Charlotte living room.
Zarzour will be the new play-by-play announcer for the Panthers TV Network, and Smith Sr.'s returning to the team as his analyst, joining sideline reporter Kristen Balboni for the 2021 preseason.
It's a reunion for Zarzour and Smith Sr., going back a decade to their shows together on local sports talk radio station WFNZ, where they began building the rapport they hope to share with viewers this summer.
Smith Sr. currently works as an analyst for NFL Network, and has done pregame and postgame and halftime spots, but has never called a game. He'll be able to rely on Zarzour's experience calling college football for the SEC Network, but the two of them have the kind of years-long connection that gives them an advantage other first-time crews don't share.
When the two of them get together, they're often talking about dad stuff — golf, upcoming vacations, kid birthday parties. It's clear they know each other well enough to finish each other's sentences, but it took the two of them some time to craft one of Smith Sr.'s all-time broadcast moments.
They laugh as they recall the birth of a viral video, which began as they were watching the AFC Championship Game between the Ravens and the Patriots at Zarzour's house on Jan. 20, 2013.
Ravens wide receiver Anquan Boldin was expected to be a tough matchup for Patriots cornerback Aqib Talib that day, but it didn't last long. In the first quarter, Talib left the game with a hamstring injury.
Smith Sr., ever the competitor, suggested that Talib's injury might have been related to the way things were unfolding early in that game.
"Anquan was beating him, and that hammy got tight," Smith Sr. joked. With Talib out of the game, Boldin caught a pair of fourth-quarter touchdowns to propel the Ravens to the Super Bowl.
Smith Sr. filed that moment away — as he does all things — and it came full circle the following November. Smith Sr. worked over Talib in a Monday Night Football appearance at Bank of America Stadium, a game Talib wasn't able to finish, and Smith Sr.'s celebration of the 24-20 win wasn't going to pass without him twisting the knife.
Approached by the NFL Network's Albert Breer after the game and asked about the chippiness between the receiver and cornerback during the game, Smith Sr. replied: "I don't know, you need to go ask him because he didn't finish the game — Ice up, son."
To say that became a moment understates it, and Zarzour immediately recalled the context. He also laughed when Smith Sr. showed up for his regular appearance on Zarzour's WFNZ show the following Wednesday wearing a T-shirt with the slogan. "He stored up that information, Zarzour said. "And when he needed it, he had it right there."
"Talib was covering Anquan, and when he went out, we started having a conversation about why and how of the matchup," Smith Sr. recalled. "It's funny, the following year when we played the Patriots and I said that, Taylor called me, and he said, 'You called it.'"
Of course, that's just one example of Smith Sr.'s legacy as one of the game's all-time grudge-holders.
But it also speaks to the way he prepared for games as a player, and the way he plans to get ready for his job as an announcer. Smith Sr. and Zarzour are making plans to attend minicamp and training camp practices, building up the kind of background information they'll need for their preseason broadcasts. As glamorous assignments go, watching practices in June and July might not qualify, but it's the kind of groundwork Smith Sr. has always laid in, whether it was as a player, a businessman, or a broadcaster.
His commitment to preparation is only matched by his curiosity, as Smith Sr. wants to know everything and isn't afraid to take the hard road to learn it.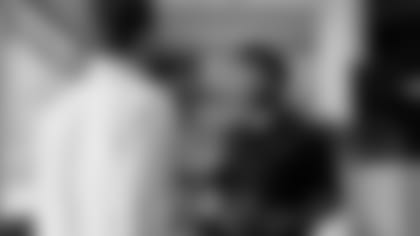 A third-round pick out of Utah, Smith Sr. was a glorified return man his rookie year (though the glory came quick when he took the opening kickoff of the 2001 season for a touchdown in Minnesota). After he became a star, he continued to pay attention to details on and off the field, interning with Merrill Lynch to learn about the financial industry, allowing him to learn more and more.
So when Zarzour, then hosting the afternoon drive show at WFNZ, approached Smith Sr. about a role at the station, he was surprised when the NFL star demanded to be allowed to answer the phones first.
"I mean, when he started with me at WFNZ, he insisted on being Intern Smitty," Zarzour said. "Before he'd agree to go on the air with me, he had to know how the show worked, the mechanics of it, and all the details."
Once Smith Sr. put that background work in for a few months, the two embarked on a series of twice-weekly conversations that Zarzour called "the most fun I ever had at the station."
"I mean, I had the greatest player in franchise history as my sidekick," Zarzour said. "Over the years, it just developed, and it got to the point where we treat each other as brothers. . . .
"So when this opportunity came up, I called Steve, and I said, 'I'm in if you're in.'"
Zarzour comes with an impressive resume of his own. After his days in local radio, he left for SiriusXM Radio, where he now manages and hosts on the PGA Tour Radio channel. He also does games for the SEC Network, and was on the call for Texas A&M's seven-overtime win over LSU in 2018.
Clearly, he knows how to keep a broadcast moving, and how to adapt on the fly.
Smith Sr. clearly respects Zarzour's experience, and will defer to it in terms of the mechanics of the broadcasts. But their relationship is such that it's still a give and take, and allows them to bring the best out of each other.