CHARLOTTE – Taylor Heinicke had so many reasons to call it a day.
But in his mind, there were too many reasons not to.
Sunday's game against the Falcons was his first NFL start, his first chance to truly prove himself to his teammates, to management, to everyone.
So despite the fact that a left elbow injury hampered him and the fact that the Panthers had little to play for with their seventh consecutive loss looming, Heinicke played on with his teammates.
"I want to be out there for those guys," Heinicke said, fighting off the emotion in the moment. "Those guys are awesome and they believe in me. I wanted to give my all for them.
"I wasn't coming out of that game."
Hit after hit. He played on.
A wince, a deep breath and then back to the huddle to call the next play.
"He was gutting it out," head coach Ron Rivera said.
Rivera checked on him a couple times in the second half to see if Heinicke felt he couldn't physically carry on. The answer was the same every time. It was always going to be the same.
"He kind of gave me a nod that he was OK," Rivera said. "So we left him in there."
When it was all over, Heinicke had thrown 53 passes (third-highest total in team history) and completed 33 of them for 274 yards in Carolina's 24-10 defeat. That number of attempts and completions surpass Cam Newton's career highs of 52 and 32 respectively.
After fumbling (and recovering) the first snap of the game, Heinicke moved the offense down the field and tossed his first career touchdown to give Carolina a 7-0 lead. Heinicke rolled to the left and threw up a pass to rookie tight end Ian Thomas, who went up and made the play for his first career touchdown reception.
"I was just trying to extend the play as long as possible," Heinicke said. "I saw Ian looking right at me and I gave him a shot."
It was a moment of pure joy as Heinicke let the rookie tight end keep the touchdown ball.
But then the fairy tale took a turn.
A scary moment came in the second quarter, a moment Heinicke said felt like déjà vu. On third-and-13, defensive tackle Grady Jarrett roughed Heinicke, who landed awkwardly on his left arm. His immediately grabbed his elbow in pain and moments later he jogged into the locker room.
It looked like his big day was done.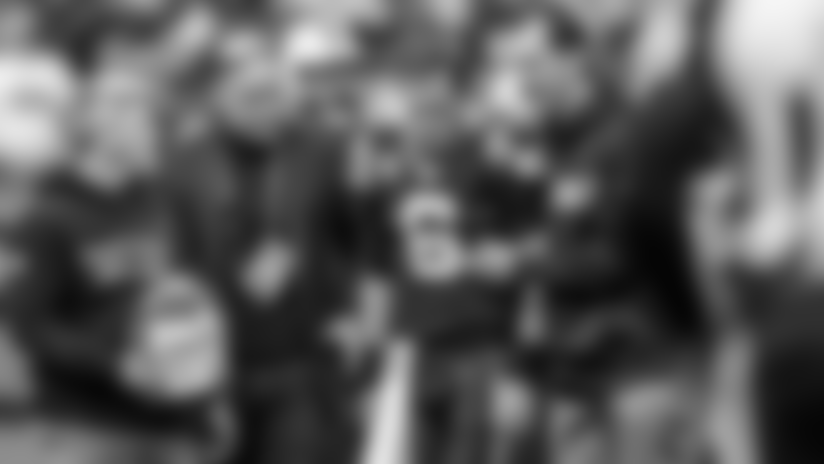 "It hurt, obviously," Heinicke said. "I had to go back (to the locker room) and get some things done. But that's football."
Last year, when Heinicke was playing for the Texans, he stepped in when injured starter T.J. Yates left the game due to a concussion. Heinicke played one full series before leaving the game with a concussion of his own.
"Christmas Day, Houston throws me in there and I'm moving the ball and then I'm out," Heinicke recalled. "I wasn't going to let that happen again. I waited too long. I worked too hard."
So, after undrafted rookie Kyle Allen held it down for a handful of plays, Heinicke returned to action late in the second quarter with a big brace covering his left arm.
"He wanted it," left guard Greg Van Roten said. "You want to fight for a guy like that who is going to give you everything he's got."
"He's a battler," right tackle Taylor Moton added. "He cares about everyone on the team. He was going to do everything he could to be in there with us. I'm proud of him."
But moments after going back into the game, Heinicke made a costly mistake.
"Those red zone mishaps," Heinicke lamented.
On second-and-goal from the 4-yard line, with the game tied 10-10, Heinicke rolled right and tried to connect with wide receiver Curtis Samuel in the end zone. But Falcons safety Damontae Kazee, who was pressuring Heinicke, got a hand on the pass and defensive end Jack Crawford reeled in the interception.
"I saw Curtis pop open, and I thought I could just kind of stick it to him," Heinicke said. "The ball was too low and it got tipped.
"A little more air, and I thought we had an easy touchdown."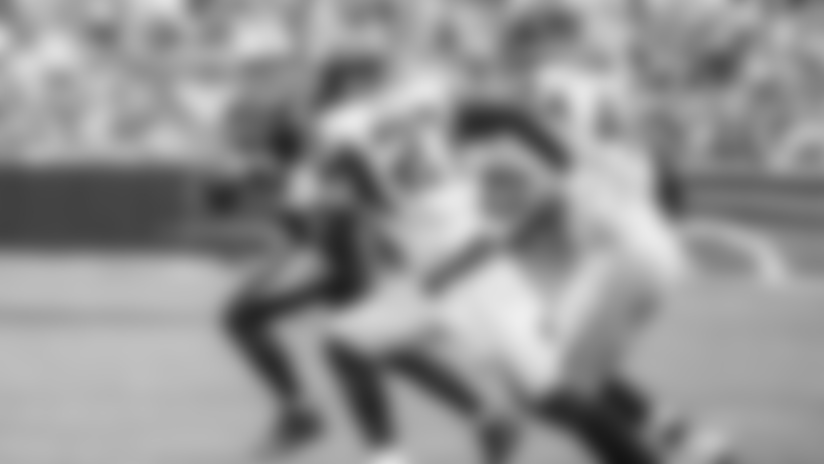 Heinicke would throw two more interceptions, and the Panthers would finish 1-for-4 in the red zone while being shut out in the second half. They moved the ball well but had no points to show for it.
"Unfortunately," Rivera said, "down in the red zone we didn't have anybody able to make a play."
As the game wore on, and the Panthers kept throwing, Heinicke was laboring. The Falcons registered eight quarterback hits, each one appearing more painful than the last.
His final throw of the day was intercepted in the end zone, and he took a huge hit in the process.
Heinicke made his way to the bench and hunched over in pain. Running back Christian McCaffrey, who has taken his fair share of punishment this season as Carolina's workhorse, sat next to his quarterback and put his arm around him.
Heinicke lost his first start. The Panthers lost their seventh straight.
But did the underdog quarterback win over his teammates? The answer to that is a resounding yes.
"The guy has got a lot of heart. You saw the hits he took," McCaffrey said. "Kept getting up and kept leading us. You can get behind that. That meant a lot to all of us. I've got that guy's back and he know he's got mine.
"It's powerful when you continue to fight no matter what."