CHARLOTTE – Just a couple of hours into his first of what will become countless hours spent at Bank of America Stadium, there were still quite a few things that Brian Burns didn't yet know.
He doesn't know what jersey number he'll wear. Doesn't know how to pronounce Luke Kuechly's name.
Among the things he does know? Burns knows that he can't wait to play with Kuechly and can't wait to play against quarterback Tom Brady.
"Tom," Burns said before a reporter could even complete his question at Burns' introductory press conference regarding what quarterback he most wanted to sack. "I mean you just gotta go for the GOAT. He's the greatest of all time. So I'm going for the big dog."
Burns, selected 16th overall by the Panthers in the first round of the NFL Draft on Thursday night, could probably use a pointer or two from Kuechly if he hopes to bring down Brady.
"My brother (former Panthers defensive end Stanley McClover) talked about how he used to play with Dan Morgan, and he said that Luke is a lot like Dan," Burns said. "He said Dan used to call out the plays before it even happened, and Dan was so relentless and crazy. I need someone like that behind me, on my side."
Burns said he understood that Kuechly had texted him, but Burns said he hadn't actually received the text. Perhaps that's because the superhero junkie, sporting a unique pair of Spider-Man socks for the second consecutive day, uninstalled Twitter and has generally steered clear of his phone until he finds time to watch the just-released movie "Avengers: Endgame."
In addition to quickly getting Brady's name out and struggling to get Kuechly's out, here are some other high points from Burns' media availability.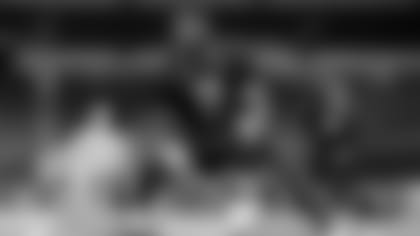 Weighing in on his physique: Burns called himself the most versatile pass rusher in the draft class, known first and foremost for getting after the passer but also capable of dropping back to defend the pass. But some question how well he could pass-rush in the NFL weighing close to 230 like he did at Florida State but also whether he could help in coverage if he put on weight.
Burns isn't among those expressing concern.
"Not really. As long as I put it on the right way," Burns said. "Eat the right food. Do the things necessary to keep it, I don't think it will be a problem. I've already put on 20-something pounds in the last two months. And that didn't slow me down."
Eating a diet in the 5,000-a-day calorie range, Burns weighed in at 249 at the NFL Scouting Combine but still ran a 4.53 in the 40-yard dash.
"He was 249 at the combine, he was 242 at the pro day and I think he's probably going to be around that weight," Panthers general manager Marty Hurney said. "This is a young kid whose body is going to mature and he's going to get in our strength program and he's going to get stronger and bigger."
Making big plays come natural: When Hurney and head coach Ron Rivera addressed the Burns pick Thursday evening, Rivera regaled how Burns is a player who shows up at winning time as opposed to garbage time.
What is Burns' oldest memory about stepping up?
"My senior year (at American Heritage), we were playing DeMatha and it was a tight game," Burns said of a game in 2015 between the national powers. "They were on the goal line, and on three plays back-to-back-to-back I got a sack, a tackle for loss and then I blocked a field goal and we scooped it up and ran it back about 40 yards on so. We still lost that game, but we should have won it.
"It was a great series of plays. One of our younger players stepped up to me and said, 'Whatcha going to do?' And I was like, 'All right, I got you.'"
Burns made a habit of making big plays at FSU, an ability he hopes to translate to the NFL.
"At the end of the day, it's just what you do. I've been doing this all my life, so it is what it is," Burns said. "It's the hard work you put in and you get those kind of results – that's what makes it worthwhile."
Week 1 starter material? Burns was flat-out asked if he expected to be in the starting lineup for the Panthers' regular season opener. He doesn't lack in confidence, calling his ceiling "limitless," but he also understands it's too early to answer that question.
"I mean, I wouldn't say no, but that's in due time," Burns said. "I just have to get in here and get the system, get everything down where the coaches trust me and then let everything take place after that."