SPARTANBURG, S.C. – At the end of most training camps during his tenure, head coach Ron Rivera has offered up the name of a player as his MVP.
His MVP this year isn't a player – by design.
"I got a good one: the trainers. I loved everything they did. I thought they were on top of their game," Rivera said Monday when the 13th and final practice at Wofford (the 14th practice during camp counting Fan Fest in Charlotte) wrapped up. "I'm dead-serious because we had some days that were unusually hot."
When pressed for a player, Rivera punted.
"Too many guys came in and worked hard. To single out people at training camp, as I looked at it and reflected, I don't think that's a good idea," he said.
Rivera did say that the overall element of camp that most caught his eye was the improved team speed on display, and he offered his overall assessment of where the Panthers stand as they break camp and head back to the Charlotte to continue preparations for the season.
"We had to integrate three new coordinators and try to get those things going, and I thought those things went really well. I was very pleased with what we did on special teams, offense and defense," Rivera said. "I just like how things are headed in a good direction. We're trending in the right way.
"We still have a lot of work to do – these next three preseason games will tell a lot as far where we are as a football team – but overall I was pleased with it."
-Rivera wasn't as pleased with how quarterback Cam Newton performed the last couple of days of camp, but he understood his recent inconsistency as well.
"I just know that we were working on a lot of different things, putting a lot of different stuff in," Rivera said. "And sometimes you have days like that. Sometimes they run back-to-back. Sometimes it's time to get a break, and that's what we've got now – a nice day-and-a-half to get away for everybody to relax and get past everything."
After a day off Tuesday, the Panthers will practice Wednesday back at Bank of America Stadium.
-The most full-speed work Monday came during a period featuring the two-minute drill, and the defense victimized Newton right off the bat. Cornerbacks Captain Munnerlyn and Donte Jackson intercepted Newton on back-to-back plays to start if off, after which Newton ceded the field to the backups before getting another shot.
His third drive featured four consecutive completions. The goal of the period was to work into field goal range, and that's what Newton and the offense did, setting up Graham Gano to bang through a hurried 40-yard field goal as time expired.
-Taylor Heinicke was at the helm for the other two-minute drive and it didn't last long after he hit rookie receiver DJ Moore behind three defenders for what would have been a 48-yard touchdown. Moore went down at the 6-yard line but wasn't touched down there by a defender (it was debatable how hard the defense was going on the play), but the ball was marked at the 6 so Gano could get in a kick.
-Newly added corner Alex Carter picked off Newton in an earlier team period where the sides weren't going full speed all the time, but a couple of plays later Newton and receiver Curtis Samuel got the better of Carter. Samuel followed with another catch deep downfield on the next play from Heinicke, exclaiming, "I've got enough in my tank," as he trotted back toward the line of scrimmage.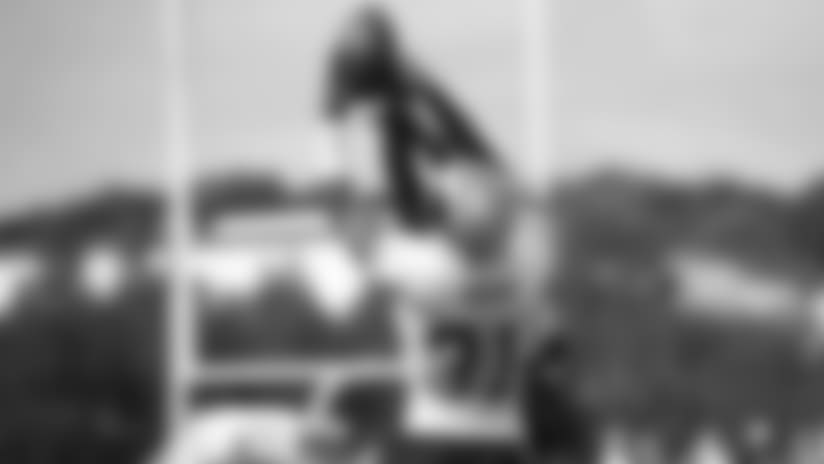 -The period didn't feature players going full speed all the time, but when Newton tried to zing a pass toward the sideline for Moore, the rookie and corner Lorenzo Doss did go hard after the high ball. Moore had inside position but couldn't quite haul it in, and neither could Doss given a chance to make a tough interception.
At the very end of practice, Doss was victimized by a sweet catch by receiver Jamaal Jones and then by his fellow cornerbacks for the fact that he didn't record an interception at camp. Doss answered their jabs in much the same way he addressed Panthers.com the previous day, saying he racked up pass breakups even if the interceptions didn't come to him like they did during the spring.
-The corner group Monday included Corn Elder, who practiced for the first time since last Thursday's preseason opener. All the other usual suspects remained out of practice, though some should return in time for the Panthers' preseason home opener Friday against the Dolphins.
-The final practice of camp was cut short after the players earned the opportunity to head home early courtesy of some unlikely contributors on special teams. Here's more on the Panthers' newest punt returners.
View photos of the final day of practice at Panthers training camp.