CHARLOTTE – Back in the preseason, linebacker Luke Kuechly walked into the locker room after a sweltering practice and couldn't help but smile.
He was looking over at the defensive backs, where safety Tre Boston was holding court for an audience, as he's known to do. Boston was dancing, rapping and making teammates around him laugh hysterically.
"Man," Kuechly said aloud. "Feels like 2015 in here again."
Boston was a second-year safety on that magical 2015 Panthers team that advanced to Super Bowl 50. The fourth-round draft choice from UNC spent one more year in Carolina before the team waived him and he took his talents to the Los Angeles Chargers and then the Arizona Cardinals.
Then Boston and the Panthers reunited during training camp. Carolina needed safety help and Boston was waiting for the right opportunity to come along.
When Boston signed, everyone was excited about his level of production – eight interceptions and 122 tackles over the past two seasons. He communicates well and is a dependable presence in the back end.
But the eccentric Boston, now a veteran in his sixth season, brings a lot more to the locker room.
That's a big reason why Kuechly was so excited when he learned Boston was coming back.
"He has such a big personality and he brings so much positive energy, and it's real. Just look at him," Kuechly said, motioning in Boston's direction. "Never in a bad mood. He's always like that. Guys feed off that. Everyone around him is always smiling."
Fellow defensive back Colin Jones has been Boston's teammate for four seasons now. How would he describe him?
"Do you want the short version?" Jones said with a laugh. "It would be endless energy. And never at a loss for words."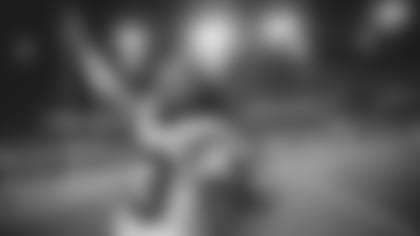 Boston is always hype. Always.
Seriously, ask around the locker room and teammates will say they've never seen Boston have an off day.
"Never. He's always on 10 around here. I've never seen him any other way," cornerback James Bradberry said. "When you go to work – wherever that is – sometimes you might not be feeling too good. But Tre is going to bring your spirits up no matter what. The confidence he brings and the humor that he brings – that's really good for the locker room."
It starts in the classroom, where things can become a little mundane.
"We have a lot of quiet guys in our DB room, so he complements the coaches in there," Jones explained. "Tre brings a fun element."
Then Boston takes the enthusiasm to the practice field, rain or shine, full pads or shells.
"It starts with your attitude. Coach Rivera talks about that every single morning: attitude, preparation and effort. (Tre) really personifies that," defensive coordinator Eric Washington said. "He brings a lot of energy, the guys feed off of that, and we have a saying in the defensive meeting room, 'We are the energy.' That does not fall on one person, but we can always depend on Tre to give us an infusion of that kind of positive juice."
Boston says he's always been this way, going all the way back to elementary school. He relishes the chance to bring people up, and his positivity is a constant.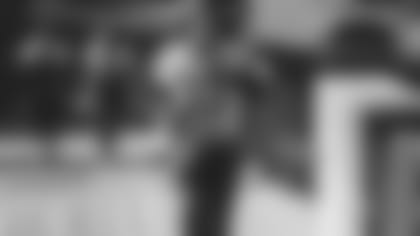 "It goes back to the way I was raised. My mother raised me to be glass half-full guy," Boston said. "Look, not everybody feels like putting the pads on every day. Well, my job is to get the energy and emotion going so when we get back on the field it's time to go. That's important. I love doing it.
"We're all human, and some guys are going to come in a little quiet some days. The guys expect me to be the same every day."
So yes, this is naturally who Boston is. But the safety is also very much aware of the effect his personality – and his antics – have on the locker room.
"I am conscious of what I'm doing because I know how that can bring a team together. I know how to build that bond," Boston said. "I've been on teams that didn't have that little sparkplug to get everybody together – even in conversations.
"When I'm in the locker room having fun dancing or rapping, you see the O-linemen way down there enjoying themselves and walking over trying to get on it, Cam and quarterbacks come over, we've had C-Mac come by. There are times when you have everyone feel like we're all brothers and all know each other. I've always made that kind of my job because I know what it can lead to.
"2015 wasn't a mistake," he added. "Guys truly cared about each other. That was a tight-knit team."
Boston admitted he took a little time to get reacclimated after joining the team in the middle of training camp. He had missed the offseason program – a prime time for team bonding. But it wasn't long before Boston was turning things up from his locker stall.
"They definitely think I'm a little crazy," Boston said, "but you have to be to play this game and bring the juice every day. I just try to give it to my guys."
Boston loves nothing more than juicing up his guys on game day.
He has yet to record a takeaway himself, but he's always first to celebrate when a member of the defense commits an act of thievery.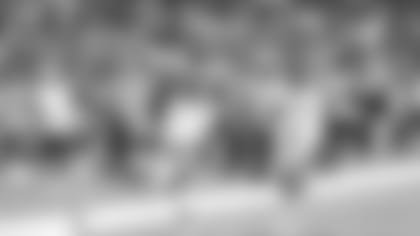 "I don't think anybody has been more excited or happy after an interception than Tre, and he hasn't gotten one yet," defensive tackle Gerald McCoy said. "You would think he has a million this year because of how happy he is for everybody around him. That's what being a family, being a great team is."
Carolina, 4-2 after an 0-2 start, has rebounded due in large part to the takeaways on defense. The Panthers have forced 15 turnovers – second-most in the NFL.
"My young jackals are out there getting some loot," Boston said. "I have to be patient. But now I'm going to come in with the grand scheme for some big thievery."
And we're all waiting to see what that celebration will look like.
"I can't wait for him to get a pick," Kuechly said with a smile. "So ready for it. It's going to be hysterical."