CHARLOTTE – Before Wednesday, Trey Rice thought he knew everything there was to know about the players on his favorite football team.
"Anything that has to do with Carolina, he's in," said his father, Tim. "He loves it. He breathes it, sleeps it."
Now Trey literally knows the Panthers.
The 13-year-old's dream of being a Panthers player for a day came true at Carolina's minicamp thanks to the organization and the Make-A-Wish Foundation.
So what does Trey now know about some of his favorite players, like wide receiver Devin Funchess, who wears the same number 17 that he wears for his middle school team?
"He's a kid. He's crazy," Trey said. "Him and Kelvin (Benjamin) and Corey Brown, they're a mess."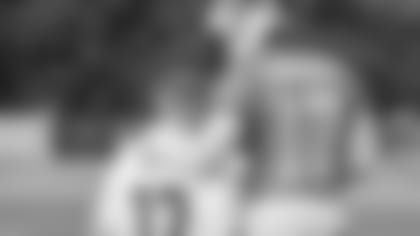 Trey, who lives about an hour north of Bank of America Stadium in Troutman, N.C., was diagnosed with Hodgkin's Lymphoma in March of 2015. After several months of intensive treatment, doctors proclaimed nearly a year ago that the cancer was in remission.
"He's good. The biggest thing is to get through this first year," his father said.
"It certainly wasn't easy watching him go through chemo treatments," said Mindy, Trey's mother. "But the support that we've had from the community, our friends and family, Trey's friends who play sports with him has been incredible – really football is family.
"We found out about his wish a year ago. The wish wasn't granted during his treatment, but he would sit in that room during his treatments with his buddies who took turns going with him and would daydream about what it would be like."
Wednesday, Trey's dream became reality.
"It's been good," he said. "I was nervous coming in, but I felt more comfortable once I got into the locker room."
After signing his contract with his 9-year-old brother, Mason, and getting ready for practice with a helping hand from linebacker Luke Kuechly, Trey walked to practice with linebacker Shaq Thompson. Trey, who played for his middle school team last year even as he continued to regain his strength following his ordeal, looked like he belonged out on the practice field.
"He was fun to have out there," Kuechly said. "He went through all the drills with us, the tackling drills and everything. It's just as much fun for us as it is for him."
That sentiment certainly resonated with Trey and his family on a day they'll never forget.
"These guys have embraced him like he's one of them," Mindy Rice said. "He was nervous coming in, but once these guys got to him, he just fit right in and was cutting up."
View photos of Make-A-Wish grantee Trey Rice as he goes through a Panthers practice.