CHARLOTTE – In one form or another, head coach Ron Rivera made mention of an even dozen defensive players in his day-after press conference.
Wes Horton, to no one's real surprise, wasn't among the 12. But Horton absolutely belonged on a short list of defensive players that keyed Carolina's season-opening victory over the Cowboys.
"I just tried to make the most of my opportunity whenever my name was called," said Horton, who recorded 1.5 of the Panthers' six sacks in their season-opening victory over Cowboys. "I've had plenty of years where I didn't get those opportunities, so now that I have that, it's vital for me to make the most of it."
Horton is far and away the least heralded member of the Panthers' vaunted defensive line, yet for the second time in three years, he's a starting end for it. And he started things out right Sunday with a play much more subtle than the sacks he eventually had, acting as a selfless run stopper in a way that helped him earn his starting role in the first place.
"Wes will do things that don't necessarily show up on the stat sheet," defensive coordinator Eric Washington said, noting Horton's contribution on a tone-setting 1-yard loss for running back Ezekiel Elliott on the game's first play. "Wes slanted into the B gap and took on two blockers – a tackle and a guard – and then David Mayo was able to scrape clean and make the play. That's extremely important to how that play concluded.
"That's what you get from Wes."
And while that's valuable to be sure, when that was basically the extent of Horton's contributions in Carolina, he suddenly found himself no longer in Carolina.
Signed as an undrafted rookie in 2013, Horton has been waived by the team three different times – twice during the Super Bowl year of 2015 and once the next year.
He nearly signed with the Vikings practice squad upon his second departure in 2015 before instead landing back on Panthers' practice squad for their Super Bowl run.
The next year, he was waived the day after making the regular season roster when the team claimed defensive end Lavar Edwards off waivers. Horton was out of the league for more than a month before the Panthers re-signed him while waiving wide receiver Damiere Byrd (Byrd was signed to the practice squad two days later; Edwards was waived two days after that).
"I had a workout with the Saints and they really liked me. If there was a spot available, they were going to take me," Horton said. "Shortly after that, the Panthers signed me back.
"Probably two out of the three times I thought for sure my time in Carolina was up. But they kept sticking with me."
Why did the Panthers nearly give up on Horton on multiple occasions, and why did they ultimately opt to give him more chances?
"I think then I was labeled as a run stopper – first and second down," he said. "In this league if you're one-dimensional, you're leaving it up to chance.
"Over the last couple of years I've gradually improved my rush. I still have a ways to go, but the coaches trust me to be out there on third down."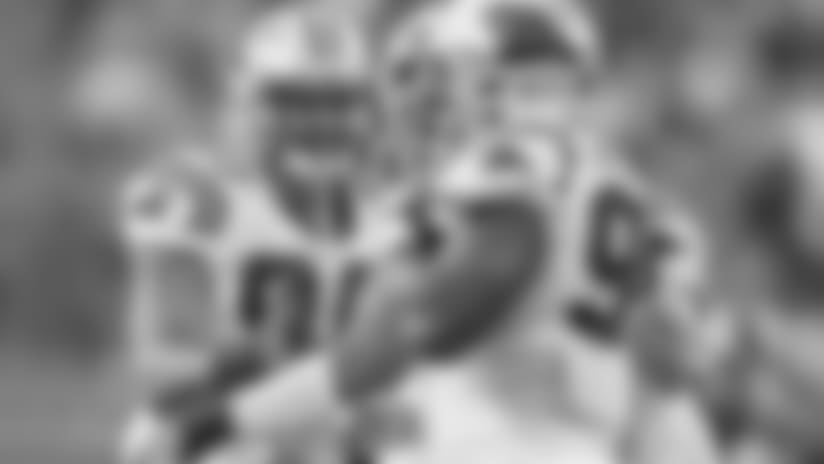 Upon his return to Carolina five games into the 2016 season, Horton took Kony Ealy's spot as starter across Charles Johnson and got back to his run-stopping ways. But late in the season he showed another side, recording a crucial strip-sack in a Monday Night Football victory at Washington - the statistical start of Horton becoming more than a run stopper.
Coming off the bench last season, Horton recorded four more strip-sacks. That gives him five over his last 20 games, tied with Chris Long of the Eagles and Yannick Ngakoue of the Jaguars for the most in the NFL over that stretch.
Even with that gaudy accomplishment, Washington credits something subtle.
"Position fundamentals – that's not a sexy answer, but it's real in our business in terms of a guy being able execute and do his job at a high, high rate of efficiency," Washington said. "And like with Mario (Addison), Wes has grown. First of all he's taken it upon himself to really continue to develop and work on the things that you have to do to be productive in this particular system and scheme.
"He just works at it and has grown. He doesn't take anything for granted."
Being out of work three times can have that effect.
"For me it was about not putting myself in that position again, working hard every day in practice and just growing," Horton said. "I just stuck with it and told myself, 'I am good enough to be out there on the field.'
"With the coaching staff we have and how hard they push us, it's just a matter of having the right mindset, playing hard and giving yourself every opportunity."