CHARLOTTE – A mere three weeks ago the Carolina Panthers were in a very different place.
Back to back home losses to open the season, an ailing quarterback and inconsistencies on offense had the season dangerously close to spiraling out of control just two games after it began.
But then things changed. Backup quarterback Kyle Allen entered the lineup, the offense started clicking thanks in large part to running back Christian McCaffrey's do-it-all mentality, and the defense began racking up sacks and timely takeaways left and right.
This week, the Panthers will once again square off with the division rival Buccaneers – the last team to beat Carolina before they began their three-game win streak. Last time the two teams met, everything that could go wrong for the Panthers, did go wrong. But still, with just over a minute remaining in the game, Carolina had a shot at victory, until McCaffrey came up inches short on fourth down deep in Tampa territory.
So far, that Week 2 defeat has been the only blemish on McCaffrey's otherwise otherworldly season. In four of the five games this year, he's recorded over 175 scrimmage yards, even crossing the 200-yard mark twice. But against the Bucs in Week 2, he was held to an uncharacteristic 53 yards from scrimmage and no touchdowns.
As deceiving as Tampa Bay's reputation may be this season, their run defense is the real deal, ranking third in the league in rushing yards allowed.
"This is a good defense," guard Greg Van Roten said. "They're no joke. They play really well, they're fast, they're aggressive, agile. They're kind of scary to look at up front, honestly."
That was certainly the case in that Thursday Night Football matchup. On top of collectively shutting down one of the league's best running backs, Buccaneers' edge rusher Shaquil Barrett was wreaking havoc. Barrett leads the league with nine sacks, and three of those came against the Panthers.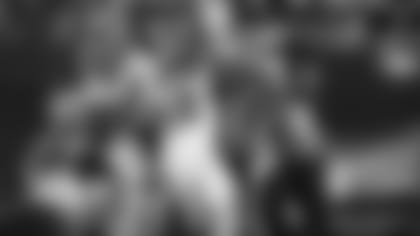 "He's a guy that has great power and he's got great quickness. You can take one thing away and then he has the other thing to beat you with," Van Roten said. "He's a guy that takes advantage of those little things that don't get you until they get you."
Van Roten said part of the problem with Barrett may have been that the Panthers didn't give him enough respect the first time around. Who can blame them? Heading into 2019, Barrett had never recorded more than four sacks in a season. It's safe to say no one expected the former undrafted free agent from Colorado State to have a career day against the Panthers, especially with a guy like Ndamukong Suh lined up next to him.
"I think he's a guy that we're definitely going to pay more attention to," Van Roten said. "He's done a great job this year and we're definitely more aware of where he's going to be."
But that doesn't mean they've forgotten about Suh. This time, the Panther offensive line is making sure to give everyone enough attention.
"I guess it's pick your poison, right?" Van Roten said. "We're aware of both of them. Their whole D-line is good."
The struggles in the trenches weren't the only issue, though.
On the other side of the ball, the Panthers defense had trouble slowing down the Bucs through the air. When you think Tampa Bay passing game, you think of wide receiver Mike Evans. But against the Panthers, and really every other opponent this season, the real problem has been wide receiver Chris Godwin.
Godwin has already recorded three games with over 120 receiving yards this season. He ranks third in the league with 511 receiving yards and has posted four touchdown catches over the past two weeks. Against the Panthers in Week 2, Godwin hauled in eight passes for 121 yards and a touchdown.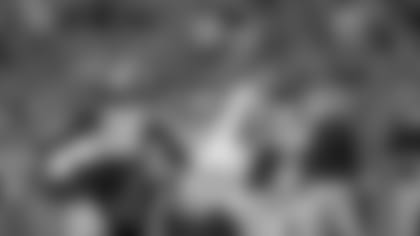 "When he played against us, he was kind of a guy like, 'Ok, that was a good game,'" safety Tre Boston said of Godwin. "Then you see him week after week produce and you've got an eye on him going into the second game. He's someone we have to watch out for."
Just like Barrett on the other side of the ball, Godwin will demand the Panthers respect this time around, and defensive coordinator Eric Washington is making sure that happens.
"He's getting a lot of targets, and he's a person where that the run after catch factor is huge," Washington said. "We're going to have to do a nice job against Godwin of making sure we play our technique and keep him in front of us."
Stopping a guy like Godwin from getting going is of course made easier by pressuring his quarterback. The Panthers' pass rush has been on a tear lately and Carolina leads the NFC with 20 sacks. Jameis Winston is the next quarterback in their crosshairs.
Winston protected the football against the Panthers in Week 2 -- a big reason why the Bucs emerged victorious.
"That game he played polished. He didn't force much," Boston said. "We have to make sure we get him off rhythm and make him uncomfortable."