Head coach Ron Rivera was visibly pleased with the Panthers' pick of wide receiver DJ Moore in the first round of the 2018 NFL Draft.
There's enough talent remaining in the class that Rivera could be all smiles again come the end of the next two rounds Friday evening.
"We've got quite a few more picks left to go," Rivera said. "Hopefully we can hit on those guys as well."
The Panthers are set to pick at No. 55 overall in the second round and then own a pair of third-round choices – at No. 85 courtesy of the Kelvin Benjamin trade to the Bills last season and shortly thereafter at No. 88.
Here's a look at some interesting prospects there for the taking headed into Day Two, starting with a few first-round talents that might be worth the Panthers giving up one of their third-round picks to move up and acquire.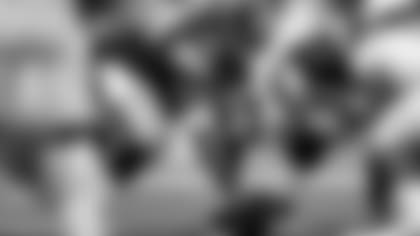 COULD CALL FOR A TRADE UP    
CB Josh Jackson, Iowa
S Ronnie Harrison, Alabama
RB Nick Chubb, Georgia
C James Daniels, Iowa
Many mock draft devotees forecasted the ballhawking Jackson and the latest in a long line of impactful Alabama defensive backs to already be gone. Moving up to upgrade the secondary with either one could be tempting. Chubb could be just the power back the Panthers need with the Jonathan Stewart era in the rearview mirror. LSU running back Derrius Guice was still sitting in the green room after the first round, but Chubb might fit Carolina a little better. Guard Will Hernandez is still on the board and was the winner of the mock draft roundup, but Daniels has more position flexibility with experience at both center and guard.
S Justin Reid, Stanford
CB Donte Jackson, LSU
RB Kerryon Johnson, Auburn
TE Mike Gesicki, Penn State
Momentum for the Panthers to possibly grab the speedy Reid in the first round faded as draft night approached, and now it looks like he could still be sitting there if the Panthers sit tight in the second. Cornerback could be in play as well, and if the Panthers don't move up for the Jackson from Iowa, maybe the lightning-fast Jackson from LSU could fit the bill. Could Carolina add another Auburn running back (they already have Cameron Artis-Payne) or another Oregon back (ala Stewart) in power-packed prospect Royce Freeman? Gesicki might not last this long and the Panthers did just sign Greg Olsen to a two-year extension, but if he's still there the Panthers could consider grabbing another weapon for both now and later.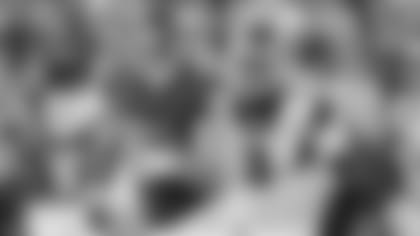 COULD BE THERE AT NO. 85 and/or 88
S Jessie Bates, Wake Forest
DE Chad Thomas, Miami
TE Mark Andrews, Oklahoma
WR Deon Cain, Clemson
Bates might not make it this deep into the second night but would represent a value that Carolina could consider to add an injection of youth and range to the safety rotation. Speaking of youth, the Panthers wouldn't mind getting younger at defensive end with Julius Peppers giving it one more go-around. In addition to Thomas, Arden Key of LSU is another name here but one with some off-the-field questions. Andrews put up big receiving numbers for the Sooners last season. The Panthers could consider someone proven like him or a tight end with room to grow like Ian Thomas of Indiana. Could Carolina double up at wide receiver? If so, Cain has physical tools that remind some of standout Clemson pass catchers of the recent past.