The Panthers on Sunday lost their fifth straight game for more than one reason. Those reasons, which have already been well-documented, will now be dissected for at least another week. And they're plentiful.
But distill them all down and you get a consistent result: The Panthers aren't winning close games.
Sure, there was that Thursday in Pittsburgh, the night that started this mess. That was a 32-point whuppin'.
Since then the Panthers have lost four games by a combined 17 points.
"It's extremely frustrating to come up short each and every week with similar settings and not be able to push through," quarterback Cam Newton said. "I wish I had the words to say, but I don't."
But then he actually did almost perfectly summarize this slide: "We've just found ways to come up short."
Detroit, Seattle, Tampa, Cleveland. All featured a similar theme. The Panthers could have won. They didn't.
Last year, Carolina went 7-1 in games decided by seven points or fewer. This year they're 2-5 in such situations, with four of those losses coming in the past month.
"Football – and you guys have heard it before – is about making four or five plays, or not making four or five plays," head coach Ron Rivera said. "You can go back and look at it, and you can pick any four plays out that were instrumental in this game, and change one of them, and it's a different outcome. But you can't."
2) Big Play Over the Top, Part 1
So let's look at five pivotal moments in Sunday's game. These won't include how for the second straight week the offense couldn't complete a late rally. Max Henson detailed that part here.
The offense did get off to a good start, cruising 70 yards on 10 plays for an opening touchdown. But the defense failed to make it a better start for the Panthers.
On the Browns' very first snap from scrimmage, quarterback Baker Mayfield faked a handoff to Nick Chubb. That's when cornerback Donte Jackson got what Rivera calls "dirty eyes."
"Bad play by me," Jackson admitted. "My eyes weren't in the right place. Wasn't expecting play-action.
"They caught all us sleeping. I'm obviously going to get the gist of it cause it was the guy who was in front of me. They just caught us in a bad situation, man."
That situation was the Panthers were trying to do something a little different. Setting up to defend a run against a look that featured three tight ends, they put safety Eric Reid in the box and shifted cornerback James Bradberry into the middle third of the field.
"I was a post safety on that play," Bradberry said. "It was a crossing route and he was getting up on me, so I started to go with it."
When Bradberry latched onto the crosser, tight end David Njoku, the Browns got what they were hoping for. Perriman ran past Jackson and hauled in Mayfield's pass for a 66-yard gain.
"That play puts that safety in a bind," Mayfield said. "We are trusting David (Njoku) to have speed across the field. If that safety did not attach to him like he did, then we are putting the post up to Breshad.
"It is just playing the numbers game. We are trusting Breshad on the outside to win, and he absolutely did."
Three plays later, the Browns tied the game at 7.
3) Big Play Over the Top, Part 2
The teams again went back and forth in the second quarter.
After the Panthers turned a Browns' fumble into a Christian McCaffrey 1-yard plunge, Cleveland faced a third-and-17 from its 49-yard line. That turned into yet another third-and-long situation during this losing streak when the defense couldn't come through.
To be fair, Mayfield's 51-yard throw was spectacular. Jarvis Landry's catch was even better. But the Panthers could've made a play and didn't.
"I had my hand on him, but Jarvis did a good job bringing it in. Just a play I have to make," Reid said.
"I am in position. I am trying to get my head around to find the ball. I had my hand on the ball, I just have to get it out."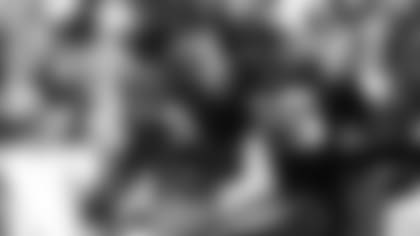 Meanwhile, Mayfield explained: "We were honestly expecting them to bring a different coverage. They kind of let him run free. I kind of hesitated a little bit to see if the safety would turn his head, but when I realized that he was chasing Jarvis down the field, I let it go because he is not going to make a play on the ball with his head turned."
So credit the Browns for making a play, and wonder why the Panthers couldn't. But, again, it wasn't just one guy who didn't make a play. When things are going the way things are for the Panthers, it's often a group effort. Mayfield was able to make the throw in the first place only because he was able to buy himself time.
"We lost on containing the quarterback, and that allowed time," Rivera said. "That's hard for anybody in coverage back there, when a guy has time."
4) From Touchdown to a Field Goal
After the Panthers and Browns exchanged field goals ahead of halftime, the third quarter was a sloppy flag-fest with a combined nine penalties and just three points.
Those three went to Carolina, but they were a small consolation prize after a touchdown was taken off the board.
On second-and-goal from the Cleveland 3, McCaffrey took an inside handoff and bounced outside before diving in for what appeared to be his third score of the day. But officials flagged offensive tackle Taylor Moton for holding defensive end Myles Garrett.
"I tried to stay in front of my guy. C-Mac went out, and I tried to go with him," Moton said. "They saw it as holding and from there, what else am I going to do?
"They called it, and I've gotta do better to not make them the chance to make the call."
The Panthers' next three plays looked like this: a Newton incomplete pass to DJ Moore, an illegal shift on Newton after a 7-yard scramble and a McCaffrey 2-yard gain. So Carolina's potential seven-point lead instead turned into a 34-yard field goal by new kicker Chandler Catanzaro.
"I guess they thought I was restricting him. They didn't explain to me why they called it," Moton said when pressed about the holding penalty. "I guess I don't really understand, but like I said, I have to do better."
5) Another Huge Holding Call
As much as Moton may have disagreed, he wouldn't openly criticize the call.
Then there was Captain Munnerlyn.
"Terrible call. I don't care if I get fined or not. It's terrible," the cornerback said of the defensive holding penalty called against him late in the third quarter.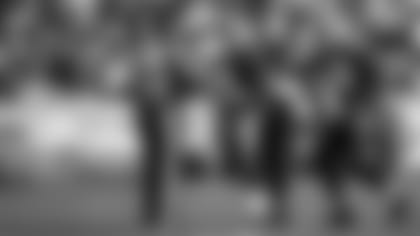 With the Browns facing a third-and-3 from their 32, the Panthers brought linebacker Thomas Davis on a blitz through the right side of the line. He came through untouched, but it took him an extra second to get Mayfield to the ground. Turned out that slight delay was vital.
"(Mayfield's) going down. He's going down, and I see him still up. I'm taught to plaster to the receiver. So I got closer to him," Munnerlyn said. "It's a sack. I even went and looked at the picture on the sideline – TD already had him wrapped up and I didn't even have a hand on him. I don't think that was a flag. At all."
But it was – deserved or not.
"I was like, 'Ref, what do you want me to do in that situation?'" Munnerlyn continued. "He said, 'I just saw that you had him.' I was like, 'But the quarterback was already sacked. His explanation was, 'I don't know. I might have missed that one.' That's what he said.
"That's a critical play, man. How can you say, 'I might have missed that one?'"
6) Browns Go Back to the Well
Instead of a sack that would've forced the Browns to punt from inside their 20, they got a fresh set of downs. And they made the most of them.
Three plays after the hold against Munnerlyn, Cleveland went back to the play it ran for its opening touchdown – an underneath handoff to Landry on a counter.
"I figured that it would work down in the red zone the first time," Mayfield said. "Then the second time, you will see they thought we were going to run the same type of play but actually pitch the ball, give the same look and do the opposite. I guess calling it twice worked."
"The guard came out and kicked out and there was a crease," Rivera said. "We missed a tackle in the hole and he was off to the races."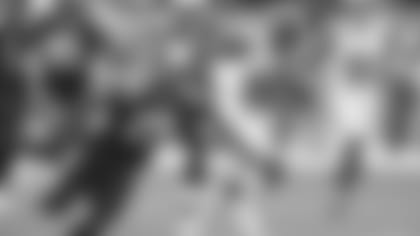 Landry took two lefts, first past safety Mike Adams and then Jackson, before linebacker Luke Kuechly chased down the play. The damage was done, though. The Browns had converted another third down, Landry had picked up 51 more yards and one play later the Browns took a lead they'd never give back.
"It's not easy to tackle in this league. Guys get paid a lot of money for a reason, and Jarvis is a shifty player," Davis said. "Luke was able to make that play because those guys was giving great effort and trying to make the tackle and he was able to go and finish.
"But at the end of the day, we've got to position ourselves to not allow plays like that to happen. When you allow big plays like to happen, that ends up costing us the game."
View the top photos from Panthers at Browns by team photographer, Melissa Melvin-Rodriguez, and second shooter, Aaron Doster.