1) New Coordinator, Similar Newton
Remember that time in the spring of 2017 when we thought the Panthers were going to stop letting Cam Newton run the ball?
That was before Newton asked us, "Do you expect a lion not to roar?" before he set a career high in carries and before he got a new offensive coordinator who some wondered may at least ask Newton to run less.
Well, Sunday's season opener only brought more of the same.
"Their quarterback runs in the first half were just such huge plays for them," Cowboys head coach Jason Garrett said.
By the end of the first quarter, Newton had rushed for 59 yards, already his most in eight season debuts. Twenty-nine of those yards came on a read-option when he broke two tackles before stiff-arming safety Jeff Heath to the ground.
By halftime, Newton had added a 4-yard touchdown and had out-rushed Cowboys star running back Ezekiel Elliott, 64-18.
"Norv (Turner) just felt – kind of watching him during warmups – Norv just felt he had to get him going early, which he did," head coach Ron Rivera said. "He got in a good rhythm and we moved the ball well."
So, yeah, the Panthers' new play caller is just fine with letting the lion roar. Really, any questions about that have come from outside the building.
When asked if he's has had to spend any time convincing Turner to let him do what he does with his legs, Newton transformed into Turner, who apparently likes to say the word "baby":
The Cowboys did a better job defending Newton the runner in the second half, holding him without a yard in three attempts before he lost 6 yards on three kneel-downs on the game's final drive. Still, Newton's 58 yards led the Panthers in rushing. That may not be ideal, but it's so much of what he and the Panthers are.
"He's the heart and soul of the offense, the leader for the team," wide receiver Devin Funchess said. "Anytime he gets a chance to have fun and smile, that helps the offense and the team overall."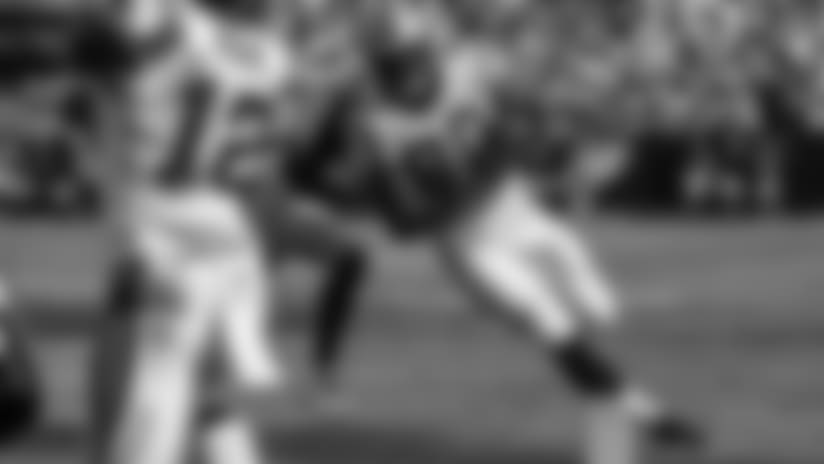 That heart and soul may have to carry on without something that helps it tick.
"That's Cam's blankie," wideout Torrey Smith said of tight end Greg Olsen, who re-injured the right foot that cost him out nine games last season.
"You guys know how I feel about Greg; you can't ever replace him," Newton said. "His professionalism that he brings to the game, his overall outlook, his IQ, his understanding.
"But, in a way, Ian (Thomas) has been being prepared for this moment."
Yup, that's why the Panthers, who felt they unearthed a gem when they began scouting Thomas early last fall, were so excited to use the first pick of the fourth round of this year's draft on him. He's since acted as Olsen's understudy, and ideally, that would be the setup through the season. But as Olsen emerged from the tunnel to watch the second half in a walking boot and on crutches, it became clear that Thomas's time is now.
"I just have (to be) the next man up, do my job and have faith that Greg will be with us later on this season," Thomas said.
As much potential as he has, expectations do need to be tempered for Thomas, who had two receptions for 4 yards in his regular season debut. After playing just over one year of major college football, the 23-year-old isn't going to produce like a three-time Pro Bowler immediately. So if Olsen does have to miss a chunk of time, it'll be a setback for the offense. But for the first time since Olsen came to Carolina, the Panthers at least have someone who's capable of eventually following in his rather large footsteps.
"I feel like I'm getting there. I still have a couple of things to improve on throughout the season," said Thomas, who added he needs to get better at knowing audibles and how the offensive tackles next to him play. "But it'll get better and better."
3) The Constantly Shuffling Line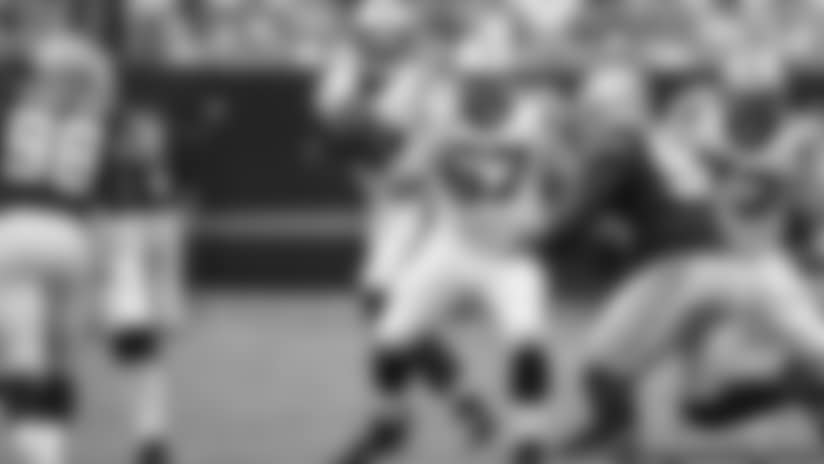 In what should have been a time of celebration, Ryan Kalil didn't feel so good.
"I've got a terrible flu, fever, chills, body weakness," the center said.
"I'm not telling you all this 'cause I want you to know how tough I am and how much I fought through it," Kalil continued, "I'm telling it to you because I want you to know how tough I am and how much I fought through it."
In all seriousness, though, Kalil was likely riding a roller coaster of emotions. His final season had begun with a win, but it may have cost his best buddy on the team a chunk of his season.
"It's bittersweet. I feel terrible for Greg. Sick to my stomach for him," Kalil said. "I know how hard he works. I know how much he cares. I know how important it is to him. But that's the game, though. The NFL doesn't care about how hard you work or how much you care.
"Same thing with Daryl (Williams). He was playing great, and he just got rolled up on. Obviously we'll wait and see what the news is with those guys. In the meantime, next guy up."
That next guy at right tackle was Amini Silatolu, who just recently came back from a knee injury that cost him nearly a month. So for an offensive line that's taken so many hits the past few weeks, it wasn't surprising Sunday was full of starts and stops.
"I thought we put ourselves in good opportunities offensively in the run game, but we didn't play smart football," Kalil said. "We had too many penalties. Cost us a lot of field position. I contributed to that. Just too many mistakes. A lot of that's moving parts and getting new personnel in there 'cause of injuries. That's part of the game, but you've got to be able to overcome that."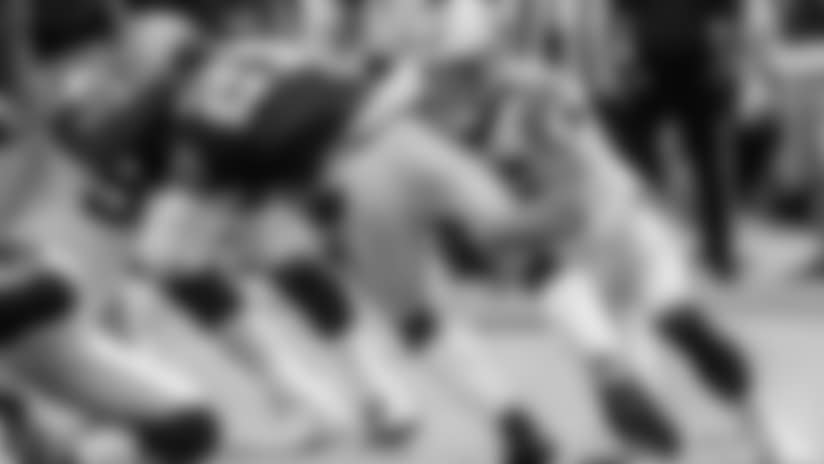 If you and I knew it was coming, the Panthers surely did. So from the first play from scrimmage, when the Cowboys began to try to establish the run with Elliott, it was important to set the tone.
"I was a free hitter," said Mayo, who combined with defensive end Mario Addison to drop Elliott for a loss of 1. "I'm thankful for the D-line and how they played.
"Our defensive line played outstanding. They made it a tough job for the offensive linemen. That's where it started and we fed off that."
After Elliott led the league with 1,631 yards as a rookie, a suspension kept him out six weeks last year. But he still managed to rush for 98.3 yards per game. Sunday he lined up across from a defense that hadn't allowed a 100-yard rusher in 20 games – a Panthers record and the longest current streak in the NFL.
Well, Elliott rushed 14 times after the Mayo/Addison stop and finished with 69 yards. So you can now make that streak 21 games.
"It starts up front. You've got to penetrate, knock these guys back and create a new line of scrimmage. It's easy to say but hard to do," defensive tackle Kawann Short said.
"We know he's a north, south guy. It's going to take everybody from the corners to the defensive linemen to tackling him and gang tackling him, and that's what we did."
5) From Turning Point to Turned Away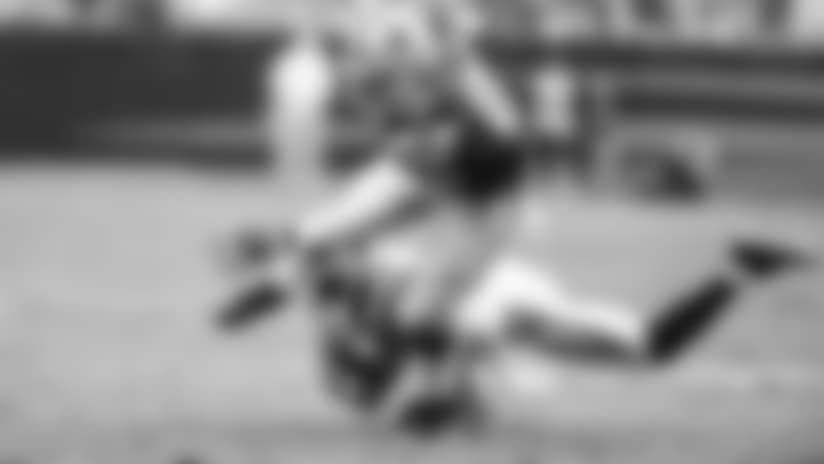 Elliott added three receptions for 17 yards, and it would've been more if not for Mike Adams.
Late in the third quarter, the Cowboys were facing a third-and-11 from the Carolina 30. That's when quarterback Dak Prescott swung a screen pass to Elliott, who was one-on-one with Adams.
Let's let him and cornerback Captain Munnerlyn describe it from here.
Adams: "When they lined up, I saw Cap press. So once (Prescott) pointed at Cap, he knew Cap was blitzing."
Munnerlyn: "I looked at Mike. I kind of gave him a look like, 'Hey, you've got to get there' cause I knew they were going to get the ball out fast and I was unblocked."
Adams: "So I called Luke (Kuechly). 'Luke - I'm going to go!' That meant me and Luke were going to switch men 'cause he had the back and I had the tight end. So once I saw him, I just went and shot it. I was shooting my gun. Whether I miss or make it, I was shooting my gun. I'm going for his legs. I'm not giving him a chance to make a move. I'm going to come full speed and I'm not going to give him a chance to make a move."
Munnerlyn: "Mike did a great job making of making the tackle. Got the wind knocked out of his old self, but he definitely made the tackle."
If Adams didn't make the tackle, Elliott may've made it a 10-7 game. Instead, the Cowboys were forced to settle for a field goal attempt that sailed wide right. Then, 63 yards and 3:28 later, Alex Armah plunged in for a 1-yard score that extended the Panthers lead to 16.
Every rookie has a "welcome to the NFL moment." Usually, it's when they take a big hit.
Donte Jackson isn't into being usual.
"Yeah, I got a big hit. That's a welcome to the NFL moment," the cornerback said of his first NFL tackle on Elliott.
But that's not how it works, Donte.
"I feel like in that case it's just when you clack your pads for the first time in the NFL, regardless if you're taking it or you're giving it," Jackson argued. "I clacked my pads, so that's 'Welcome to the NFL.'"
Regardless, Jackson's debut was mostly uneventful, which is mostly a good thing for a corner. He was solid in coverage and made five tackles but was flagged a couple of times – first for illegal contact and then for pass interference. But both appeared to be ticky-tack fouls.
"Especially the PI," Jackson said. "I didn't grab him. I never knocked him off his route. He was still able to run a curl. It was a bad ball, and I was able to get a hand on it."
Added Rivera: "I thought Donte played a solid game. He is very active, plays with his eyes, plays with his hands. I don't necessarily agree with some of the things that were called but, again, those are things we will look at and work on. He works very hard on his technique and you can see it. I'm pretty excited about the way he played."