CHARLOTTE – Getting to the quarterback is arguably the most important ingredient for success as a defense.
But it's becoming more and more difficult to get there.
These days, NFL offenses frequently utilize quick, short passes to negate the rush. It makes a lot of sense, especially with how hard it is to find and develop quality pass protectors.
That said, if offenses are going to play fast, so should defenses. The Panthers, who finished 27th in the league with 35 sacks last season, infused their defensive front with plenty of speed this offseason. And when those optimal third-and-long scenarios present themselves they'll have a chance to really put the pedal to the metal.
"Sheesh, we really brought in a lot of speed off the edge. It's really going to be a race to the quarterback," defensive tackle Kawann Short said after a recent OTA practice. "Just seeing those boys' speed – it's going to be a competition to get there first. I've been watching these boys and you can see it."
"The guys that are going to be fun to watch are those edge guys," added linebacker Luke Kuechly. "They've got great length and great rush skills. If you can rush the passer, especially in our division with the quarterbacks we play against, it makes everything easier for us."
Carolina made a huge investment in this department by selecting defensive end/outside linebacker Brian Burns with the 16th overall pick in the 2019 NFL Draft.
Burns has an elite get-off. He's an explosive athlete who ran a 4.53 40-yard dash at 250 pounds.
Christian Miller, the team's fourth-round selection, brings similar attributes to the table as an edge rusher with the ability to turn the corner quickly and disrupt the quarterback.
"These are guys that have a skill set that bring something to the party," head coach Ron Rivera said after the draft. "That's going to be the fun thing about it. Watching what they do and the way they do it – they're both dynamic football players."
Spring practices can be difficult to evaluate since pads are not permitted. But Burns and Miller don't need pads to show off their quickness.
"You can't coach speed. They fast, man," edge rusher Mario Addison said. "And they're learning right away. Both of those guys have raw talent. They're fast to the ball."
Added newcomer Bruce Irvin: "They've got a chance to be really good pros. They just have to keep their heads down and work. They've got some great examples in front of them. We've got to get 'em right, because we are going to depend on both them this year. You can never have too many rushers."
Irvin's speed has always been among his greatest strengths. When he participated in the scouting combine back in 2012, he ran a 4.5 40-yard dash – the fastest time among all defensive ends and outside linebackers competing that year.
Now 31 years old, Irvin can still explode off the edge.
"His get-off – it's crazy," Short said. "He's a playmaker."
Irvin has been a valuable teacher with the Panthers implementing a hybrid 3-4 scheme, a system he's quite familiar with from his time with Seattle and Oakland.
"I'm learning a lot from Bruce," said Addison, also age 31, who has led Carolina in sacks each of the last three years. "He's played in a 3-4, so he's coaching me up. It's real good to have someone so experienced at something you are trying to learn."
And to be clear, he's going to do more than teach.
"He's most certainly a guy who can attack for us," Rivera said of Irvin, who has 43.5 career sacks. "He's going to be a good fit for us and a good presence on the defensive side."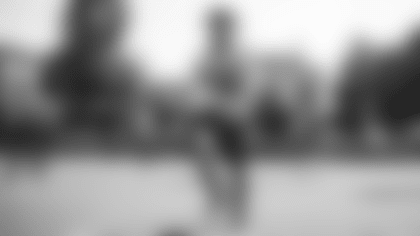 Marquis Haynes Sr., a fourth-round pick in 2018 whose calling card has always been speed, played in just four games and recorded just four tackles as a rookie.
Listed at 235 pounds when he first arrived, it was always going to be a big challenge for Haynes to thrive early as a defensive end in the NFL.
But Carolina's new-look defense offers him the chance to rush as a stand-up linebacker, which is a more natural fit. Early returns have been encouraging from Haynes, who fires off the snap as fast as anyone.
"We kind of felt making the move to a little bit of a 3-4 base was going to benefit him, and we've seen it," Rivera said. "He's very explosive off the ball. I think this suits him a lot better than having to put his hand in the ground. For guys like that, I think it's a huge plus."
Said Haynes: "I got excited when I heard about the new defense because it gives me an opportunity to showcase my athletic ability."
The defense gives all the edge players a chance to showcase their athleticism. The personnel truly suits the scheme.
"I think we have the fastest (group of rushers) in the league," Haynes said. "I think our whole group can at least run a 4.5. Can't beat that. When we get into passing situations, that quarterback got to get down."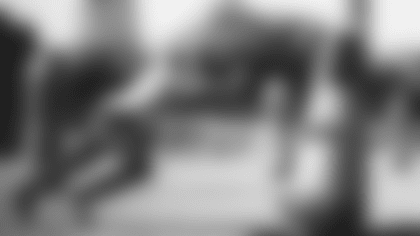 Back to that earlier point about the low sack total last year…
Sacks aren't the be-all-end-all, but we all know their importance. Defensive coordinator Eric Washington's "G2X" mantra (get to the spot) has long been the demand.
And last year aside, the results to that end have been gaudy. Carolina ranked in the top 10 in sacks in five of Washington's seven seasons as defensive line coach, including a No. 1 ranking in 2013, a No. 2 ranking in 2016 and a No. 3 ranking in 2017.
The goal is to get back to those ways. And to do it as fast as possible.
"It's a big emphasis. We have a standard and we didn't meet it last year. We didn't get the job done," Addison said. "But I can tell you this – we've got guys flying each and every way. It's going to be something special. Watch what I say."