CHARLOTTE – Last week, everyone was talking about how big a test it was going to be for Kyle Allen and the Panthers offense against the undefeated 49ers and their top-ranked defense.
The Tennessee Titans (4-4) may not have an unblemished record or a lot of national buzz, but they've also got a formidable defense.
"We ran into a little bit of a buzzsaw (last week) – an outstanding defense, an outstanding team and now we have to rebound from it," offensive coordinator Norv Turner said.
"This team is ninth in the league in defense. An outstanding run defense. They are a physical front. They present a lot of problems. We're going to have to play at a real high level."
Carolina was thoroughly outplayed in all facets against the 49ers in that 51-13 defeat. Offensively, Allen threw the first three interceptions of his career and he was sacked seven times.
But if there was a bright spot it was the Panthers' ability to run the ball. The Panthers ran 19 times for 130 yards, with running back Christian McCaffrey piling up 117 yards on just 14 carries (8.4-yard average).
Unfortunately, the large deficit kept Carolina from getting more out of their ground game.
The Panthers are third-best in the NFL with 5.15 yards per rush attempt, whereas the Titans, who use a mix of 3-4 and 4-3 looks, are ninth-best allowing a 3.88 average.
"The biggest thing with them is they play so well together," McCaffrey said of the Tennessee defense. "They swarm to the ball. They play with a lot of energy, play with a lot of juice. We have to focus in on us and our process and get rid of all the self-inflected wounds."
"They're not going to give us a lot," left guard Greg Van Roten added. "It's one thing to run the ball, but we've got to score touchdowns."
Scoring defense happens to be what the Titans are best at. Tennessee is allowing just 16.9 points per game, the fourth-best mark in the league.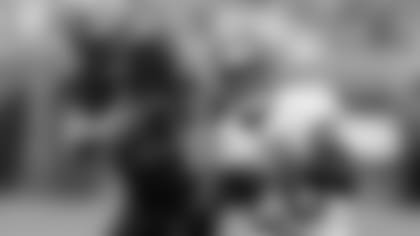 Ron Rivera said the Titans defense has taken on the personality of head coach Mike Vrabel, the 44-year-old who enjoyed a successful playing career, most notably as a linebacker for the Patriots.
"They're physical, they're aggressive," Rivera said. "They play a lot of man coverage. They're touchy, handsy – always touching, pushing, shoving. When you try to do things physically, you send a message. (Mike's) got an aggressive team by nature."
Can the Panthers match that physicality? Or better yet, can they take exploit it?
Take the experienced Titans corners, for example. Logan Ryan and Malcom Butler play with the style Rivera just described. They want to jam and disrupt Curtis Samuel and DJ Moore.
The young wideouts can't let that happen. The entire Panthers offense can't allow Tennessee to dictate the terms.
"You either get physical back with them or you make them miss. If you make them miss when they're overly aggressive, then you've got a step on them," Rivera said. "Our guys are studying them and trying to formulate their plan as to how to do things. We'll see on Sunday."