CHARLOTTE - The number is already taken, and wide receivers aren't allowed to wear single digits in NFL games.
But if it was allowed and available, new Panthers wide receiver Rashad Ross would fit nicely into No. 9.
Ross has worn 13, 15, 18, 19 and 89 during his circuitous journey around the NFL. He doesn't quite have one jersey number for every NFL team that has employed him, but he does have exactly one reception for each team: nine.
And Ross seems to have nine lives.
"I feel like I belong; I've always felt like I've belonged," said Ross, signed by the Panthers earlier this week. "It was tough trying to find a place to fit."
Ross is hoping he's right to use past tense, hoping he's (finally) turned the corner in his pursuit of a (relatively) permanent NFL home. He - like five of his new teammates in Carolina – hopes he took a step forward by opting to take a step back in terms of pro football brand.
Ross is one of six players to sign with the Panthers in the days after the Alliance of America Football went from a fledgling pro league to a floundering one. Despite the sudden suspension of the league, the AAF-alums-turned-Panthers all expressed appreciation for the short-lived league's role in helping secure their new NFL job.
"I feel like it had so much value for me," Ross said. "NFL coaches and organizations wanted to see film, wanted to see what I can do now. It gave me film. It gave me enough to get back to where I want to be."
It should also benefit the Panthers, who are in the process of building their roster up to 90 players for the bulk of offseason workouts and then into training camp and preseason play. They now stand at 75, with free agency continuing and the draft just around the corner.
The additions from the AAF are the kinds of players the Panthers typically would target to complete the offseason roster – but maybe even better. Journeyman like Ross and guard Kitt O'Brien – who before the AAF had last played in a game that counted as an Arena Football League player in 2015 - often are rusty when it comes to meaningful game reps.
"I'm in football shape – I mean we just got done with the season – so these workouts coming up are going to be a lot of fun," O'Brien said. The Panthers will kick off their nine-week offseason workout program Monday.
"I really want to try to make the Panthers better."
–––––––––––––––––––––––––––––––––––––––––––––––––––––––––––––––––––––––––––––––––
Ross and Arizona Hotshots teammate Thomas Duarte, a tight end who was a part of the Panthers' AAF haul, both saw the new league as a vehicle to fuel their NFL dreams.
But they also were enjoying the ride.
"It was fun. I had a lot of fun," said Ross, who immediately became a face of the league when he caught two touchdown passes in the AAF's debut weekend days after the Super Bowl. "I was looking forward to going to the championship and winning the championship. I didn't think it was going to end like that."
It ended abruptly, two weeks before the playoffs. On April 2, Ross and Duarte were summoned Hotshots headquarters for a team meeting that foretold the day's events.
"They called us in, sat us down and went through all the details as far as everything they knew at that point," Duarte said. "When you go through training camp and are with guys every day, you start to form a bond. When you play on Sundays, it's your team against the other team. You form relationships and get closer and closer.
"Then one day we're teammates and the next day we're going our separate ways. It's tough."
But when that door closed, another one opened – quickly.
"The last week has been a whirlwind," said Brandon Greene, an offensive tackle for the Birmingham Fire one day, then a member of the Panthers' 90-man roster six days later. "It was a good league for a lot of guys to get experience, like myself. I feel like it did its job."
Greene and center Parker Collins, a South Carolina native and Appalachian State graduate, have been pursuing the pro football thing since both went undrafted in 2017. It's been a grind but nothing like the gauntlet endured by O'Brien, who signed on the dotted line less than 72 hours after the AAF folded.
"It's been a crazy adventure," said O'Brien, who played in the Arena Football League for two-plus seasons after going undrafted in 2013. "And I've been married the entire time, too. I've got a really strong-willed woman who has stuck by me."
Defensive tackle T.J. Barnes can relate. Upon signing, he had to scan his memory bank to recall if he'd been to Bank of America Stadium before.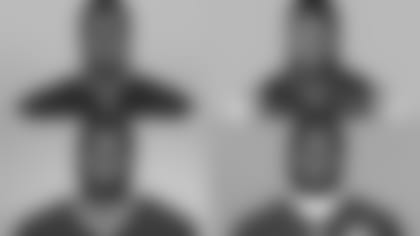 "Let's see, the ACC Championship in two thousand…twelve? And when I was with the Jets, I played here in 2014," said Barnes, a Georgia Tech product who went undrafted in 2013 and has played in 21 NFL games but who had been out of football since for 15 months before the Atlanta Legends signed him. "It's been a long year-and-a-half. I'm just thankful that somebody took interest in me honestly.
"I didn't think I'd ever see another professional football team ever again. Then the AAF came around, and it did what I needed it to do just as far as getting film out and showing people I can still play."
–––––––––––––––––––––––––––––––––––––––––––––––––––––––––––––––––––––––––––––––––
That brings us back to Ross. He certainly showed that he's still got some ability by leading the AAF in receiving touchdowns and ranking second in receiving yards in his first real-game action since 2016. That year he appeared in five games for the Redskins and caught one pass – a downer one year after he scored three touchdowns while serving as Washington's main kickoff returner
"I had a breakout season in '15, but after that I never had a chance to fail, if that makes any sense," Ross said.
Back when Ross was finishing up elementary school, the original XFL was a one-hit wonder, but its lone season in 2001 launched the career of a return man who lives in Panthers lore. Rod Smart, better known as "He Hate Me" because of the name he chose for the back of his XFL jersey, was a running back who excelled first for Carolina as a tackling machine on special teams before finding his footing as the team's primary kick returner during its Super Bowl season of 2003.
Ross is too young to remember Smart, and the likely reality is that most of Carolina's half-dozen-deep AAF additions won't enjoy that kind of happy ending.
But that's for another day. For today, Ross has cause to believe that he could secure another jersey number with another NFL team.
"I feel great," he said. "It's a second chance and a dream come true."