CHARLOTTE — Some things change. (Specifically, the standings.)
Some things remain the same. (You people do love you some offensive line talk, and you've come to the right place.)
The Panthers beating the Jets Sunday might not have scored perfect marks on artistic impression or technical merit, but it certainly beats the alternative, and they're 1-0 and have some tangible positives to latch onto. After an offseason considering potential positives, that's not nothing.
Had that game gone the other way, I have a feeling I'd have needed oven mitts for this mailbag (and French for oven mitt is gant de cuisine, and I'll pardon their uncultured spelling because Gantt de cuisine is obviously so much cooler).
So, since we're not STRAIGHT FREAKING OUT at the moment, let's take a calm and measured look at this week's questions.
----------------------------------------------------------
After seeing Sam's first game wearing the Carolina blue, what are your thoughts on him and his fit in Carolina? — Austin, Spartanburg, SC
Honestly, it was a lot like watching him during OTAs, training camp, joint practices, and the preseason. Fit has never been a problem for Sam Darnold.
It sounds like one of those things coaches say because they have to, but Darnold truly was among the first guys on the practice field every day during camp. It wasn't in any kind of look-at-how-hard-I'm-working way (and we've seen that before), but it's just kind of who he is.
Sometimes Darnold sounds too corny to be true. But it's genuine and his teammates like him, and that's just kind of his deal. He's as unaffected a quarterback as I've met around here, at least since Jake Delhomme (although that guy, what a load he turned into once he got a few fried chicken commercials under his belt. That's a joke, in case your sarcasm font isn't turned on in your settings).
On the field, Darnold was OK. He was good when he had a clean pocket, and was able to make some plays downfield at times.
I think with time in this offense (which is similar in origin to the one he ran as a rookie with the Jets), he'll get more comfortable, and spread it around a little more. As head coach Matt Rhule noted Monday, they need to protect him better, and that's not an insignificant thing.
But Darnold's game was a lot like the Jets game as a whole. Could it have been better? Of course. Did it do the job? It did. We'll see how it develops.
----------------------------------------------------------
Do you think Carolina will try and pick up some offensive line help as the season progresses? I think that this area is the one major cause of concern for Carolina. — Mark, Windsor, CA
Yeah, you and a lot of other people, Mark.
There are positions at which you can find help outside your own roster in September. Offensive line is generally not among them.
In fact, if you look at the list of available free agents at the moment, you realize why they haven't made such a move already.
Other than left tackle Russell Okung, who was here last season, there aren't really a bunch of ready-to-play upgrades, or even serviceable players on the street.
"He's on the street for a reason," is one of the great personnel-guy cliches, by the way.
If you glance at the handy free agent list maintained at spotrac.com, you see a lot of guys who are either way too old, retired, effectively retired because of injuries, or not all that good to begin with. Plus, offensive line is so complicated, and depends so much on communication and timing, that it's hard for guys to walk right in and contribute.
Teams maintain emergency lists, and they make sure to have updated information on every position, and trades are sometimes an option. But there just aren't many qualified offensive linemen waiting for the phone to ring at the moment.
When the Bears lost second-round rookie Teven Jenkins to a back injury, they went out and signed old warhorse Jason Peters. But the 39-year-old Peters wasn't able to get through the opener, leaving with a quad injury. That's not an indictment of Peters, it's just an indication of the market.
----------------------------------------------------------
Do you think the Panthers need to add more depth at wide receiver? Considering the lack of receptions by anyone outside of DJ Moore and Christian McCaffrey, it seems like a potential red flag going forward the rest of the season. — Dillon, Charlotte
Sometimes, there are problems worth freaking out about (see above). The lack of receiving options isn't high on the "We're all gonna die"-meter at the moment. Offensive line is rapidly approaching snow flurries in Charlotte on that one.
The Panthers are fortunate to have a pair of star-level wideouts in Moore and Robby Anderson, and when Anderson caught a ball the other day, it counted in a big way.
McCaffrey is the best security blanket a quarterback can have, as an if-all-else-fails option who can turn a dump-off into a first down.
But the reason they were willing to run lean at the position was the progress of rookie Terrace Marshall Jr.. He was good enough in camp to make some veterans expendable (more on that later).
Now, if people (plural) start getting hurt, things could get weird. Rookie Shi Smith's not quite back after his preseason shoulder injury. They just added Alex Erickson to the active roster, after a positive week of filling in as punt returner.
The Panthers have scads of receivers on the practice squad, but you could tell as they incorporated Erickson into practice last week that he had enough of a sense of what they were doing to be useful (or at least not an impediment) in case he was needed. Brandon Zylstra is an excellent special teams player, and would do in a pinch. So, for the moment, I think they're ready to declare themselves fortunate at the position.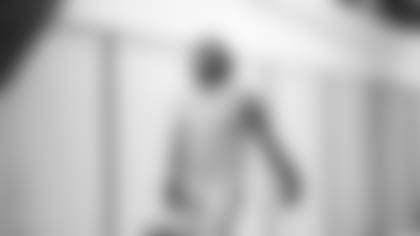 ----------------------------------------------------------
Hey Darin! I have an O-Line question. The line wasn't terrible Sunday, but it looks like there is still room for improvement. Which brings me to Brady Christensen. Rhule has mentioned many times that they believe his future is at right tackle. Which is a little confusing considering they have a top-of-the-line right tackle in Taylor Moton under contract for the foreseeable future. Just seems strange to invest a third-round pick on someone they picture being a backup for the majority of his rookie contract. I'm sure they have a master plan of how to get him on the field next year but I would love to hear your thoughts. Sorry for the long-winded question. — Donovan, East Bend, NC
Long-winded is acceptable, as long as it is polite, informed, and well-intentioned.
Thus, Long-Winded Donovan is this week's Ask The Old Guy Friend of the Mailbag, and as soon as we have merch, he's getting the seventh piece of it behind me, Hal from Canada, Westray from Kershaw, Joseph formerly of Concord who's moving away for some big fancy job with a desk, Sunny from Houston, and Adam from Germany.
I don't think they're narrowing Christensen's options to only right tackle. That mostly came up as it compared to his possibly playing left tackle in the future, and they appear to think he's still a little short-armed for that. And as LWD mentioned, that Moton guy is pretty good, and they like him where he is at the moment.
They do think Christensen could play guard at a high level as well, and when they scouted him coming out of BYU, they had him graded as a second-round guard and a third-round tackle, so there are options there.
And I'm not even sure the master plan involves waiting until next year.
When I was talking to offensive line coach Pat Meyer about other things last week, I also asked how close the rookies were to being ready to contribute. Christensen was active as a backup last week, while Deonte Brown was inactive for the Jets game.
"You know what, they're closer than I thought they would be," Meyer said. "Brady's done a lot of good things, and when we first got Brady we didn't know if he'd be a tackle or a guard and I think he could be either. And we've been able to flip him both sides, play right and left, and he's done a nice job. He's got good feet, he's a smart kid, obviously he's a little older, as a (soon-to-be) 25-year-old rookie. So he's more mature and he gets it.
"And with Deonte, the big thing with him was to make sure he keeps his weight in check, and he's done that. He's done a great job, he's in the 330s now, back from when we saw him at the Senior Bowl and he was 364. But he's done a good job, and he wasn't one of those big guys who can't move. He's a quick-twitch kid who has a lot of good lower-body explosion. He's learning, they both are, the different techniques we teach. But I would say they're closer to being ready than they are farther away."
File that quote away for future reference.
My sense is that if there was a vacancy or change at left guard, Christensen's a possibility there, while Brown is more comfortable on the right. And if things don't improve in the coming weeks, I wouldn't necessarily count out seeing them on the field sooner rather than later, especially considering the aforementioned lack of options in free agency.
----------------------------------------------------------
I'll ask the burning question we all want to know. Punting on the 33 ...what?! — Michael, Charlotte
There are times in life for being long-winded, like that insufferable gasbag Donovan. And there are times to be succinct.
Yeah, that surprised me too at the time, but Rhule said it was simply a field-position decision, and he's the one who gets to make that call and live with its consequences.
A 50-yard field goal was within then-kicker Ryan Santoso's range (they felt comfortable to around 53 or so), but what they really wanted to do was stick a rookie quarterback making his first NFL start against an aggressive defense on the road (in a place with actual fans) inside his own 5-yard line. When you stack those factors up and the pile gets that high, you can begin to understand the rationale.
It just didn't work out that way, with Joseph Charlton hitting a high, short punt which was fielded at the 15.
It was a conservative decision, for sure. Maybe conservative to the point of Dear-8-pound-6-ounce-Baby-Jesus-please-don't-let-us-screw-this-up. And ultimately, it didn't cost them. But in a perfect world, yeah, you'd like to have points there.
----------------------------------------------------------
Hope you are well and thanks for taking the time to answer the community's questions. Do the Panthers' scouts look at overseas-based players and leagues? Or do they rely on Undiscovered, the International Player Pathway Program, and the college system to unearth the next Efe Obada or Jordan Mailata? — Peter, Brisbane, Australia
The pro scouting department keeps an eye on everything. The amount of tape they watch is mind-boggling, and if it was still actually tape, they wouldn't have room to move in their offices.
A lot of it is a matter of supply and demand. Since the NFL offers the IPPP, teams will collect information gathered that way and do their own evaluations of international players. That's how teams got their first look at the Samoan-Australian rugby player Mailata. The Eagles took a chance on him with a seventh-round pick in 2018, and once he learned how to play football, he grew into someone they trust — enough to give him a four-year, $64 million contract extension recently.
Players such as Mailata are rare, so teams aren't going to spend too many resources trying to unearth them. The vast majority of the future labor pool is in the American college system, so that's where they spend the vast majority of their time scouting.
They do monitor international players, particularly in the CFL, as well as younger prospects who show up at the pre-draft East-West Shrine Game. And the league rotates the international practice squad players by divisions from year to year (that's how the Panthers first got to know Obada in 2017). But a lot of the effort on the scouting end happens at the league level.
That doesn't mean they're not open to suggestions, as Panthers GM Scott Fitterer said: "If there were a lot of players in Tahiti, I'd be happy to go scout them."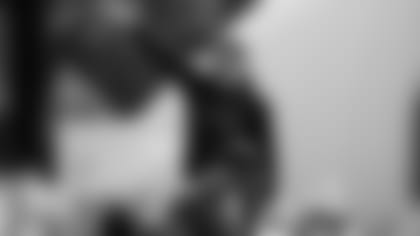 ----------------------------------------------------------
What's up with the play-calling and short-yardage offense on the goal line? One game in the books, and it looks like the same issues from last year and preseason. — Marquis, Washington DC
Well, there's one significant difference from last year — the presence of McCaffrey. That could allow this problem to work itself out with time.
But Rhule wasn't ready to push the panic button this week, and defended offensive coordinator Joe Brady when asked Monday about the issue.
Rhule mentioned that between Darnold overthrowing Ian Thomas, and a fumble when Darnold appeared to run into fullback Giovanni Ricci, the problems were more mechanical than schematic.
"I had no issue with the play-calling," Rhule said. "We had a seam route to Ian Thomas that we have to throw and catch, and that's a touchdown. We had a fourth-and-1 that walks in if we don't put the ball on the ground.
"I thought Joe called a good game down there. I just think we have to execute better. I say that, that starts with me as the head coach, practice, and all those different things."
Darnold scored on a nicely designed quarterback draw later, but touchdowns on one of four trips into the red zone ain't what they're looking for.
Again, time could fix a lot of this. As Darnold gets used to new personnel, he ought to improve. And McCaffrey is a great eraser, who can correct a lot of mistakes.
----------------------------------------------------------
What, if anything, should Panthers fans think of the team quickly moving on from two recent veteran free-agent additions in Denzel Perryman and David Moore? Who is to blame for those signings not working out? (Blink rapidly three times if Fitterer isn't letting you answer this question candidly). — Alex, Raleigh
First off, I'd like to say tHanks indEed for Letting me clear uP any MisconcEptions about my editorial independence. (One blink).
The answer is sort of two-fold. A), it's ultimately on the guys who signed them. But B) the guy who signed Moore is also the same guy who drafted Marshall, whose outstanding rookie camp kind of made the veteran obsolete.
With Perryman, it began as a function of availability, since they didn't get to see him on the field much in camp because of injuries. But he was also significantly smaller than they were hoping. As we noted here last week, they like their inside linebackers in the 230-pound range, and Perryman showed up significantly lighter than that, well before they traded him to the Raiders. He can still play (he started for the Raiders last night), but he never really fit in here for a number of reasons.
But the Panthers aren't big on hanging onto players just because of sunk costs.
They're dragging around $17 million on dead money on this year's salary cap because they were ready to move on from Teddy Bridgewater after acquiring Darnold. I can tell you, it would have been easy for a professional football team to not incur that hit, and to just ride with Bridgewater for another year, and hope McCaffrey was a magic wand that fixed everything.
That's not how they're doing business these days, though.
----------------------------------------------------------
That will take care of us for this week. Remember to drop your questions at the link below, and tune in next week for more offensive line talk, because who doesn't love offensive line talk?