INDIANAPOLIS — Welcome to the middle of the country. And, it appears, to the middle of everything.
They have car races here this weekend (both kinds — the slower, more popular kind with fenders, and those little slot cars they seem to enjoy up here). But before that, a couple of days of joint practices with the Colts. And it appears there's baseball downtown, with the local minor league team playing the hated St. Pauls. May also go pay homage to the John Wooden statue downtown, which is a great statue, even though statues of people make me nervous because they tend to not age well. Anyway, that's a long way of saying ALL OF YOUR SPORTS ARE BELONG TO INDIANA.
But it's also basically the middle of the preseason, and as weird as it sounds to say, training camp is almost over. When the Panthers get back home, there's only a couple of days of solo work in Spartanburg, before the Ravens roll into town for a couple of days of joint practices to close camp.
That means we have a pretty good chunk of camp in the rearview mirror, and some of the football stuff is coming into focus. There are jobs to be won and lost in the three preseason games (I suppose), but there's a reasonable sense of how things are stacking up. And even though there are (justifiably so) a lot of questions every week about offensive line topics, we're going to hit some of the other highlights this week since the real hitting of other people begins in earnest this afternoon.
----------------------------------------------------------
Realistically, how many receivers make the roster? It seems we have eight or nine players who are flashing, but obviously we can't keep them all. -- Carter, Charlotte
Yeah, this is one of those spots where we have a decent idea how it's going to shake out, though some things could still change over the next couple of weeks, considering the possibility of transactions and, God forbid, injuries.
A lot of that is dictated by numbers. Usually the most you can carry at receiver is six. So here's some breaking news for you. DJ Moore is going to make the team. So is Robby Anderson. And so is Terrace Marshall Jr.. While he might not be high in the popular consciousness, Brandon Zylstra seems pretty likely to hang around, because he's so good at special teams, and you have to have a few of those guys on a 53-man roster. That leaves two spots. Rookie Shi Smith seems to have done enough to be worth developing for the future. And David Moore is a known commodity and has return ability.
Of course, all this could change, if a better grade of returner comes available (Moore is serviceable on punts, and they have other guys to return kickoffs).
Carter's right, in that head coach Matt Rhule has talked up C.J. Saunders lately, and Omar Bayless has made his usual array of camp highlights, and others have flashed at times. But barring injury or a deal, it would be a mild surprise (to me) to see anyone breaking through those first six mentioned. Some of those guys could end up elsewhere (they cut Marken Michel recently and he was claimed off waivers by the Eagles). If you cut Smith and try to stash him on the practice squad, he could end up somewhere else too.
Carter also got greedy, and had a bonus question, even though it's not really a question:
You kinda look like Bob Odenkirk whenever you're on the post-practice pressers. -- Carter, Charlotte
You know what, I'll take that. Bob Odenkirk is super smart and funny, and not the kind of unattractive you usually get when people lead with smart and funny as a description of physical attributes. He'd probably balk at the comparison, because I look like a total goober at those press conferences with the whole double-glasses thing. Being closer to the sun in Spartanburg and not being able to see without readers is a real bear.
As an aside, I once went to a friend's wedding, and took my Smart Friend Kelly as my plus one since there was an open bar. One of the ladies in the bridal party apparently hit the open bar early, because she asked Smart Friend Kelly: "Don't you think Darin looks just like Alec Baldwin?" Dear friend that SFK is, she just looked at the poor blind lass and shook her head and said: "No."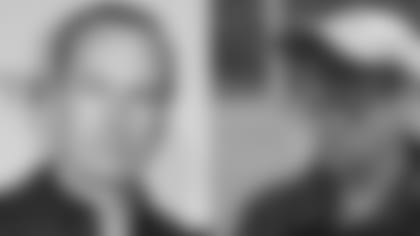 ----------------------------------------------------------
What would constitute a successful second season for Derrick Brown from an individual standpoint? -- Reid, Brooklyn, NY
More than two sacks, for sure. But that seems possible.
Brown's rookie season featured a lot of pressure up the middle, without the tangible counting stat that usually serves as the measure of pressure up the middle. He was also a pressure-not-sacks guy at Auburn (12.5 sacks in four years, with a high of 4.5 as a junior).
But they're doing some things differently this year, to see if Brown can be even more of a force up the middle. Having DaQuan Jones around to take up blocks and help the run defense is going to free Brown up, and a wider array of edge rushers is going to help too.
Mostly, Brown's making it a point of emphasis for himself this year, and has worked on his pass-rush skills all offseason. For a 320-plus man, he has a quick first step, and it's easy to see the potential they see in him as the (football jargon incoming) three-technique.
I don't think he will ever be Aaron Donald (there is only one Aaron Donald, and Chuck Norris is scared of him), but I could see a situation where Brown is a six-to-eight-sack guy. If so, that's a good sign for this defense as a whole.
----------------------------------------------------------
Is there any concern for the team going to practice against one of the least vaccinated teams in the league? -- Amanda, Kannapolis, NC
There are definitely concerns among certain players. Linebacker Jermaine Carter made his thoughts known early in camp, when he was also frustrated about his inability to see his family.
In what would be the biggest coincidence ever, the league amended its policy for family visits shortly after Carter's tweet got a lot of traction, and there are plenty of players who share his frustrations.
The Colts had the next-to-lowest vaccination rate in the league prior to camp, and even head coach Frank Reich had to miss time when he tested positive. More players have gotten vaccinated since camp started, since the NFL makes it super hard on people who choose not to be (can't eat together with teammates, have to travel separately, can't leave the team hotel on road trips, and on a five-day jaunt like this one, stuff like that matters).
But yeah, players have every right to be concerned. This thing is going the wrong direction right now, and we're inconvenienced again because not enough people took advantage of a medical miracle that is saving lives daily. Polio wishes it had social media and bad-faith actors on its side when it was trying to take over the country.
----------------------------------------------------------
Why do you think when the Panthers finally get a defensive man that will hit a receiver hard, the Panthers cut him? -- Scott, Thomasville, NC
Scott's referring to JT Ibe, the rookie safety who laid out teammate Keith Kirkwood in practice on Aug. 3. The word "teammate" in that sentence is doing a lot of heavy lifting.
Throwing Ibe off the field immediately was an emotional decision, and cutting him moments after the rest of the team finished practicing was also a signal to the rest of the team. But it had to do with more than one hit.
For days, Panthers head coach Matt Rhule was frustrated with the number of players on the ground in practice. When you're working against your own, that's bad news, because the risk of injury is so high. The day of the hit in question, Rhule had spent time emphasizing to the team that on the first day in pads, it was important to get a good "thud" but not to take players down.
Ibe responded, moments later, by lowering a shoulder into a defenseless receiver who was looking the other way.
The hit was egregious, but if you're the kind of football guy who doesn't mind a little brain damage in the people you watch for entertainment, I suppose somewhat understandable. It absolutely wasn't malicious; Ibe was just a rookie trying to make a bang-bang play, and he was genuinely worried about his former teammate afterward. It was just poor judgment.
The not following directions on top of exposing a teammate to serious injury made it a fireable offense.
Thankfully Kirkwood was on his feet later that day, though he hasn't practiced since because of the concussion he suffered. That means it was a pretty significant brain injury, and not the kind of thing to be celebrated.
----------------------------------------------------------
Hey DG, one of my favorite things about you joining the Panthers is that they give you the freedom to (within limits) be critical of the news/players, and you don't just ask softball questions. But if you had a critical thought on the team/players so far this camp, what would it be? Your unfiltered opinion of how Sam Darnold is doing so far? -- Jason, Heber Springs, AR
When I linked up with the Panthers last fall, it was kind of like dating someone you had known for a long time. They knew all my stuff; I knew all theirs. So we eased into the relationship to see if it would work. And so far, it has. They hired me for a reason, since they thought I could bring a certain perspective and understanding that comes with covering pro football for more than 25 years. And working here in a digital department full of bright and passionate young people energizes me. It's like newsrooms used to be, when there were things called newsrooms. Working sources from outside the building is obviously different than from inside, and there are things I see and hear now that I don't report. But that was the case when I worked for newspapers too, because building sources requires some mutual trust. That's a long way of saying they didn't hire me to write puff pieces, and I wouldn't have taken the job if that's all they expected. I am burdened by being me.
That said, I'm as concerned as a lot of the fan base about the state of the offensive line. They invested some free agency dollars and draft picks, but not to the level you'd think if the priority is to protect Darnold and make him feel comfortable. Three weeks into camp, and how they line up against the Jets in the opener is still a question mark. That's not ideal. I think if Penei Sewell had fallen one more spot in the draft, we'd be having a very different conversation. Jaycee Horn could be a great corner someday, and the team certainly needed help there too, but they have to continue to invest in linemen at a higher level, no matter who the quarterback is.
As for Darnold, he has looked, and I'm going to use a complicated football phrase word here, fine. Not oh-my-god-he's-going-to-the-Pro-Bowl good, but certainly OK. He has the chance to upgrade the position and take advantage of the skill-position talent around him. Teammates say he looks poised on the field and in command of the huddle. That matters. He's done all the little things well. He still has to go on the field and do the big ones (throwing to the right team) right, but the early signs on Darnold have been more positive than negative.
----------------------------------------------------------
Who is QB 2? I want the best for my team. I feel Darnold can be successful. But two worst-case scenarios come to mind: a broken deer in headlights (a la David Carr) or (God forbid) bad enough injury to be out multiple weeks. PJ Walker seems undersized and scrappy but he is no Doug Flutie. Will Grier seems to have matured a lot but is yet to show this maturity translated on the field. Second year with the staff for both of them. But who has the edge? -- Ed, Durham, NC
First off, I would be a little surprised if Darnold curled up into the fetal position and just waited for the noise to stop. He seems like he's made of sterner stuff than that.
When Carr came here, he was looking for refuge after years of taking a beating in Houston. Being Jake Delhomme's backup sounded like a good gig, since Delhomme was always durable (whoops). Some guys get shell-shocked and need a break and are content to hold a clipboard. Sam seems to like ball enough that he wants to fix it.
As for his backup, it's been interesting in practice seeing how they're splitting time with the twos and threes. A year ago, Walker was a known commodity to the coaching staff, and coming off regular play time in the XFL. So it seems natural and normal that he'd have an edge in their mind, and inertia would suggest he'd remain the two. But he hasn't; the offseason has given Grier a chance to prove himself to people who didn't know him. And he has evened the race. He's a smart kid and an accurate passer, and when the depth chart came out the other day with an "OR" between their names on the second line, it wasn't necessarily a surprise.
They'll have game time to figure it out, as I suspect there will few if any starter reps in Sunday's game as long as the joint practice work against the Colts is good. So we'll see. A lot of roster spots are largely determined. This one still feels very much up in the air.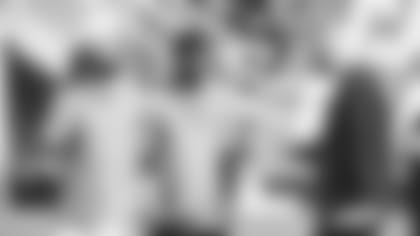 ----------------------------------------------------------
You've been around. Is there any specific team or season that this current team/roster resembles the most? Either culture-wise or play-style-wise. If so, why? -- Aharon, Curitiba, Brazil
I want to preface this answer with a clear and unequivocal statement: I AM NOT SAYING THIS TEAM IS GOING TO THE PLAYOFFS MUCH LESS THE SUPER BOWL.
But there is a certain summer of '96, summer of '03 vibe here. You know they're better than last year because last year was brand new, and they were just trying to get their heads above water. Now, they had an offseason that was intentional, and busy.
In 1996, that meant adding adults like Kevin Greene and Eric Davis to a defense that was showing signs of being good, and Wesley Walls to an offense that really needed him. In 2003, it meant bringing in a quarterback you thought you could trust in Jake Delhomme and a bell-cow running back in Stephen Davis and a bookend tackle in Jordan Gross.
This offseason was designed to add maturity and perspective to a young team. Cats like DaQuan Jones and A.J. Bouye are here for a reason. Partly it's to play, but also to show all these kids how to play the right way.
Again, I don't want to stretch the comparison to those two teams too thin, because I think they're a year away from being truly competitive at the top of the NFC. And because of the way last year unfolded, I almost don't count it, because it was so abnormal in so many ways because of COVID-19.
It's early yet, but it feels like something's cooking.
----------------------------------------------------------
When is the jersey schedule going to be released, and are they finally gonna bring back the blue color rush jerseys? -- Adam, New York, NY
Because I am a huge corporate-shill kind of tease (see above), my answer is: "Exciting news is coming soon. Please check Panthers.com and the Panthers app many times a day, so you don't miss it. And click on all the amazing photos and videos while you're there, and also all the ads because our partners make this all possible."
But my normal-person answer is: "Probably pretty soon."
I feel confident the blue jerseys will be back twice this year, because people dig them. Color rush and going blue-on-blue might have been a bridge too far, but I do like the blue jerseys with white britches as long as you wear white shoes. You look fast then. As an old guy, I recognize these newfangled things aren't for me, because I maintain the best of the uniforms is the black jersey/silver britches combo. It just looks like what football is supposed to look like. To me.
But people are different, and they can like different things. That's OK.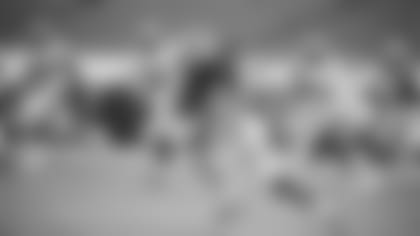 ----------------------------------------------------------
What is going on with the tight end position? I have heard many analysts speak on our need for a playmaker at the position. However, it seems as if the team does not agree. Was just wondering if you had any insight as to what the outlook is from our tight ends in 2021. -- Jeremiah, Wilkesboro, NC
Well, Jeremiah's right that there might not be a Greg Olsen on this roster, but Greg Olsens are pretty rare.
What they definitely are this year is better.
The Panthers got next to nothing from the position last year. They had four guys top 1,000 yards from scrimmage on offense, but the tight end spot was a black hole.
They might not have the best group in the league right now, but if you get to league average, it means you've improved 15 or 16 spots.
I don't do fantasy football (you should send all those questions to @panthersbill on Twitter), but Dan Arnold has the chance to be a breakout player. He's a target downfield, and tall. He's more of a willing blocker than a dominating one (that's the football equivalent of "She has a nice personality"), so he's not going to be on the field every play. But he'll be out there a lot.
Ian Thomas has had a good offseason, and could have more of a role. Tommy Tremble shows some promises as a blocker and a special teamer, and could grow into something more down the road.
I know it was bad last year. It will be better. It can't get worse.
----------------------------------------------------------
Why fines for excessive flatus in D-line meeting room? LET IT RIP big fellas!!! -- Westray, Kershaw SC
There are two reasons I love Westray; he is a true Friend of the Mailbag. One, he reads every word on the website, which is how he knows rookie defensive tackle Daviyon Nixon spilled the beans about the fines in the meeting room. Two, he's kind of twisted.
Have you ever been in a locker room? Meeting rooms aren't quite that bad, but these dudes sweat for a living. The place has a certain aroma anyway, like Eau de Sock.
As Nixon revealed, the linemen will fine you if you pass gas in an enclosed space. That's just basic human courtesy. There's room for us all in this big world, but when we're inside, be considerate of others. No matter how old school you are, or how funny it is, you can't turn a workspace into the campfire scene in "Blazing Saddles."
Now, if you're outside, feel free to pull my finger.
----------------------------------------------------------
Hey, I need some Old Guy advice! I'm moving to another state for a big new job, and need something to decorate the first office I will ever have in my professional experience. What do you think is the best slightly odd but still office-appropriate piece Panthers merch to express my undying homer love for the team? -- Joseph, Concord, NC
First off, congratulations on the job.
Second off, maybe one day I can hook you up, because you're this week's Ask The Old Guy Ambassador to Concord, and as soon as we have merch, you're getting the fourth piece of it behind me, Hal from Canada, and Westray.
As for other stuff, the key is finding things few people own, so it's unique. When I started this job, my boss found me an Armanti Edwards autographed mini helmet, which sits on my desk now. He did this because he's a snob and has great sport with me about Appalachian State's greatest quarterback never quite making the transition to the pros. I also still possess a newspaper photograph of Nate Newton over a huge plate of food from a 1999 story I wrote about him, because Nate Newton was tremendous fun and I'm glad he was here for a moment.
Besides, anyone can have memorabilia of star players. What you really want is a Paul Butcher autograph, or Karl Hankton's gloves or something. When you find the right item, it will call out to your soul. Then your job is to share that love with the world by hanging it somewhere obnoxious.
----------------------------------------------------------
Why is Christian Miller, #55, I believe, wearing a different helmet? He may be wearing a helmet over his regular helmet. Does he have a concussion? There are other players wearing the same helmet combination. See Sunday's pictures. -- Gwen, Elon, NC
He doesn't have a concussion, he's trying to prevent one.
Linemen aren't as prone to the big thunderous-hit concussions like receivers and corners, but they take lots of repeated sub-concussive blows. Those caps are designed to minimize those smaller, more frequent impacts.
They may look a little goofy, but as rookie offensive lineman Brady Christensen said: "I liked them. Anything to protect my brain a little bit more, I'm all in. I want to remember my kids' names when I'm 50."
----------------------------------------------------------
Do you think the Panthers will ever retire a jersey again to go with Sam Mills? I know they finally expanded the Hall of Honor and are continuing to do so. But in my opinion, nobody that wears the black and blue should ever wear 89, 58, 59, or 90 again (and of course 1 when the time comes and Cam retires). What are your thoughts? -- Hunter, Mooresville, NC
What I think is "ever" is a long time. We should treat history as such, and move slowly.
One of the problems is, the NFL has a limited stock of numbers by sticking to single and double digits, and until they broaden their mind to allow pi or a symbol like Prince used to use, there's only so much you can do.
With 90 players on the roster in the offseason, it gets even weirder. At one point this week, the Panthers had three 40s on the roster, one on offense, one on defense, and one on the COVID-19 reserve list. Even if there's another 58 some day, there won't be another Thomas Davis. Even if there's another 59, there won't be another Luke Kuechly.
If you start retiring numbers for players who were merely great and not all-time can't-write-the-history-of-football-without-them special, you'll run out.
I can see putting certain numbers in a cooler. It's weird seeing DaQuan Jones in 90, but the one thing I know for certain about Julius Peppers is that he doesn't care if anyone wears his number or not (he didn't when Frank Alexander wore it either).
But the bar has to be really, really high. Even if you draw the line at Hall of Famers, you start to limit your stock. If the Packers and Steelers retired all the numbers of their guys in Canton, they'd have people running around with pi or Prince's symbol on their jerseys. But the Steelers have only officially retired two numbers (Ernie Stautner's 70 and Joe Greene's 75). Other numbers are parked for a respectful time but not officially out of circulation. That feels like the right approach, and the one the Panthers are following with a few guys. We'll see what the future holds, but it's better to play this slow than start retiring too many.