CHARLOTTE — Look at that dateline ⬅️.
My how time has flown. It seems like yesterday we were just in Spartanburg.
Actually, that's because time is just a theory, since once you go to training camp, Sundays become Tuesdays and no one knows what a weekend actually is. Even though camps are shorter than ever, they're still long. Today's Monday, right?
But oh, the things you learn, about football people, and the people you're around on the hill while you watch practice. Susan, a retired teacher, was out there practically every morning, as regular as Sam Darnold and the guys who are first on the field each day. I don't know her well, but I bet she was a great teacher, because she brought the enthusiasm every day, and she was always on time.
Anyway, the football stuff, that's why you're here. There is plenty of it. After a month of camp, and particularly those joint practices with the Ravens and Colts, we're learning a few things. Specifically, that Panthers defense might actually be pretty good. But we plowed through a lot of that stuff in our camp takeaways, which we posted before they played the Ravens and continued to take the ball away.
Like Susan, they have a bunch of guys on that side of the ball who bring it every day. It helps, especially with so many other unknowns.
So let's get into the questions. There are plenty, and they keep coming.
----------------------------------------------------------
How many cornerbacks do you think the Panthers will keep on the active roster? — Stephen, Hillsborough, NC
The short answer is probably five, and one extra for the first two weeks. The long answer is a little more complicated.
The Panthers found a veteran they liked in A.J. Bouye, knowing he'll be able to help them for 15 games. But he's going to miss the first two against the Jets and the Saints while he finishes up a six-game suspension from last year. They knew that going in, but the 17th game being added to the schedule this year actually made the math more palatable when they decided to sign him (88.2 percent of the season > 87.5 percent). Bouye is a smart player who works the right way, and the coaches were holding him up as a role model to younger players early in OTAs.
Troy Pride Jr. was firmly on the roster bubble when he tore his ACL. So taking him out of the equation leaves Stantley Thomas-Oliver III as the likely fifth and extra one for the first couple of weeks. Bouye doesn't count toward the roster limit while suspended, so they're effectively cutting to 54.
Knowing that Jaycee Horn and Donte Jackson are solid, and Rashaan Melvin was another value veteran, rookie Keith Taylor Jr. is probably their fourth corner at first. Taylor's had a good camp, and he and Melvin are both long-limbed guys who can play physically (which was part of their offseason profile for the position).
After that, the count gets a little funny depending on what you call people, since the Panthers throw so many different looks out there. Nominal safety Myles Hartsfield plays nickel, which is usually a cornerback's job, but he's good at it and they'll need him in Bouye's absence. He's part of a muddle of his own at safety, and the way they mix-and-match defenses makes it a little complicated to label some of these guys.
But the short answer is probably five corners, with an extra one for the first two weeks.
----------------------------------------------------------
Darin, really glad to see you back writing! There has to be cause for concern about the kicking situation. It's the only area without competition and Joey Slye continues to disappoint. Is management as concerned with this as the fans? — Chris, Charlotte
As I say when I place an order at Target, thanks, and Depends. Which fans? There are some fans who freak out about everything, and if general manager Scott Fitterer doesn't collect a Pro Bowler at every position, he's obviously a doofus who sleeps at his desk or something.
The reality is, they wanted and want to believe in Slye. Slye, however, has given them reasons to doubt him during camp and the preseason, including missing a 37-yard field goal and a 43-yard extra point already. But cutting bait on him so a portion of the fanbase has a head to put on a pike is more difficult than it seems.
The first part of the equation is that they genuinely believe he's a solid kicker, and math suggests it might be true. Last year, he was 28-of-30 inside 50 yards. Finding kickers who are better than 93.3 percent on the vast majority of NFL kicks gets expensive in a hurry, and Slye is not expensive. Yes, he was also 1-of-6 from beyond 50, and the Minnesota miss was a killer, but a couple of those were circus shots that they only even tried because he has a freakishly strong leg.
The second part is that finding a replacement implies that a better option is available. Depending on where you draw the line to define regular kickers, Slye's .806 percentage on all field goals last year puts him somewhere around the 23-25 range in the league. That means there are at any point, at least eight or 10 kickers in the league worse than him. Their fanbases yell a lot about kickers too. And yes, it's reasonable to want better, as long as you can find it.
As for the competition, Slye is so meticulously detailed about kicking that I'm not sure having some other guy standing next to him during training camp provides any more motivation than is already between his ears. They've had other guys around at different points, and brought Zane Gonzalez (career 78.0 percent) in as a tryout guy this summer. He wasn't immediately better.
Would they like to find more consistency at the position? Sure. Is it as easy as "GAAAAHHHHH CUT SOMEBODY, I SAW A GUY HIT TRICK SHOTS ON YOUTUBE LET'S TRY HIM?" It is not.
----------------------------------------------------------
Ten percent of the team's initial 90 man roster was made up of Temple and Baylor players. (All NFL-caliber certainly). In your opinion, to what extent, if any does this high percentage suggest a emphasis on Matt Rhule's culture development as these players have familiarity with what he wants as a team? — Craig, Elkhorn, Neb.
Some, obviously. Every coach in the NFL brings in a handful of "his guys" when he takes a job, to help establish his priorities and expectations with a new bunch of people.
When Dom Capers got here, Sam Mills was a "Dom guy." George Seifert brought Steve Bono, for heaven's sake. When John Fox took over, he dragged some former Giants in here, and Ron Rivera kept Seyi Ajirotutu around because he knew him. That happens every time a coach moves.
And let's face it, Haason Reddick and Robby Anderson would be on any roster in the NFL, regardless of the fact they played at Temple.
As the Panthers' roster gets better from the top down, many if not most of those guys will get pushed aside. But until they can fix all the stuff they want to fix, several will remain along the fringes of the 53-man roster.
If there's anything all coaches value more than talent, it's knowing what to expect from someone. A dependable B student is better than a guy who can make a brilliant A but also a bunch of Ds. And if you know a player's work habits and his limitations, it certainly gives him an edge when the roster is at 90. If they're all here when they cut to 53, it's a different question. But as they're building, Rhule's not unique in starting with what he knows.
----------------------------------------------------------
Tell us a cool story involving you and any Panthers player. Former or present. — DJ, Youngsville, NC
Stories about me aren't particularly interesting, but I was reminded last week of one of my favorite joint practice stories of all time.
In 1998, the Panthers went to Saginaw, Mich., for a couple of days of practice with the Lions.
(As an aside, Saginaw was amazing. Also, just far enough away from Detroit that you could really unwind a rented Cadillac and feel American as hell. When people stop going away for training camp, we're really gonna miss it.)
As it turns out, 1998 was Barry Sanders' last season, though I don't think we knew it at the time. So all the Panthers' beat writers (there were about a dozen of us back then) did a group interview with Sanders, and that was reasonably cool.
One Panthers player, however, was star-struck.
The late Fred Lane, God rest his soul, was in awe of Sanders, as any running back of his era ought to have been. Especially if you were a former undrafted rookie from Lane College in Tennessee. Fred had a simple and genuine way about him, and the chance to meet one of his heroes had him excited. So excited, that he didn't go into their interaction prepared.
After the morning practice, players from both teams ate lunch at the same time in the cafeteria there.
Lane quietly walked up to Sanders, introduced himself, and asked for an autograph. Sanders obliged, and asked him what he wanted him to sign.
Lacking a jersey or photograph or even a copy of that day's practice schedule, Lane improvised, cleared his dirty dishes, and handed the Hall of Fame running back his lunch tray. Sanders seemed a little confused, but signed it anyway.
I hope someone in Lane's family still has that lunch tray, because that's the kind of story that captured his humble spirit. There are plenty of Fred stories to tell. Maybe we'll tell some more another day.
----------------------------------------------------------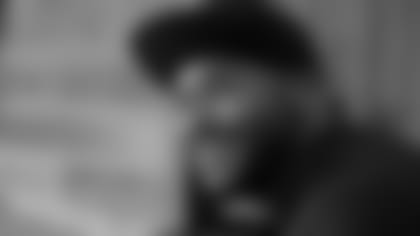 Please let Steve Smith Sr. know that I'm his #1 fan!!! Love his commentating! My family and I like the insight and keeping it real. About time! Monday Night Football next! — Kevin, Simpsonville, SC
Sir, Steve would like to see your credentials. His number one fan is probably the guy he sees in the mirror when he brushes his teeth in the morning.
Steve is a breath of fresh air on a broadcast. In many markets, if not most, the preseason analyst is never going to say a bad word about anyone who works there, regardless what it does to their credibility. Steve, in case you've missed it, has said a bad word about a few someones.
His honesty makes him him. But he's not just some shock-jock, ripping people or saying outrageous things for the sake of getting attention or in exchange for money. Listening to him break down the particulars of coverage, or the psychology of offensive linemen when they get called for false starts proves that he knows what he's talking about.
Smith Sr. is great fun, because he's genuine. But let's not get in a hurry to share him with the world. We are his, and he is ours, so let's just enjoy the moment.
----------------------------------------------------------
How does an old guy cope with dorm life at camp? Does it creep him out to think of all the shenanigans that might have happened over the years on his mattress? — Sunny, Houston
Well, it didn't, until just now. Thanks, you weirdo. Although, you seem like my kind of weirdo, so what the heck, you're this week's Ask The Old Guy Friend of the Mailbag, and as soon as we have merch, you're getting the fifth piece of it behind me, Hal from Canada, Westray from Kershaw, and Joseph formerly of Concord who's moving away for some big fancy job with a desk.
I've got to tell you, I wasn't looking forward to setting up shop in Lesesne Hall, Room 306, for the better part of a month. Frankly, I planned on hating it. But training camp is such a transformative experience that it changes a man, and his preconceived notions drift away. Except for hating living in a dorm. That's harder to shake than some of the stuff on those mattresses.
All the stuff about a dorm that you forgot when you were 18 comes flooding back when you're pushing, well, a number greater than 18. Like how cold the floor is. And how loud the guy in the adjoining room can be when he goes to the can at 5:15 in the morning. And how thin the mattress is. When you have a young back, you can sleep on a wet beach towel and spring up in the morning and attack the day with an enthusiasm unknown to mankind. When you're older, sleep is a valuable commodity, the kind you pay good money for a better grade of.
Next year if I come back, I'll solicit a mattress sponsor for myself. And a rug sponsor. And a towel sponsor. Or maybe a hotel sponsor.
Speaking of, that five-day stay in Indianapolis was nice, until I came back to sleep on my wet beach towel of a mattress in Spartanburg. Here's a side-by-side comparison of the mattresses in question, lest you think I'm just a complainer.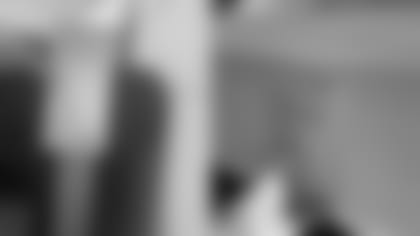 In a semi-related note, at one point during camp, I was on a Zoom call for some church business. One of my pastors noticed the stark, cinderblock decor in this fine place of residence and asked if I had been arrested. (It's the kind of church where we talk about the Jesus who hung out with the prisoners and all the other sinners which is all of us and loved them anyway, so it's OK. She wasn't being judge-y, just curious. Also, she knows me and didn't rule it out.)
----------------------------------------------------------
For years the Panthers offensive linemen had a tradition at Wofford that included an RV, various meats and playing cards. Has this tradition been passed down to the current crop of O-linemen or has it been forgotten and shunned by this younger generation like the worlds greatest invention, the cargo short? — Greg, Tega Cay, SC
The Panthers' line is in a bit of a transitional period, as is fashion. And any trend that doesn't allow for lots of pockets is one I want no part of.
Back in the old days at Wofford, the dorms weren't as nice as they are now. So to escape their rooms, the linemen used to pile into Jeff Mitchell's RV to get away from it all. It was like a clubhouse, for sure. They played cards and did god knows what else in there, but it was their space, and they were protective over it.
But that was also when Jeff Mitchell knew who would be playing on either side of him for years at a time, so a certain chemistry developed. In later years, Ryan Kalil and Jordan Gross were the leaders of the line, and they had their own traditions. Even before Mitchell, the Panthers had some amateur barbers on the team, and one year rookie linemen got haircuts. That group included a dude named Rob Bohlinger, who appeared to have a furry snake on top of his head. A furry snake who apparently swallowed a couple of bocce balls which settled uncomfortably. Anyway, it was a bad haircut, but at least he was very tall (6-foot-9) so not everyone had to see it.
With this bunch, it's too soon to know what will develop, on the field or off. Two of the starters are brand new this offseason. One is in the final year of his contract. Another is on his second one-year deal. Now, in the future, will Taylor Moton and Brady Christensen and Deonte Brown have their own space, where they do linemen stuff together? Perhaps. But it's early yet.
----------------------------------------------------------
Have you seen the video of Luke Kuechly at Bills practice? If so, do you think he would join Sean McDermott, or consider coming back to Carolina in the not too distant future? — Sean, Vandalia, Ohio
I saw it, and he looked an awful lot like a guy visiting his old friends. Not like a guy applying for a job.
Teams will give out gear to whoever walks through the door. Former Eagles coach Doug Pederson has made a tour this summer, and rolls out on practice fields wearing the logo of whatever team he happens to be with at the moment. This has led many people to wonder if he's joining a number of staffs.
Kuechly's trying to be retired at the moment. I can't imagine he'll spend the rest of his life fishing, and he knows too much about football to not be football-adjacent at some point.
But right now, he doesn't seem to know what he wants to do, so he's just hanging out with his buddies. He deserves as much.
----------------------------------------------------------
That'll take care of us for this week. Stay tuned, because things are going to get interesting in the next couple of weeks, as they reduce an 85-man roster to 53, and get ready for the start of the regular season.