CHARLOTTE — We're a week away from Senior Bowl practices, which are the de facto start of the offseason scouting season (the scouting has been happening for months, but the attention to it is ramping up now).
And after Friday's news that the Panthers were targeting Ben McAdoo as their next offensive coordinator, they've checked one of the biggest immediate boxes off their list. They still have to finalize a contract with McAdoo, and then hire an offensive line coach to work with him, but that process is in motion.
Otherwise, the big questions for the Panthers will center around incoming players, as we turn our focus toward free agency and the 2022 NFL Draft.
And after a bit of a break, we're ready to dig back into the mail, because there's plenty of it.
----------------------------------------------------------
After lots of "Rome wasn't built in a day" talk, it seemed the 3-0 start has us scrambling to patch holes when, due to injury, they popped up, hoping to take this leaky boat as far as it would take us into the choppy waters of the playoffs. Things didn't go that way. What's the feeling now? Are we still in the midst of a rebuild — or are we really just a few pieces away from being good-to-great? The chef duo of Matt Rhule and Scott Fitterer promise that we have all the right ingredients and just need an extra dash of something to make us all believe a piping-hot bowl of playoff football is on its way, but I can't help but thinking they rushed through parts of the recipe last year and are serving up an incomplete dish. You can pick which metaphor to run (or sail!) with. — Michael, Durham, NC
That's quite a word salad you tossed there Michael, but there are a few ingredients with which to work.
In hindsight, that 3-0 start might have been the worst outcome for a lot of people, inside and outside the building. It created some expectations that they were closer than they were. Built against some less-than-stellar competition, and with everything breaking their way for the first three weeks, it seemed too good to be true. And it was.
The Panthers weren't ready for that level of expectation, with a roster that was obviously incomplete. (Looking back, Rhule comparing his offensive line to Interstate 85 during training camp — "Under construction" — was a pretty big clue.)
That and trading for Stephon Gilmore when they were 3-1 had people convinced the playoffs weren't just possible, but likely. Gilmore was a great add since it basically didn't cost anything, and having him around young corners makes them better, as long as they watched and listened.
But when Christian McCaffrey got hurt, all the margin of error that the offense had went away, and they regressed to the mean in a really mean way.
Until they find a long-term answer at quarterback, and fix the offensive line, it's going to be hard to see a long-term direction. But at the moment, they've chosen to go with organizational stability, rather than join a quarter of the league starting over again, picking through a diluted market of coaching options.
Owner David Tepper said it would take time to fix what he viewed as a depleted roster. His actions suggest he's prepared to allow this staff time to work on it.
----------------------------------------------------------
These "rock star" OC candidates seem a bit, ... underwhelming? I mean did we even reach out to David Lee Roth? — Travis, Gastonia, NC
One man's David Lee Roth is another man's Gary Cherone. And sometimes, the answer is Sammy Hagar.
The report Travis is referencing about what the Panthers were looking for in an offensive coordinator created a lot of expectations as well, but this hiring cycle is complicated for a lot of reasons.
For one thing, when a quarter of the league has head coaching vacancies, some of the names you'd like to talk to for coordinator jobs are getting head coaching interviews.
The Panthers were casting a wide net before arriving at McAdoo. They conducted many virtual interviews because they're easier to arrange, giving them a chance to talk to more people than the days when you'd fly three or four candidates in. It's similar to the way they hired a general manager last year, when Fitterer was the 15th and final interview of the cycle. You can gain a lot of perspective from talking to a lot of people from a lot of organizations, and they talked to guys with a variety of backgrounds.
Ultimately, McAdoo was a guy with the experience calling plays in the league that Rhule was looking for, and McAdoo did a creditable job in New York working with Eli Manning as a play-caller, until things began to go south after his first year as head coach.
But other than timelines, finding a coordinator was complicated for the Panthers. Beyond the league-mandated delays in talking to playoff participants, there's the very real perception that a job here might have a shorter shelf life than others. When you win five games in back-to-back years, that's a natural conclusion for candidates to draw.
The other reality of looking for offensive coordinators is, when the entire league is looking for the next Sean McVay or Matt LaFleur at head coach, that it's hard to keep them around as assistants. So you have to either promote guys who may not be ready, or fall back to some familiar names that might not have sizzle, but offer some perspective that comes with time.
When McAdoo gets here, he still has some interesting parts to work with including McCaffrey, DJ Moore, Robby Anderson, and Tommy Tremble.
Now we'll see what he's able to make out them.
----------------------------------------------------------
If Darin Gantt were GM (as an aside, what is your official title with the team? 'Cause whatever it is you and the entire Panthers media team are simply the best), back to my question, if you were GM, what would you target in the offseason in both FA and the draft? Not asking for specific players, just positionally, what would you target and where? — Rich, Mount Olive, NC
Please, like anyone would ever make a former sports writer a general manager.
But if they did, there are a few things I'd make priorities.
First, and obviously, I'd go out and bring in a lot of big bodies. This has been a problem for a decade or more. The need for offensive linemen, plural, is acute. There are a couple of particular free agents I'd target, and spend as needed for. Obviously, everyone has a budget, but I'd spend a higher portion of mine on offensive linemen. And then I'd draft a couple more in April. That position needs a reset. Drafting Brady Christensen and Deonte Brown was a start, but I'd keep pumping two new ones in every draft until I had it fixed.
And because everyone is shaped by the football they see the most of, I'd also put a high priority on having a hammer at middle linebacker. I've talked about this before, but the Panthers being able to go from Sam Mills to Micheal Barrow to Dan Morgan to Jon Beason to Luke Kuechly has spoiled a lot of people, who just kind of assume every team always has one of those. They do not. I mean, other than Chicago, I'm not sure there's been another NFL city with that kind of lineage at the position. And while the Panthers built their defense the last two years to be able to pass-rush and cover man-to-man, strengthening the middle of defense would help in a number of areas. It would immediately help the run defense, but having a partner would help Shaq Thompson in the same way Kuechly made Thomas Davis a more dangerous threat.
(I'd eventually have some suggestions about uniform color combinations, but that's a different question for a different mailbag, and frankly, GM Darin has enough to work on that he's going to stay in his lane for the time being.)
Speaking of, my official title is senior writer and managing editor, which just makes me sound old. Also, I was afraid my body would reject being called editor of anything, because for most of my years I assumed editor was a foreign word, Slavic perhaps, which translated to "one who does paperwork and has meetings and makes simple things vastly more complicated."
----------------------------------------------------------
Since we are locked into the sixth overall pick, would it make sense for another rebuild year to take a top player, or does it serve us best to trade back to get more picks and fill in the many holes we have? — Bobby, Vail, CO
There are times when you need to add bulk to a roster, the way they did by loading up on 11 draft choices last year.
To me, when you have a top-10 pick, you don't overthink it.
Specifically, if you're looking for a left tackle, that's where they live. The guys at that position who are good for a long time generally aren't available later in the first round. And with three high-end left tackle prospects this year (Evan Neal, Charles Cross, Ikem Ekwonu), it would be really hard to talk me out of picking one of them. But you also have to make sure that your scouts get a good evaluation on all the quarterbacks, in case you think one of them can be the guy to put you in the class of team that were playing last weekend.
The consensus on this quarterback class also doesn't suggest there's going to be as much demand to trade up. That could change once these guys get to the Senior Bowl and the Combine, but at the moment, my initial reaction would be to sit tight and pick at six, one way or another.
----------------------------------------------------------
Is the "Ask The Old Guy" column shut down? Missed it! I'm sure I'm not the only one, but I haven't heard anything about the "merch." If it's not going to happen, that's OK. I'm not dying or anything (at least I hope not). If you need to cancel it, I'm OK with it. — Howard, Star, NC
I took a couple of weeks off from the bag, and it felt strange; like walking around your house with no pants on. But I needed to take a breath, because a football season is a long time, every day from the middle of July to the middle of January. We probably won't go weekly through the offseason, but it's not going anywhere. It's too much fun. Usually. I'm guessing every other week, until things pick up.
Most of the first 20 or so of our Friends Of The Mailbag have their merch, but we do need to restock. The same supply chain that keeps Howard from having enough Vienna sausage before the blizzard hits impacts us as well. But trust me Howard, you'll get yours. We value you too much to ignore.
----------------------------------------------------------
How could the Panthers become playoff contenders? — Hank, Alpharetta, GA
I admire brevity. I wish I had more of it.
With seven spots, 43.75 percent of each conference is going now. So it's possible to get to the postseason in the NFL without actually being good. The Eagles and Steelers, the owners of those coveted seven seeds last season, didn't put up much of a fight in their wild card games.
Getting to the great middle of the NFL isn't an impossible feat, since the league is designed to push everyone to the center.
For the Panthers, it would require fixing the offensive line and getting stable quarterback play, and playing defense the way they did most of the year. That's all.
And for getting right to the point and keeping things moving, I'm declaring Hank the first offseason Friend Of The Mailbag, and putting him on the list for the second wave of merch, as soon as that gets in, and we get Howard taken care of.
----------------------------------------------------------
So enjoy the column! I'm with Tony Romo that Sam Darnold will be much more successful given protection. Agree or not, it would take a stunning haul in free agency to direct our lone high pick away from the OL. Since no QB is going to succeed without a better OL, priorities demand we let Darnold's fifth-year option play out. So my question is about Cam Newton as depth. Am I right? No one is going to give him starter money? And that he'd rather get good backup money here than elsewhere? And that if Darnold holds onto most QB snaps, Cam's foot seems well enough that he still has the physical tools to learn other positions? If Taysom Hill has contributed at FB, TE, LB, couldn't Cam do at least as well in surprise or emergency Swiss Army duty? Would he or the coaches be interested in giving it a serious look? John Smoltz made quite a storied comeback as a closer. It's only a gimmick if you're still losing, but strategic if it gives your opponent one too many things to handle. — Dean, Zionville, NC
It's an interesting theory. The problem is how to put it into practice.
I think Dean's right that there probably won't be a huge demand for Newton as a starter, with the way his year in New England went, and his passing here in 2021 (other than the Washington game).
And he's already said he'd be willing to be a backup somewhere, as long as there's winning involved. Can that be here? That's to be determined.
I'm starting to think that late-stage Cam Newton is a luxury item, a player you add on when everything else is functional, and he brings a new element. They may not be there right now.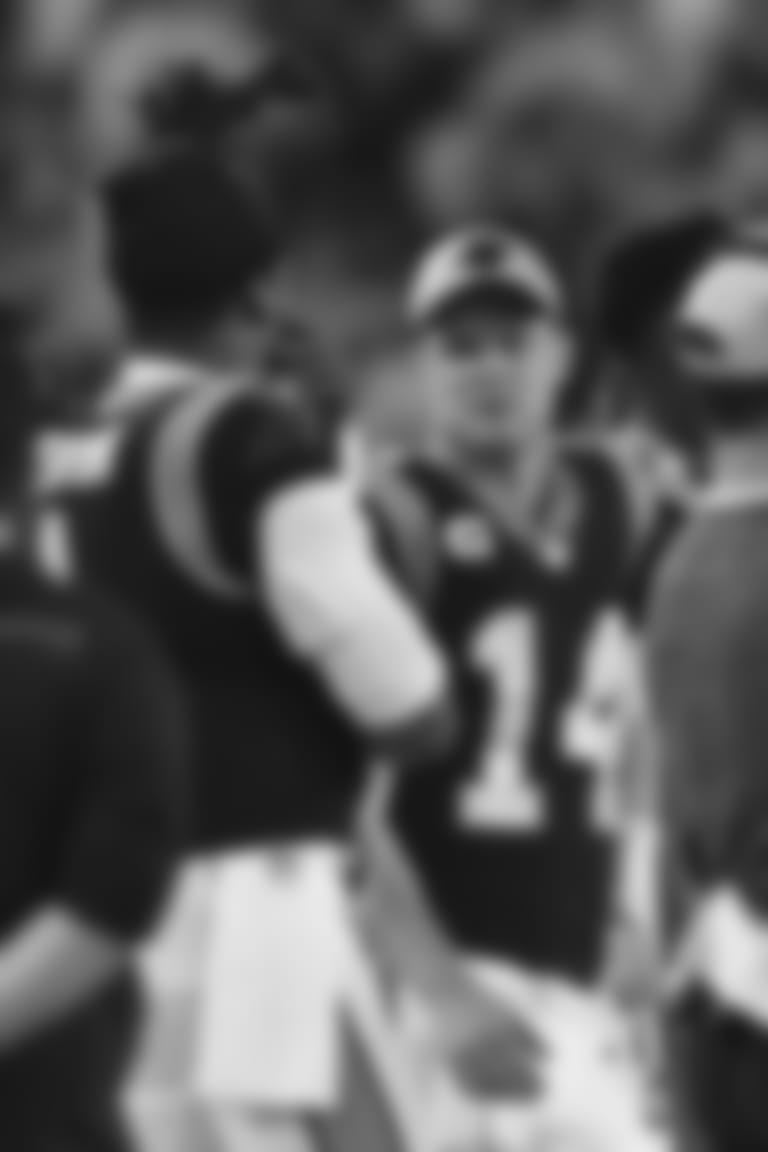 ----------------------------------------------------------
We all heard Scott Fitterer likes Kenny Pickett in the postseason presser, which was odd because it's really, really early to be publicly "liking" any prospect. How does Kenny rank to them compared to Justin Fields, Mac Jones, and Sam Darnold from last year's evaluation? Could we see Kenny being a Panther even though we have a bigger need at OL? Please answer, or else I'm going to @ Bill Voth all off-season on Twitter. — Cody, Four Oaks, NC
First of all, you should absolutely pepper @PanthersBill with questions on Twitter, specifically the ones which begin "Any chance, ..."
Time will tell what the evaluation on Pickett actually is, because all we have at the moment is the first layer of scouting. They've had some initial meetings, but the draft board won't really be set until the end of February.
Pickett's interesting, and until the Panthers find their answer at quarterback, there's always going to be a chance.
So make sure to ask Bill about it.
----------------------------------------------------------
Congratulations on another great season of study and writing. Two things stood out to me in Will's final weekly Stats and Superlatives of the season.
-- Shaq had six tackles to finish with 104. Jon Beason, Thomas Davis and Luke Kuechly are the only other Panthers with three consecutive 100-tackle seasons.
How does Shaq's 104 rank with the others in terms of games played and totals? I was sure proud of him this year and hope he's around for a long, long time.
-- Cornerback Myles Hartsfield posted a career-best 12 tackles, including a sack and a tackle for loss. What is your opinion of Myles and the DB room's overall future in terms of players and direction?
PS: Nice work on the Mick Mixon piece. — Randall, Old Fort, NC
Thompson had a strong year, probably playing his best football.
Statistically, you get down in the weeds in a hurry when you start counting tackles. There are coaches numbers, press box numbers, and it turns into a never-the-twain-shall-meet trying to square them sometimes.
But in general, Shaq's fifth on the team's all-time list with 563, and Jon Beason's next on the list with 580.
The top three on the team's all-time list are Davis, Kuechly, and Mike Minter.
As far as Hartsfield, I think he developed nicely over the course of the year, and will be a guy who plays a role in the future. Without knowing what the offseason holds, the Panthers are still very young in the secondary. Bringing back Gilmore or Donte Jackson would change some things, but for a guy who played running back in college (and even in his rookie year here), Hartsfield is a guy worth keeping around.
And writing about Mick was a labor of love. He keeps hanging around the office though, which confirms that he's a shameless self-promoter who likes to hear people talk about how awesome he is (none of that is true, by the way).
----------------------------------------------------------
During the last game, the announcers were saying that the Panthers might trade McCaffrey. That can't possibly be true! Just stupid. Is there any truth in it!? — Linda, Bonneau, SC
What is truth, really? We should ponder that during our next blizzard. Preferably over egg nog.
But the problem is getting appropriate value, since trading McCaffrey now would result in a big dead-money hit against the salary cap. So unless someone wants to overpay, the prudent play is to simply, . . . bring back one of the best players in the NFL.
Injuries are impossible to predict, but McCaffrey said he was willing to consider other offseason approaches this year, acknowledging the possibility he overworked himself in the past. We know when he's well, he's one of the best running backs in the league. Keeping him that way is the key, and then trying to build an overall offense that doesn't put as much pressure on him.
----------------------------------------------------------
I am adrift. Do you have an "old guy" lifeline for a fickle fan who wants back in the Panthers Parade, ... Just can't quit 'em." — Westray, Kershaw, SC
I sent you merch; is that not enough?
Offseasons are the time for hope. Everybody's 0-0, all the signings are good, and all the draft picks are future building blocks.
They do have cap space to make moves, they do have a top-10 pick, so expecting things to get better seems reasonable.
I mean, it's either that or committing yourself to playing Worlde all offseason. Start your next game with "OLINE" and see where it takes you.