CHARLOTTE – The Jaguars' loss has been the Panthers' gain.
Jacksonville relieved defensive backs coach Perry Fewell of his duties after the 2018 season, a season in which they finished second in the NFL in pass defense (194.6 yards per game). The year before, Fewell's secondary in Jacksonville finished No. 1 in the league, allowing just 169.9 yards per game.
And wouldn't you know it, through four games with Fewell coaching Carolina's secondary, the Panthers are the top defense against the pass, giving up just 156.8 net passing yards per game.
"We've got a great group of guys. I think people are starting to take notice of that," safety Tre Boston said. "Of course, being No. 1 in the league helps."
Fewell is perfectly fine not being noticed. As head coach Ron Rivera said Monday, Fewell is "a little bit old school" with the way he goes about his business.
On Sunday, the Panthers (2-2) will host the Jaguars (2-2) in Week 5. Fewell was asked if the game has any added significance for him considering his past with Jacksonville.
"Just another game," Fewell said after Wednesday's practice. "Just another game."
His players have a slightly different view.
"Up against his old team, I feel like we have to prove a point," cornerback James Bradberry said. "There's a little bit extra on the line."
Fewell isn't going to get caught up in all that. He's focused on his guys. And right now, he likes what he sees.
"Our guys have been very studious," Fewell said. "They're communicating very well with each other and building chemistry. They've taken ownership."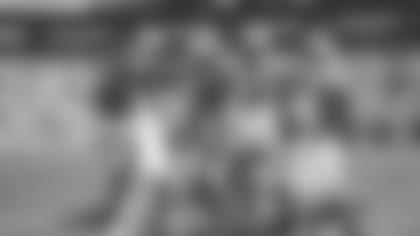 But Fewell will be the first to tell you the success Carolina is having defending the pass has A LOT to do with what's happening at the line of scrimmage.
"Well, I like that defensive line. I give them all the credit," Fewell said with a hearty laugh. "It's not a 7-on-7 contest with those guys getting after it up front. All those guys are putting pressure on the quarterback and he's constantly stepping up trying to find a guy. That's something I appreciate as a secondary coach. I tell the secondary guys, 'Let's love up on those guys.' My hat is off to 'em."
That's certainly a valid point. Carolina leads the league in sacks with 18 already in 2019, and defensive coaches always preach that rush and coverage goes hand in hand.
But it's clear Fewell – with his 34 years of coaching experience, including five seasons as defensive coordinator for the Super Bowl XLVI winning Giants – has really helped.
He's helped Rivera and defensive coordinator Eric Washington design game plans with his vast knowledge of coverage concepts. And he's helped bring the best out of the players in the DB room with a rather "new school" approach.
"Every DB coach has their own knacks, and I think Perry does a good job of just letting his guys play," Boston explained. "He prepares us, but I think at the same time he knows the veterans he has in the room, so he allows us to really coach each other up and play ball the way we like to play it but playing it within the defense.
"I commend coach on that, because I've seen other coaches be sticklers on other things, but he does a good job of allowing his guys to truly play and play ball well."