SPARTANBURG -- Perry Fewell stands 40 yards down the field along the sideline, surveying his secondary.
He glances down at his notes, taking stock of what's about to happen and what he hopes to see. One of the Panthers young, fast wide receivers flashes open over the middle and makes a catch in traffic. Fewell looks down and makes a note.
As other coaches bark out instructions in between plays, Fewell motions silently and his players adjust. On the next play, a cornerback turns his hips, breaks on the ball and tips it to a teammate for an interception. Half a field away, Fewell erupts.
"That's it! Let's go! Way to make a play!"
It's a small sample size, but it is emblematic of Fewell's new leadership in the Panthers secondary.
Academic. Detail-oriented. Quiet and patient. Loud and emphatic. All wrapped into one coach.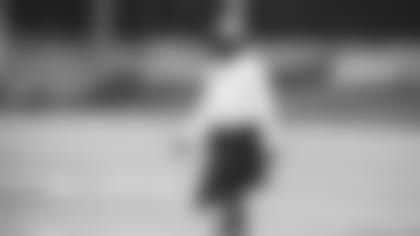 ---
---
This past spring, Fewell got a call from an old friend. A coaching colleague that he idolized at one time and then came to respect. It was Ron Rivera.
After two years as secondary coach in Jacksonville, Fewell was looking for his next job. While Rivera wanted to reignite what the two of them had created in Chicago over a decade prior.
"It was like we never left the meeting room in Chicago," Fewell said. "It was 'Hey we need to get this football team going. We've got a good football team, we need to produce a winner. We need thoughts, ideas, and let's collaborate and get this thing going.' I knew exactly where he was coming from and I was just excited and ready to jump on board."
Fewell had coached under Rivera in Chicago in 2005, the year that the vaunted Bears defense marched to the NFC Divisional round, before losing to Carolina.
"When Ron was a player and he was with the '85 Bears, I just admired that team," Fewell said. "So then when I had a chance to go to Chicago and there was Ron Rivera sitting there and he was the coordinator, when he spoke I listened to him. I learned from him and then we started to share knowledge. We just had a bond. He's been the same man from the time I've met him throughout. I just loved the way he presented himself and so I admired that about him. I just think the connection was mutual."
I'm fortunate enough to know who he is. Perry is a perfectionist, he's a hard worker. Ron Rivera
Rivera knew what he was getting in a secondary coach this offseason. And after a season where the Panthers lost seven games in a row and ranked 18th in passing defense, he knew that his defense needed a spark.
"The biggest thing in working with Perry is that I'm fortunate enough to know who he is," Rivera said about Fewell. "He's a perfectionist, he's a hard worker."
Answering Rivera's call meant more than just coming to work for an old friend. For the first time in his NFL coaching career, it meant coming home.
Fewell grew up in Belmont, N.C., just outside of Charlotte. He played football at South Point High School and then went on to star at Division II Lenoir-Rhyne in Hickory, N.C.
After college, Fewell took a job at the University of North Carolina as a graduate assistant. But in 1987, his coaching journey thrust him elsewhere. He hadn't lived and worked in his home state in over 30 years.
Fewell had applied for Carolina's head coaching job in 2011, when the Panthers hired Rivera. But ironically, Fewell thinks that only this year was he fully ready to come home.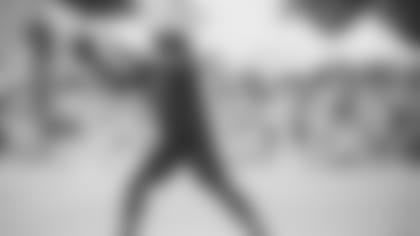 "If I had the opportunity to come back and work at home when I was younger I don't think I could've handled it from this perspective," Fewell said. "You have a lot of family and friends, demands, and expectations placed on you that you have to prioritize what you want to accomplish. So when the opportunity presented itself this time, I knew I was mature enough."
Fewell is a role model in the small communities where he came of age. In the last 10 years, he's been inducted into the Lenoir-Rhyne, Belmont and Gaston County Halls of Fame. He has set up a scholarship fund at his former high school and tries to come back as often as he can to engage with the South Point students of today.
"I think Hillary Clinton wrote the book 'It takes a Village to Raise a Child,' and so I was fortunate that the communities of Belmont, Cramerton and Gastonia raised me. So for me to give back to those communities in just a small way, I'm just trying to say thank you for what they did for me. I tried to take advantage of the opportunities I've had, and I could not have dreamed in my wildest imagination when I was a youth growing up out there that I would have those opportunities."
Fewell has seen a lot of football as a coach -- 34-years worth. He's been an interim NFL head coach in Buffalo. He won a Super Bowl as defensive coordinator with the Giants. He developed one of the best defensive secondaries in Jacksonville and shocked the world in the 2017 playoffs.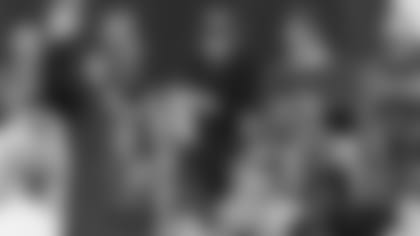 He's been hired. And he's been fired. He's been praised and criticized. He's lived in different cities and environments and now comes to Carolina with an appreciation for the culture of the Panthers.
"I think the biggest thing is that sometimes when you work within organizations you can see organizations that want to compete and you can see organizations that want to win. I think there's a big difference," Fewell said. "I've had the opportunity to work with a lot of really good coaches. From assistants, to head coaches and administrators. So you learn who the real professionals are in the league and people that you have a lot of respect for.
"The thing about Rivera is that you don't have to say a lot when you have a meeting of the minds and the goal is to win. To win the division and hoist the trophy, we were on the same page."
---
---
After the offseason departures of veteran defensive backs Mike Adams and Captain Munnerlyn, many looked at Carolina's secondary as a big question mark in the team's quest to rebuild its defense into an elite unit.
Fewell's hire was the first piece of the puzzle.
As soon as he arrived, he set about demanding some very simple, yet difficult precepts.
"As a secondary, we have to be sound -- fundamentally sound," Fewell said. "To play with really good technique. To have route recognition and run recognition. To be where you're supposed to be. It all sounds simple but it's not easy."
That might be because what seems quite simple is implemented with incredible detail:
"He's very detail-oriented. He's really going to coach you on technique," said James Bradberry.
"He has tremendous knowledge. His football IQ is really high," said Ross Cockrell.
"He's big on technique. I think that's where I come from and that's where he and I have the most in common," Donte Jackson said.
There's a trend emerging here.
Fewell's credentials, intelligence and accumulation of knowledge are making these Panthers better every day. It's easy to buy in.
"As far as his personality goes, he connects with us really well," Cockrell said. "He takes time to know each of us individually. The things that we like, how we like to be talked to and what we need. I give him credit for that, because he's taking the time to learn about us as individuals."
That's no small task for a secondary room that spans a wide range of personalities, ages and life experiences. But Fewell gets it.
"We have the group with the most different personalities and Coach Fewell helps that a lot," said Jackson, notably one of the more outspoken personalities. "He comes in with a personality that kind of matches everybody in the defensive backs room. He's a great coach and great teacher."
Rather than seeing it as a challenge, Fewell embraces the challenge. For him, there's beauty in so many different types of guys competing together.
"I think that's just the nature of defensive backs," Fewell said. "They come from all over. Like D-Jack, he is beautiful. He brings the energy every day. He's always stirring the pot a little bit and that's good for the room. Whereas James (Bradberry), he's very laid back. He'll throw a one-liner. It's a very subtle one-liner every now and then, and you have to really pay attention. Eric Reid, he's like the godfather back there. He's like EF Hutton. When he speaks, people listen.
"I really enjoy the different personalities that are in the room and I think as we collaborate together it makes a unit."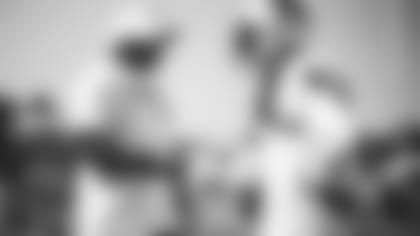 Then you add in Tre Boston. Last week, the Panthers signed the six-year veteran and former Panther who led the Chargers and Cardinals in interceptions the last two years.
What was once considered a liability of a position group has become a strength. At least that's what the defensive backs intend to prove. And Fewell has the personality and personal touch to bring it all together.
"I have to be the leader to a certain degree," Fewell said. "Myself as well as Coach (Richard) Rodgers, we have to be the leaders in the classroom. Then as the drills hook up on the field and as the players start to learn, it's an interesting process because at some point in time they start to take over. It happens. They start to take over and they assume ownership.
"When they assume ownership, that's when we will become a really good football team."
View some of the best photos of the secondary at training camp.