SPARTANBURG - It's only one preseason game. It's only one preseason game. It's only...
That has to be the overriding theme as Carolina heads into the second week of the preseason and the end of training camp in Wofford. But it's hard to overestimate the jolt of energy and excitement that Carolina's special teams and return game provided Thursday night in Chicago.
"Effort-wise, it was very good," special teams coordinator Chase Blackburn said Sunday night after the first special teams meeting since the game. "Statistically, it was obviously very good. There was still a lot of detailed stuff to clean up and penalties. We had some very good plays and some dumb plays that we have to keep working to clean up. But we flashed. We definitely flashed. Our energy and excitement showed. The guys sold out for sure."
Carolina fielded seven punts for 131 total return yards, including 57- and 23-yard returns from rookie Terry Godwin and a 22-yard return from Rashad Ross. The kickoff return team wasn't so shabby either, as Godwin had a 24-yard return and Cameron Artis-Payne returned a kick for 22 yards.
"They're exciting," head coach Ron Rivera said Thursday after the game. "All of them had opportunities and took advantage of it. We have a battle there which is good. We haven't really had four guys like that. It's kind of the first time. We'll see what happens. The thing I feel positive about it too is that we played a lot of guys. There were different groups of guys that were out there blocking. They created some opportunities on their own and some were created by some hungry players."
Did Rivera's opinion change at all after some film study?
"I'd say I was more even more impressed with our effort," Rivera said Sunday. "Especially on special teams."
Carolina's average starting field position on Thursday night was their own 34 with Godwin's 57-yard punt return setting up a three-play touchdown drive that put the Panthers ahead for good.
Blackburn broke down the play which came just a minute into the second half.
"First off, we're playing with 10 guys. I thought there were 12 on the field and it was 4th-and-4 and I didn't want to get a penalty. I miscounted in the middle so I pulled the corner off just to be sure. But they ended up punting away from it and returning away from it, so it really didn't matter. But yeah, they did a good job pulling that off with a man-down disadvantage.
"We did an awesome job with the vice pull down here on the double on the gunner at the bottom of the screen with Josh (Thornton) and DP (Damian Parms) and then getting our hands off. (Corrion) Ballard with the single up top does a nice job winning there too.
"At the line of scrimmage, we did a nice job of forcing the inside. Force rushing here and forcing the punt to get off quickly. As we get down the field. 85 (Marcus Baugh) and 49 (Antwione Williams) sprint back to get in phase. Antwione could have done a better job climbing and made this a cleaner block to create a shorter edge, but he got the job done. Jordan (Kunaszyk) does a nice job flipping. We cleared the gunner with the vice. Damian comes off and picks up the punter to spring him for another 20 yards. They were making fun of Terry (Godwin), because they said he only hit like 18 miles per hour, but I gotta check the statistics because I think he got going faster than that."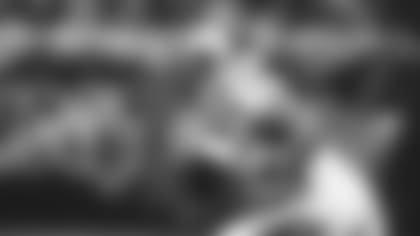 The play was a catalyst. Carolina went on to score its first touchdown of the game and the sideline had a little more juice.
"It started off with my teammates," Godwin said. "They set up a great wall to the right. And I just followed them. They had everyone sealed off and I went untouched until the end. My teammates got it started. Most definitely I should have scored. I came back to the sideline and they were all like, 'C'mon Pudgy, you should have scored.' Cam (Newton) calls me 'Pudgy.' He was like, 'Good return, but next time we need you to score. We need you to get some of that weight off of you.'"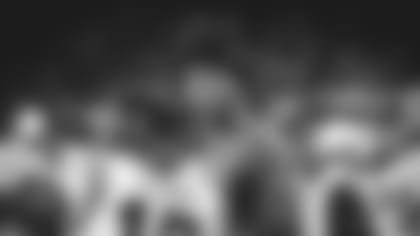 After another Godwin return that went 22 yards and led to a Panthers field goal, Ross was sent back to field punts and he found success as well, gaining 23 yards and getting the Panthers out to their own 35. Blackburn broke down another instance where one more block could have sprung a longer return.
"Rashad (Ross) does a good job staying square right here and making a quick move. We got the wall set.
"Really, Elijah Holyfield sets this whole return. Excellent width and vision. He's our MDM player setting it all up. He's the 'most dangerous man,' he's the one that starts this whole return. He has to make an executive decision at the point with everything flying. We talk about width equals vision. You see him two step redirect and he ends up taking out two at the point.
"Andre Smith actually could have sprung this. He's in good leverage right here, but goes to scrape paint when the ball is out of phase. You can't do that when it's still so far away. You have to make that a two-handed lateral redirect. If we get him washed, then the corner is shortened that we have to turn to go upfield. And then we are one-on-one in space and he will have all the yardage in the world to work with. Jordan Kunaszyk has to make a decision earlier. He can't block these guys from where he is. If he goes and gets a block on and gets one of these three, then something's happening.
"Rashad Ross does a heck of a job putting his foot in the ground, making two people overrun him and getting vertical. If we put that block on, then he's one on one with #35 in space."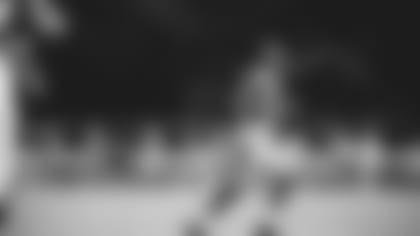 The Panthers have a strong competition for the return spot right now, and Thursday's competitors didn't include starting wide receivers DJ Moore or Curtis Samuel, who both returned punts and kickoffs at times last season.
"We've just had so many returners over the last few years," Blackburn said. "Last year we had seven. Two years ago we had four. We've just had so many because of injuries and guys getting elevated to offense or defense and they get a new role or something happens. We haven't had that consistency at returner. That is what we're looking for right now. If we get that, we can be pretty good."
Last season, Carolina averaged just 6.9 yards per punt return, ranking 20th in the NFL. The 2017 (19th) and 2016 (24th) seasons weren't much stronger.
There is muted optimism brewing here.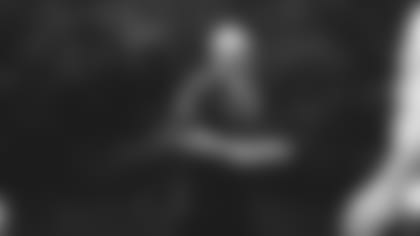 "If I can get our return guys one on one in space every week, I'm taking it," Blackburn said. "The reality is that the guys who are so good, the Devin Hesters, the Dante Halls, the Tyreek Hills … they had early success and the rest of the team rises up because they can feel that. It's like, 'He's that close to breaking every one,' so then they tend to block harder and sell out, because they could be the block that springs him. We've started to build that momentum a little bit with the guys that we currently have back there. That's pretty exciting to have."
It was only one week. In the preseason. Going against second- and third-team opponents. And there were plenty of mistakes still. But the passion showed, and it was contagious. And that's what has Blackburn and the Panthers excited.
"JJ (Jansen) talked in our team meeting about that momentum. We could feel the energy when we were on the field on Thursday. That's different. That's what we've been trying to build upon the last few years. I think we're starting to get there. By no means have we arrived; we have a lot of work to do. But if we get it right, we can be a pretty good group."