SPARTANBURG – Good tempo. Organized drills. High energy.
The first of two joint practices between the Panthers and Bills on Tuesday featured a lot of what both head coaches wanted. They also appreciated what it lacked.
"We didn't have any fights," cornerback James Bradberry said with a laugh. "That's normally the headline after a joint practice. We competed hard though. It was good."
Both defenses had the upper hand for large parts of the fully-padded practice session, especially early on. That got the competitive juices flowing in front of a lively crowd full of rowdy Panthers and Bills fans.
"You get anxious, a little overhyped, and I thought that was probably our problem early," head coach Ron Rivera said. "Once guys settled in and got into a little routine, you felt a lot better about it. You're practicing against somebody different, you don't have a feel for them, you haven't scouted them. You are going to make some mistakes, which was good.
"We'll go back and look at it and correct. But it was fun. I thought the tempo was good. The competition was good – exactly what we needed. When you line up against people you don't know it really tests you."
The only downer on the day concerned rookie edge rusher Brian Burns, who limped off during a team drill midway through practice after appearing to tweak his right ankle. He spent the final periods with ice wrapped around the ankle and Rivera did not have any update after practice.
And now, the observations:
–The start of practice was like a giant reunion. Everywhere you looked former teammates or colleagues were catching up. Kawann Short and Star Lotulelei, Tre Boston and Kurt Coleman, Jake Delhomme and Dan Morgan (now Buffalo's director of player personnel) Sean McDermott and members of the Panthers security staff… the list goes on.
–Cam Newton and newly signed Bills cornerback Captain Munnerlyn started talking trash as soon as they laid eyes on one another. Most of what was said can't be shared, unfortunately. But Rivera did have the best bit of smack-talk for little old Captain: "You know the high school fields are over there." Classic.
–Cornerback Donte Jackson was also happy to see Munnerlyn, who like Jackson is wearing 26 for Buffalo. "Boy, that two-six look good!" Jackson told him.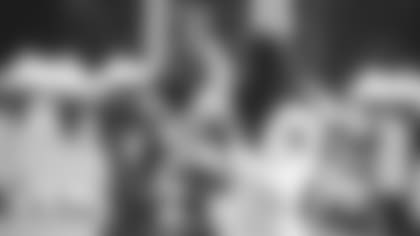 –The one-on-ones between Carolina WRs and Buffalo DBs were fairly mundane. The Bills did a good job disrupting the timing. DJ Moore did start off the period with a nice move off the line against Tre'Davious White for a completion.
–The Panthers' defensive line was impressive in one-on-one drills against the Bills' offensive line. Mario Addison, Kawann Short, Gerald McCoy, Bruce Irvin and Burns all managed to earn their way into Buffalo's "backfield." FYI, guard Trai Turner, center Matt Paradis and tackle Daryl Williams did not take part in one-on-ones against Buffalo's D-linemen.
–The Bills were fired up after Newton held the ball to the whistle on the first snap of 11-on-11. Solid coverage all around. But leave it to Curtis Samuel to break things open for Carolina. The star of Panthers camp toasted White and the Buffalo secondary for a deep touchdown catch from Newton. Then Samuel stretched his arms out and shrugged in front of Bills fans behind the end zone. Just another big play from No. 10.
"He's good at the line, man. Really shifty," White said of Samuel, who he trained with ahead of the 2017 draft. "And he runs good routes."
–The 2-minute drill was going according to plan for Newton and the first-team offense with consecutive completions to Jarius Wright, Moore, Samuel and then Greg Olsen to enter the red zone. "I'm a feeling a two-one interception," yelled a Bills fan, referring to safety Jordan Poyer. "What you say?" responded Newton.
The fan had the wrong player but the right outcome. Newton tried to connect with running back Christian McCaffrey in the end zone but linebacker Matt Milano got a hand on the pass and cornerback Ryan Lewis snagged the interception off the deflection.
"It's cool how Cam interacts with us," the Bills fan said as the drill ended. Yup, that's Cam.
–Kyle Allen and the second group found the end zone during their 2-minute drill thanks to a terrific catch from tight end Chris Manhertz, who has been on a roll lately. "Kyle did a good job just finding a window," Manhertz said. "I was expecting a high ball, but I turned around, it was kind of low and I made a pretty decent adjustment."
–Donte Jackson had a good day, beginning when he went 3-for-3 in one-on-ones with Buffalo's wideouts. Jackson knocked a slant away from John Brown, batted down a crossing route to David Sills and got just enough of a deep ball to Sills from quarterback Josh Allen. The colorful Jackson then jogged over to a crowd of Bills fans gathered behind the end zone and nodded his head. He later celebrated with a flex after he broke up a dig route to Zay Jones during a team period.
–Fellow cornerback James Bradberry followed that up moments later when he got just enough of Brown's right arm to dislodge what would have been a deep touchdown pass from Allen.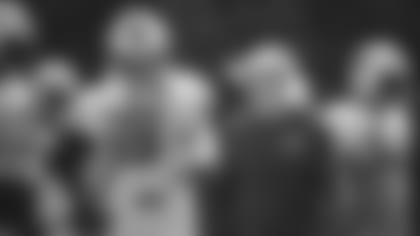 –Buffalo head coach Sean McDermott loves him some Luke Kuechly. And the feeling is mutual. That was evident as McDermott oversaw the Buffalo offense vs. Carolina defense for most of the day. McDermott was Kuechly's first coordinator in the NFL and they formed a strong bond over the years. McDermott said they got together yesterday for some time to catch up. "He hasn't changed at all, which is great," McDermott said of Kuechly. "The same humble spirit with all the success he's had."
–There wasn't much for Bills fans to cheer about offensively until backup quarterback Matt Barkley and wide receiver Isaiah McKenzie finished a 2-minute drill by slipping a touchdown past linebacker Jared Norris and safety Rashaan Gaulden.
–After the Panthers worked him back slowly, safety Tre Boston spent a second straight day with the starters at free safety.
–Tight end Ian Thomas, center Tyler Larsen and cornerback Kevon Seymour remain sidelined.
–Newton was having a fun back-and-forth with Bills defensive end Jerry Hughes late in practice. Hughes and several other Bills were asking Cam where the music was at practice. "My good friends from Buffalo are requesting some music," Newton said aloud with Rivera and GM Marty Hurney within earshot. "But don't be a complainer!" Newton told Hughes.
When a "developmental period" for reserves began to bring practice to a close, Newton asked Hughes, a 10-year vet, why he wasn't out there. That got a good laugh out of both guys.
–Last but not least, Tahoe the Rivera family dog was at practice. What a good boy.