SPARTANBURG – That's how you end training camp with a bang.
The final days of practice are typically lower on the energy and enthusiasm scale. But not this year with the Bills in town for two joint practices to wrap camp.
The intensity was high -- but not too high -- Wednesday. Coaches and players alike were pleased with what they got out of the final session before heading back to Charlotte.
First, let's get to Brian Burns. The rookie edge rusher showed up to practice in full pads and looked ready to go after exiting yesterday's practice early with an ankle injury. But after warming up with the training staff observing, Burns removed his pads and became a spectator for the day. For what it's worth, the first-round pick told reporters after practice that it's just a "slight bruise" and that he plans to play Friday night against the Bills.
And now, the final batch of training camp observations.
–For the second straight day, practice started with a punt coverage drill where the gunner – in this case a Panther – is trying to beat the blocks of two Bills. The Buffalo players were getting pretty animated after a couple of successful reps. Then cornerback Javien Elliott stepped in at gunner and blew right past the pair of Bills in his way. Almost the entire Panthers roster went completely berserk. So did special teams coaches Chase Blackburn and Ben Jacobs. Here's a look at the celebration (Elliott is in there somewhere).
"I loved it," Elliott said. "When another team thinks they can come in here and make all that noise we have to show them – hey, we here."
–Once again the defensive backs on both teams had the upper hand in one-on-ones against the wide receivers. Cornerback Donte Jackson did well to close the ground on Bills wide receiver Robert Foster for a deep pass breakup. But the highlight play came from cornerback Josh Thornton, who knocked the ball out of Bills wide receiver Cam Phillips' hands and picked it off against the sideline. As for the Panthers offense, the majority of passes from Cam Newton, Kyle Allen and Will Grier were knocked away, and Ryan Lewis intercepted one of Newton's attempts to DJ Moore. 
–The Bills got another interception in team drills when an Allen pass for rookie Terry Godwin was deflected before landing in the arms of linebacker Deon Lacey. 
–A few minutes later, Allen hit Torrey Smith about 25 yards down the left sideline. Smith had a quiet camp, but he finished with a productive final two days.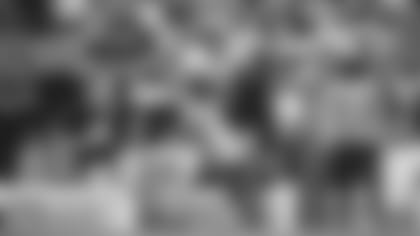 –Yet again, Newton and Samuel thrilled fans with a long completion after the third-year speedster got behind the Bills' defense. If those two can continue their connection during the regular season …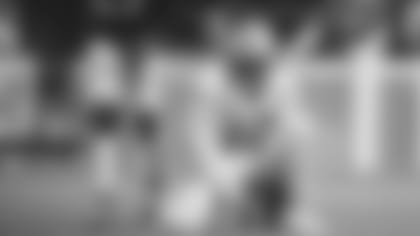 –After totaling three touchdowns on Monday and Tuesday, tight end Chris Manhertz had multiple receptions while running with the first-team offense. With Greg Olsen unlikely to play more than a couple of series, and with Ian Thomas missing the past few days with a rib injury he suffered in Chicago, Manhertz should get plenty of reps Friday night. Olsen, by the way, had a really slick one-handed catch during team drills. He makes it look easy.
–On Tuesday, Bills players were giving it to Cam Newton for the lack of music at practice. Sure enough, music was playing throughout practice Wednesday. "I said, 'I got you,'" Newton told the Bills sideline. "What we got today? Music." But things weren't always so friendly. Bills defensive lineman Shaq Lawson and Newton were going at each other relentlessly. Those two can talk trash for days. But as this picture shows, it's all in good fun -- for the most part.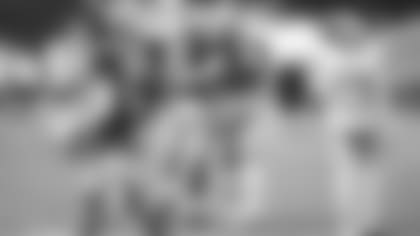 –Things got a little more heated between the two teams today. Bruce Irvin and Buffalo rookie tackle Cody Ford had a little back and forth that led to both coming face to face. Chris Hogan and Bills defensive lineman L.T. Walton also had a run-in that got a little testy. But both incidents were sorted out quickly.
–Rookie left tackle Greg Little got some first-team work today, and that meant going up against Buffalo's accomplished veteran pass rusher Jerry Hughes, who was really testing the second-round pick. But Little held his own. One rep in particular stood out when Little stifled Hughes' spin move, giving Newton time to launch the ball down the field. That must have been a nice confidence-booster.
–Speaking of Hughes, he was not pleased as he watched Kyle Allen and the Panthers' second-team offense move the ball down the field on Buffalo's second-team defense. "Who gonna make a play?!" Hughes shouted over and over.
–Ross Cockrell isn't the biggest guy, but the corner-turned-safety is not afraid to get physical. See below.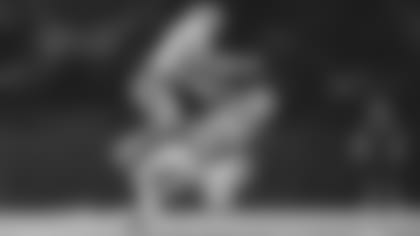 –Count Ron Rivera among those impressed with young Bills linebacker Tremaine Edmunds. Rivera lauded his ability to get through traffic and make plays. He said the former first-round pick looks like a 10-12 year guy with that kind of ability. High praise.
–Gerald McCoy had a nice chat with Buffalo first-round pick Ed Oliver as practice was winding down. McCoy is clearly one of the really good dudes in the league. He goes out of his way to help guys.