SPARTANBURG – It took 11 days, but the Panthers secondary on Monday debuted what many assume will be its Week 1 lineup.
Cornerbacks James Bradberry and Donte Jackson were in their usual spots, and for the first time since Tre Boston was re-signed on Aug. 1, the free safety spent an entire practice across from strong safety Eric Reid.
"Coach did a great job having me on rep counts since I got back, trying to get me into the flow again after not going through the offseason," Boston said afterward.
"But going with the ones felt great. I love it because it's a little faster. Making the calls with E. Reid, Luke (Kuechly), Shaq (Thompson) – it feels like old times. Having a great safety like E. Reid next to me makes it easier. We're always talking to each other. I had fun out there today."
Really, the entire secondary seemed to have fun. With Cam Newton taking a rest day, backups Kyle Allen, Will Grier and Taylor Heinicke had several attempts batted away. Regardless of who was throwing the ball, the defensive backfield likely would have won the day.
"I think active is a good word. I want them to be active," head coach Ron Rivera said when asked what identity he wants his secondary to have this season.
"We have some guys that are strong personalities and I think those are the guys that we need to have step up and lead those guys because I think the group can be very good."
If there was a knock on the defensive backs, it was that they failed to snag some potential interceptions – something that's happened a bit too often at camp.
"We have dropped a couple. We've been questionable. And as DBs we have to take pride in that," Boston said. "E. Reid was making sure we hit the JUGS after. We have to get that right. We can't have those missed ops. Got to nip that in the bud now, because we've got to have those interceptions when they come."
–Ross Cockrell, who had seen the bulk of starter snaps across from Reid the past couple of weeks, spent the day at his traditional cornerback slot.
–Defensive tackle Kawann Short, who left Sunday's practice early after he was "kicked in the shin," participated in individual drills but sat out team periods.
–Tight end Ian Thomas (ribs), offensive lineman Tyler Larsen (undisclosed) and cornerback Kevon Seymour (hamstring) remained out.
–Rookie running back Jordan Scarlett returned after missing more than a week with a sore back.
–Players were initially scheduled to be in pads, but they got some good news just before practice when they were told it was a lighter shells day instead. Rivera also finished practice 15 minutes early. Both gestures were potentially a way to take it easier on players before they engage the Bills in a pair of joint practices the next couple of days.
–Allen's best pass of the day was a perfectly thrown ball down the left sideline to DJ Moore. Bradberry had good coverage on the play – there just wasn't much he could've done. Before that, though, Bradberry batted away an Allen pass intended for Moore in a hurry-up drill. But Allen came right back and hit wideout Aldrick Robinson and tight end Greg Olsen for touchdowns in the same drill.
–In a two-minute drill, Allen dumped down a perfectly timed screen pass to running back Christian McCaffrey that would have gone for a score. But as the drill continued, Allen's fourth-down pass to Curtis Samuel was broken up by Boston. The defense celebrated. The offense called for flags. It would almost assuredly have been reviewed for pass interference under the league's new rules.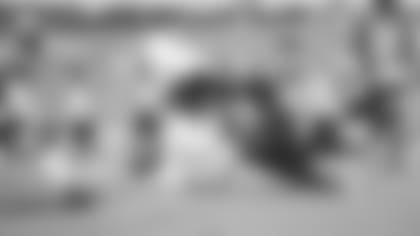 –In the following two-minute drill featuring second-teamers, Grier hit wide receiver Chris Hogan on a skinny post between safeties Rashaan Gaulden and Colin Jones. Hogan finished with flair, finger-rolling the ball over the goalpost.
–Heinicke has gotten limited reps throughout camp, but he made the most of what he got Monday, including completions to Andrew Levrone and then Damion Jeanpiere down the right sideline on consecutive throws.
–The catch of the day again went to Samuel, who reached over cornerback Javien Elliott to grab a pass from Allen in the back corner of the end zone.
– Hogan tried to one-up that by attempting a one-hand grab on a bullet from Grier in the opposite corner, but it was knocked away by cornerback Cole Luke. "They tried to 'play-of-the-day you!'" Jackson told Luke.
–In a late red zone drill, Grier was picked by linebacker Antoine Williams, but on the next play, the rookie quarterback found tight end Chris Manhertz for a score. Those two hooked up again for another touchdown a few plays later.
–Rivera revealed Joey Slye, who impressed last week in Chicago, will handle kicks against the Bills. Graham Gano is dealing with soreness in his plant leg, and partly because kickers are so hard to find, the Panthers are going to be cautious with theirs.
"You have to be really careful with that because you don't want it to pop up. Now you're out there scrambling," Rivera said. "We're very fortunate that Joey was out there and he's done a great job for us. We have to be careful with Graham going forward. We've got Joey here, we're going to let Joey kick for at least one more game and we'll go from there."
–Did you hear Olsen coached Little League this summer? He welcomed his South Charlotte Cardinals to practice: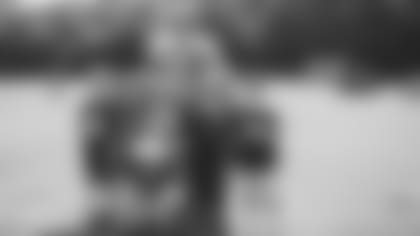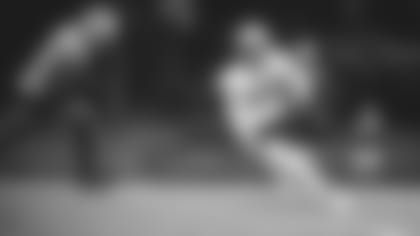 –And finally, I figure many of you will enjoy this picture just because: