CHARLOTTE – Ryan Kalil doesn't remember it. Captain Munnerlyn can't forget it.
The 2010 season was one for the books – or maybe a book burning.
"I've erased 2010," said Kalil, referencing a Jim Carrey movie in which the main characters have their memories wiped. "That's what I did with 2010, so I couldn't tell you much about that season."
Munnerlyn remembers it in part because it produced his first career interception, at the expense of Chad Ochocinco with one Terrell Owens lined up on the other side.
That day, September 25th of 2010, was the last time the Bengals played in Charlotte (their return engagement is set for Sunday).
Munnerlyn's moment aside, it wasn't a pretty game for the Panthers. Or a pretty season.
"Awful. 2-14," Munnerlyn said. "But, that helped us get our quarterback that we have now. That helped us get Cam Newton."
It wasn't a great season for the Bengals either, who despite that dynamic duo at wide receiver and Carson Palmer under center counted their 20-7 victory over Carolina as one of their four that year. That tied them with two other teams for the league's second-worst record, and shortly after the Panthers picked Newton at No. 1, the Bengals grabbed wide receiver A.J. Green at No. 4 and took quarterback Andy Dalton early in the second round.
In the seven seasons since, the Panthers and Bengals have combined to go to the playoffs nine times. The Bengals went to the playoffs each of their first five years with Dalton and Green; the Panthers needed a little longer but have now gone four of the last five.
"You knew there were going to be some growing pains, but we got the No. 1 pick and we went to Arizona and he threw for 400-some yards, then we come home against Green Bay and throw for another 400-plus yards," said long snapper J.J. Jansen, a holdover from 2010 along with Kalil, Munnerlyn and Thomas Davis. "We were 0-2, but it's like, 'Shoot, we couldn't move the ball last year and we just threw for almost 900 yards in two games.'"
In 2010, it took into the sixth game of the season for the quarterback duo of Matt Moore and Jimmy Clausen to match the 854 yards Newton produced in his first two games. The sixth game also produced the first victory – a narrow one over the 49ers - and the Panthers later eked out a victory at home against the Cardinals.
"Quite frankly we were lucky to win the two games that we won – facing backup quarterbacks at one o'clock versus West Coast teams, and we won with field goals," Jansen said.
But when the Bengals came to town in Week 3, the Panthers didn't yet know how bad the season would be – or what a blessing in disguise it would prove. The downfall began from a high perch, when after a strong 2008 regular season, quarterback Jake Delhomme suffered through six turnovers in a playoff loss to the Cardinals. The 2009 season was an up-and-down one that ended short of the playoffs at 8-8 and ended the Delhomme era.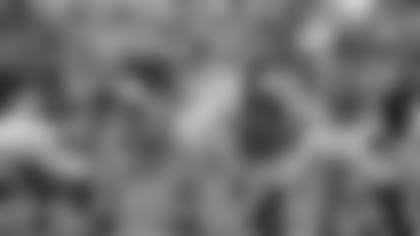 In 2010, the final season for head coach John Fox – whose second season in 2003 netted a Super Bowl berth – the Panthers started with Moore at quarterback and second-round rookie Clausen behind him. But Moore struggled with injuries and otherwise, and Clausen ended up starting 10 games – the first one coming against Cincinnati in Week 3.
"At the time we were 0-2, but we didn't really know what the season was going to be yet," Jansen said. "Once the first month or so went along, we kind of knew we didn't have the juice."
Even though it looked like it most of that season, the cupboard wasn't bare. The offseason featured the addition of tight ends Greg Olsen (via trade) and Jeremy Shockey (via free agent), and it featured long-term contracts for Kalil, defensive end Charles Johnson and running back DeAngelo Williams to remain with youngster Jonathan Stewart.
The offense also returned receiver Steve Smith, but the playmakers supported by Kalil and left tackle Jordan Gross up front needed someone to get them the ball. Once Ron Rivera and his new coaching staff were able to establish an identity that was firmly entrenched by the time the Panthers visited Cincinnati in 2014, the rest – as they say – is history.
"So you don't really have a great feeling about your team (after 2010), but that being said you're going to get the number one pick and you have a new coaching staff, and we signed a bunch of players and traded for Greg," Jansen said. "A lot has changed, but there's also been a continuity that we've been blessed with for eight years – the same head coach, same offensive philosophy, same defensive philosophy."
And the same quarterback – the byproduct of a season typified by the Bengals' last appearance in Charlotte on a drizzly day in 2010.
Photos from Carolina's loss to Cincinnati.