CHARLOTTE – On Wednesday, quarterback Cam Newton said what many of us have been thinking, writing or saying.
"Honestly, I feel like I'm playing the best football of my career," Newton said. "Straight up."
Newton is completing 69.6 percent of his passes with 22 touchdown passes compared to seven interceptions. He's in the midst of a six-game game streak with a passer rating over 100. His rating on the season is 103.7, and he's thrown at least two touchdowns in 10 consecutive games.
Newton is on pace to set career highs (and franchise records) in completions, completion percentage, passing touchdowns, fewest interceptions and passer rating.
"I just feel in control," said Newton, who knows a thing or two about dominating as a former Heisman winner and NFL MVP. "There are no question marks, my assuredness of every single play I know exactly what I'm supposed to do."
Head coach Ron Rivera has seen it up close.
"It's a good thing to hear him say that," Rivera said. "He's confident in what (offensive coordinator) Coach Turner is doing, and he's confident in the players around him.
"I think there is a much different confidence level."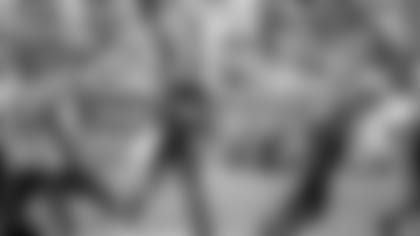 That confidence was on display last Sunday against the Seahawks when Newton completed all 14 of his pass attempts in the first half – the most connections without an incompletion in the first half in franchise history.
Newton has been brilliant. But he hasn't been perfect.
His intercepted pass to tight end Chris Manhertz in the end zone against Seattle – the first red zone pick he's thrown all year – is one he badly wants back.
The same could be said for his misfire on the decisive two-point try at Detroit or the failure to find the end zone earlier in the year with the game on the line at Washington.
"When I look back at my performances – if that ball was just a little more out in front, if that ball was here rather than there, man, if I would have just took a check-down, man, if I would have just scrambled… Our season could be different, but we still have an opportunity to change that," Newton said.
The Panthers sit at 6-5, mired in a three-game losing streak.
We all know Newton isn't the one to blame for that.
"When the quarterback plays that consistently, you should win more games," Rivera conceded.
The Panthers have come up short during some critical moments – on both sides of the ball. Thus, Newton's level of play has been overshadowed by the all-important win/loss column.
"(What's) gratifying is winning – number one, two and three," Newton said. "These last couple games we haven't had the wins to back it. I still have to be better. There is room for me to improve. But I feel like I'm playing the best football of my career right now."
Newton is playing better than ever. He's also handling everything else that comes with being the face of the franchise better than ever.
His ability to bounce back from gut-wrenching losses and his commitment to the 24-hour rule (to get the emotions out of his system and reset) is a prime example. As Newton said earlier this year, his days of sulking are over.
"It's tougher that we're not winning, but at the same time, it's my job as a quarterback … like, the selfish me would have been like, 'Oh, I'm good. We ain't losing because of me.' But that's not where I am right now in my career," Newton said. "My job is to (lift) up the guys who aren't playing so well. And guys who are playing better than me? I need to get on their level."
What was the impetus for Newton, now 29 and in his eighth season, to see himself that way?
"My kids. I owe a lot to my kids," he said. "How I act? They see it and they think it's acceptable. I have to teach them life lessons, and what better way to teach them life lessons than when you are actually going through certain situations that mean a lot to you and things don't go your way?"
Rivera used one word to describe what we're all seeing from Newton.
"Growth," Rivera said. "The type of father he's been with his kids, I think that's really helped him with his outlook on things. It's a lot of fun to watch."
Newton knows his worth and he knows who he is – he said as much Wednesday. And he knows everyone, from his home to his locker room, is following his lead as the Panthers try to turn their season around before it's too late.
"My worth to this team goes beyond just making plays on Sunday – that's what I've learned the most," Newton said. "And as I keep learning and understanding things, it all comes back to square root number one, my precious kids, and hopefully they can bring me some luck on Sunday."