CHARLOTTE - With a number of results on Sunday solidifying final placement within the NFL divisions, the Carolina Panthers set of opponents for 2020 became officially set.
The Panthers will play against the AFC West, hosting the Oakland Raiders and Denver Broncos at home, while traveling to Kansas City and Los Angeles to face the Chargers.
Carolina also faces off against the NFC North, hosting Chicago and Detroit while traveling to Minnesota and Green Bay.
Because the Panthers are guaranteed to finish fourth in their division, they'll host Arizona, the fourth-place finisher in the NFC West. They'll also travel to Washington, the fourth-place finisher in the NFC East.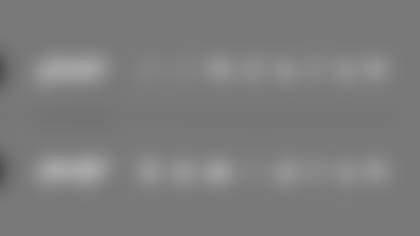 Here are some notes on the 2020 opponents:
Carolina is 12-12 all-time against the AFC West. The Panthers went 1-3 against the division in 2016, but swept the group in 2008.
The Panthers are 18-18 against NFC North teams all-time, however they've gone 14-10 in the seasons where they played the full slate of NFC North teams.
2020 will mark the third-straight season that Carolina has faced off against the Redskins, the first time the two teams have played three years in a row since 2001 in the old divisional alignment.
Carolina will play at Kansas City for just the fourth time in team history. The Panthers only win at Arrowhead came back in 2004.
The Panthers will be one of the first teams to play in the new SoFi stadium in Los Angeles when they take on the Chargers. Carolina was one of 13 teams that never played in the Chargers' temporary current home of the Dignity Health Sports Park from 2017-19 in Los Angeles.
Carolina will travel back to Lambeau Field where they played in a November showdown that came down to less than a yard in the final seconds at night in the snow. It marks the eighth time that the Panthers have played in Lambeau.
Arizona comes to Carolina for the 11th time in 2020 where the Panthers are 7-3. The Panthers have hosted the Cardinals in the playoffs three different times, the most common home playoff opponent.
The Panthers host Detroit for the first time since 2014 and just the third time since 2003. Carolina is 4-1 all-time against the Lions at home.
Carolina has only hosted Denver twice before next year's matchup. The Panthers beat the Broncos at home in 2008 and lost at home in 2012.
Over the last four seasons, the Panthers are 7-17 against the NFC South.