CHARLOTTE — You'll have to pardon Christian McCaffrey if he doesn't want to spend too much time on 2020.
But the running back said Monday after the first day of OTAs that he's both healthy and grateful to have last year behind him, and a fresh start ahead.
"It feels really good," McCaffrey said simply. "Just putting the helmet on again and being with my teammates, doing what I love to do, it's something I'll never take for granted again. I'm super happy to be back.
"It's just fun. It's fun to be back on the field playing football. I'm thankful that we can be back here and get together in a semi-normal capacity and play the game we love."
Happy or fun or normal would not be words that came up often last year, at least at any moment after McCaffrey signed a four-year contract extension in April.
Once the season started, it didn't take long for a ridiculous procession of injuries to begin, which complicated so many things beyond his personal health.
A high ankle sprain in Week 2 healed in time to come back in Week 9 against the Chiefs, at which point he suffered a shoulder injury that nearly ended his season. But just when he was about to come back against his hometown Broncos in Week 14, a quad injury popped up which ended his year.
For one of the league's most productive backs, being limited to parts of three games was a frustrating experience, one McCaffrey wants to turn the page on as quickly as possible.
"It happens. Injuries happen. It's part of the game," he said. "I'm really focused on this year and extremely excited about what this team can do this year."
While he mentioned "adjusting" parts of his offseason preparation, the reality is most of last year's misfortune was not preventable. Now, McCaffrey's spending his time getting to know new quarterback Sam Darnold, and trying to create a bond with another new quarterback.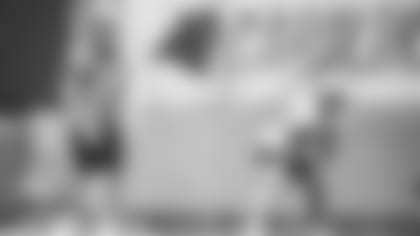 The two have worked out together in California before returning for workouts here, and McCaffrey said he's developed a quick rapport with the new starter. Details as subtle but significant as the depth of routes or how he throws to certain spots are the kinds of things that can only be worked out with time and reps.
"I've gotten to know him really well in the last few months," McCaffrey said. "Just getting together throwing with him and hanging out off the field. He's an incredible talent and incredible teammate already, so I'm super excited for him. . . .
"I think he'll fit in great. Already fits in great."
While Darnold will get plenty of attention — the natural by-product of being a quarterback, being a former first-rounder, and playing his old team in the opener — McCaffrey is a key part of making sure the job isn't too big.
Darnold's walking into a good situation, with skill-position talent including McCaffrey to make his life easier. That makes the fitting in a more natural process.
"He's very laid back, but he's definitely a leader too," McCaffrey said of Darnold. "And he knows when to put his foot down when he needs to and be a leader when he needs to. I think that's something that makes all quarterbacks great.
"Just demanding attention to detail, demanding a sharp practice, demanding a sense of urgency. that all starts with every individual, but the quarterback touches the ball every play. So if he shows it, then everybody else will rally behind it."
He laughed and said there were moments Monday when things looked promising, but McCaffrey's now been around long enough, and through enough to know it was just the start of a long road.
"It's day one," he said. "There's going to be stuff we have to work on in Week 16. so there's a bunch of stuff we have to work on now.
"It's just honing in on every rep, every detail, and not looking to the future or the past, but being completely present in every practice and every meeting."
And after the year he just went through, being completely present is something McCaffrey values more than most.
View pictures from Monday's workout on the practice field during OTAs.