CHARLOTTE – When Carolina plays San Francisco this Sunday, the Panthers will be reigniting one of the franchise's oldest rivalries. Prior to moving into the NFC South, the Panthers spent their first seven seasons as a part of the NFC West, taking on the 49ers twice a year.
But the Panthers-49ers reunion isn't the only rivalry being discussed in the locker room this week.
For safety Tre Boston and fellow defensive back Ross Cockrell, this week has tested their friendship. That's because Boston's alma mater, the University of North Carolina Tar Heels, face off against Cockrell's Duke Blue Devils on Saturday. The two in-state rivals face off each year for bragging rights and the coveted Victory Bell.
"There's no beef, he knows what time it is," Boston said. "It's a great week to be a Tar Heel, and by Sunday it's going to be the same thing."
There may not actually be thousands of dollars on the line, but the players' pride is definitely at stake.
"We've got some friendly stuff going on," Cockrell said. "Whoever loses just has to wear a hat or whatever, rep the other team."
But linebacker Andre Smith, another Tar Heel, said he's ready to take it to the next level. If the Tar Heels win, he's going to make sure Cockrell is wearing Carolina Blue from head to toe in a full UNC sweat suit.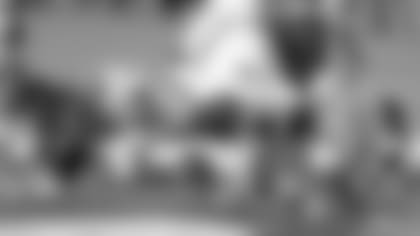 "Duke didn't give him one. I guess Duke just doesn't really like their professional players that represent their university," Smith joked. "I guess that's what it is. When we win, though, he's going to wear a full jumpsuit."
But Cockrell knows his Blue Devils will make sure his wardrobe stays Tar Heel-free.
"I've got tremendous faith in the Duke football program," Cockrell said. "The coaches are going to prepare the team well, and I think the players are going to go out there and execute because they know it's a big game."
"Game prediction? Score? Heels dub, Duke loss," Boston said. "I don't need a score, it could be one to zero, we're going to get it done."
But Duke-UNC isn't the only big game in college football this weekend. Defensive backs and LSU alumni Donte Jackson and Eric Reid are waiting for a certain quarterback to try and talk smack before their alma mater takes on the Auburn Tigers in a top ten matchup.
"Guys have been real timid to come talk to us about playing games," Reid said. "We played Florida and it was real quiet. Haven't heard much this week either. I'm excited for what my alma mater is doing, so hopefully they'll get a win, keep that streak going."
Jackson thinks the reason he hasn't heard from quarterback Cam Newton, or any alumni of LSU's other opponents, is because they're too scared.
"He don't want that smoke," Jackson said. "I'm going to see what he wants to do, but we ain't talked about it yet, but I'm definitely going to see what he wants to do."