All eyes on the quarterbacks
The crowd began to form for Joe Burrow about 15 minutes before he was scheduled to appear at Podium 3. When he arrived, the Heisman-winning quarterback took a seat and got comfortable. He knew there were a lot of questions coming his way.
Burrow started off by insisting he will play for whoever drafts him. There had been recent speculation that he wasn't interested in playing for the Bengals, who own the first overall pick.
"I'm a ballplayer," Burrow said. "Whoever picks me, I am going to show up."
"Of course I want to be the first pick," he later added. "That's every kid's dream."
Burrow said he won't participate in testing or drill work this week, but he's taking advantage of the opportunity to meet with teams.
"This process is all about talking ball," Burrow explained. "The physical stuff they can see on film, but everyone wants to get to know you as a person, and as a player, as far as the mental side. I feel like I am really good at that. I enjoy talking ball with the coaches."
Speaking of connecting with coaches, Burrow and Joe Brady enjoyed tremendous success last season. Brady, the former LSU passing game coordinator, is now coordinating the Panthers offense.
"I feel like the best thing that we did was give me a lot of freedom to make checks, to make reads and play fast," Burrow said. "It was a perfect fit from the very beginning."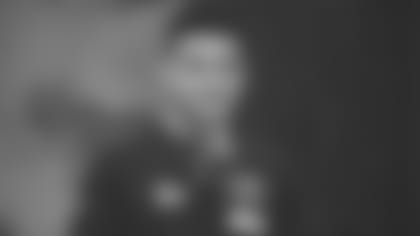 Alabama quarterback Tua Tagovailoa's final collegiate season ended in heartbreaking fashion. He was carted off the field after suffering a gruesome hip injury. But he was in good spirits Tuesday, focused on getting himself back to 100 percent with hopes of being a top 10 pick.
"I've been rehabbing my butt off," he said. "After March 9 when I get clearance from my doctors, then it's full go up until my pro day. I'll be ready to go."
That said, this week is about the interviews for Tua.
"I just feel like I have to be myself," he said. "If I am not the person for an organization, then I'm not the person. I just feel like if I just be myself going into the interviews, the right team will find me."
Tagovailoa said he looks up to Russell Wilson and Drew Brees, two quarterbacks who became NFL stars despite not having ideal size. But he really admires the way they conduct themselves as professionals.
"Everyone knows how good they are," he said, "but it's who they are as (people) off the field and how they go about their business."
Quarterback Jacob Eason mentioned his own quarterback idols – Peyton Manning and Brett Favre. Again, two guys with obvious talent, but also two guys who were admired for the way they approached the game.
Eason will partake in the drills, so everyone will get a chance to see his strong arm on full display.
"I'm just looking forward to competing," Eason said. "It's a big opportunity to show what I can do."
Eason, a former five-star high school prospect, started out at Georgia before losing his job to fellow NFL hopeful Jake Fromm and transferring to Washington. Eason was outstanding in his one season with the Huskies and now is firmly in the first-round conversation.
"I've been busting my butt to get where I'm at today," he said. "A lot of the guys will see me as a laid-back type person. I think that skews how people perceive my work ethic and the way I go about things. It takes a lot of work to get to this point, and there's a lot of work to do to get beyond this point."
Deep group of wideouts have a lot to offer
Everyone in Indy is talking about how loaded this wide receiver class is, even the prospects themselves.
"This receiver class this year is honestly unbelievable in my eyes," said former Oklahoma standout Ceedee Lamb. "You can't really go wrong with anybody. Whoever you draft in the first, second, third or fourth round, you are going to get a great pick."
Many have pegged former Alabama star Jerry Juedy as the top wideout. But there will be plenty of competition for that title up until draft day.
"It's very humbling," Juedy said. "There are a lot of great receivers in this class. I just find ways to get open. But I need to work on my strength. I need to be able to get off jams and make the blocks that I need to make."
His former Crimson Tide teammate, Henry Ruggs III, is among the challengers at the receiver position. Ruggs III believes he is a complete receiver capable of dominating a game, but he's known as a speed guy. In fact, Ruggs III is confident he's the fastest player in Indy.
"I will always say I'm the fastest. Speed is my thing," Ruggs III said. "I put fear into whoever is guarding me. You never know what to expect from a speed guy."
No questions Ruggs III's speed, but the same can't be said for someone like Lamb, who did say he expects to put all that to rest when he runs the 40-yard dash.
Former Clemson wideout Tee Higgins is another one with something to prove. At 6-foot-4, he's got the size to cause problems, but does he have the speed and route-running ability to pair with it?
"Obviously, I am a tall receiver. I'm going to win the 50-50 ball. It's 80-20 my way," Higgins said. "A lot of people thought I was a tall, slow guy. Film speaks for itself. I'm not slow. I'm a tall guy with great speed. I model my game after Julio Jones and A.J. Green. Julio is physical and has good long speed. A.J., he gets the ball at the highest point."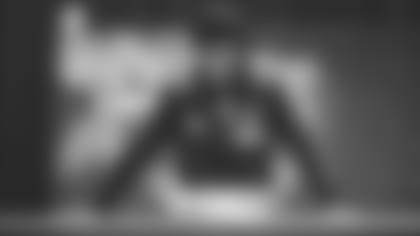 Is there another George Kittle among the tight ends?
Can you recall the last player drafted from the University of Dayton?
Probably not. It hasn't happened since 1977, but tight end Adam Trautman is preparing to change that.
"It would mean the absolute world to me," he said.
So, what kind of player is the former Flyer?
"Just a relentless style of play, along with an edge," he said. "Every level I've been at I was told I'm not good enough. Coming out of high school I wasn't good enough for FBS. I'll always use that edge and carry it with me."
His opponents often bear the brunt of it.
"I'd rather move people off the ball than score touchdowns. That's truly how I feel. It's not just lip service," Trautman said. "I once drove (a defender) 20 yards downfield and put him on his back. The ref had to tell me to chill out. When you are doing that, you know you're getting after it."
That sounds a lot like All-Pro 49ers tight end George Kittle, whose name came up at several podiums.
"I watched a lot of film on George Kittle with that he does in the run game and pass game," former LSU tight end Thaddeus Moss said. "Plus, the tenacity he plays with."
Florida Atlantic tight end Harrison Bryant said this when asked about his favorite play: "It was like a third-and-6. I caught the ball and threw the dude. I felt like Kittle. I broke like five tackles."
We'll wrap up this notebook with some more love for Joe Brady, courtesy of Moss, who was a big part of LSU's offensive machine as a playmaking tight end in 2019.
"It was great to work with him," Moss said. "It was a magical season. Everything came together. He got there and everything just clicked. He's a players' coach. He's really young, so we could all relate to him. The receivers related to him so well. Whenever we were sitting down for lunch or dinner, the coaches would sit over there and he would come sit with us, joke with us, laugh with us. He's very relatable and I think he'll do great with the Carolina Panthers."