CHARLOTTE – No team in the NFL has a younger pair of top two wideouts than the Panthers.
Curtis Samuel (23) and DJ Moore (22) ooze potential, and many expect that tantalizing potential to be realized in 2019.
"We both want to have big-time years and we're going to complement each other. It's just exciting," Samuel said. "DJ makes a big-time play? OK, let me go make a big-time play. We want to be two dynamic receivers in this league. We want to make things happen."
It was "The Summer of Samuel," with the third-year wideout from Ohio State lighting it up throughout training camp. Moore's second training camp wasn't as eye-popping necessarily, but the former first-round pick has clearly made strides after an impressive rookie campaign.
A true test awaits them both in the season opener.
The Rams have two long, physical and experienced corners in Aqib Talib (five-time Pro Bowler) and Marcus Peters (two-time Pro Bowler).
Samuel and Moore might be young and exciting, but they aren't nearly as accomplished as the two corners they'll be facing on Sunday.
"For us to be where we want to be," Samuel said, "this is a great test for us."
"Oh yeah, this will be good to see where we stack up," Moore added. "But we never back down from a challenge. We're going to give it our all."
Samuel said he isn't exactly sure how the Rams are going to match up with he and Moore. With the way offensive coordinator Norv Turner likes to move guys around, Samuel and Moore will likely face both corners throughout the course of the game. And we can't forget about aptly named nickel corner Nickell Robey-Coleman if and when Samuel or Moore are in the slot.
But we know this about both Talib and Peters: they like to get in your face, and in your head.
Talib has snatched a necklace off a wide receiver's neck and he's had dustups with opponents a time or two. Panthers fans aren't exactly fond of Talib thanks to two specific incidents – his jawing with fan favorite Steve Smith on Monday Night Football back in 2013 (when "Ice up son!" was born) and his nasty facemask penalty on Philly Brown in Super Bowl 50.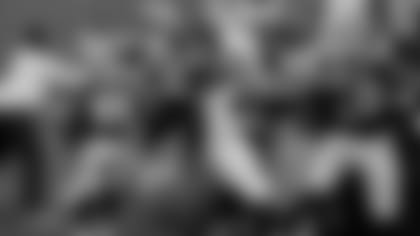 "Knowing Aqib personally, (our wide receivers) got a long day. I know that. But they're built for it," said defensive lineman Gerald McCoy, who played with Talib in Tampa Bay from 2010-12. "They're in a locker room with Cam Newton; they're built for hearing somebody talk at them. Our receivers are going to be alright. But they are going to hear a lot of talking from Aqib. He's a physical corner. A big guy. But his confidence is what makes him.
"It could be Superman out there – in his eyes, he's not catching nothing."
Peters has confronted hecklers, thrown flags and made headlines last year with his public beef with Saints head coach Sean Payton.
He's brash and he's not afraid to show it.
"He can play though, so we ain't going to get it confused," said defensive tackle Dontari Poe, who played with Peters in Kansas City from 2015-16. "There are dudes out there who just talk to talk. And there's guys who can play when they talk. He'll talk a little smack.
"I think it'll be a good matchup. I'm taking my dudes any day. Our guys do their talking on the field. It's two different sides of the spectrum."
Moore is about as quiet as they come at the wide receiver position.
Quarterback Cam Newton put it best on Wednesday when he said this about Moore: "He could be in the room with you for a whole two days and he won't even say nothing to you. But he still will be productive."
Samuel is much more expressive on and off the field. He may not be a loudmouth, but he's not going to back down from a challenge, either.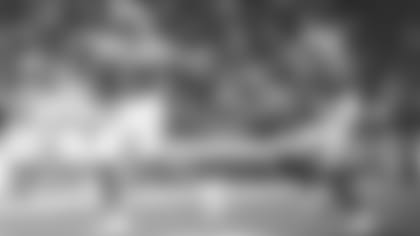 "I'm not worried about that," Samuel said when asked about Talib and Peters' style. "I'm from Brooklyn," he said with a laugh.
"The way you stop that is to go out there and keep balling. Keep on making plays and we'll see what happens."
As veteran Jarius Wright advised, "in one ear and out the other."
And to make plays consistently against these corners, Samuel and Moore must win at the line of scrimmage.
The expectation is that Talib and Peters will try to get physical at the line of scrimmage to throw off the timing and make Newton hold onto the ball in the pocket. That would give someone like defensive tackle Aaron Donald, who amassed 20.5 sacks last year, time to make his way to the quarterback.
If Samuel and Moore can avoid getting jammed and create separation, that'll help keep Newton on time and open up opportunities for big plays down the field.
"That's definitely key. I'm prepared for it. I'm going to run fast and they are going to see that," Samuel said. "It's up to us to get open."