What's it like covering wide receiver Curtis Samuel in one-on-ones?
Put it this way: It's been the most unenviable position at Panthers training camp this year.
"Man, he's been whooping my ass lately," cornerback James Bradberry said.
As Bradberry will tell you, it's been almost impossible to check Samuel in the one-on-one drill. He's electric off the line. He darts one way and then the other so quickly. His explosive, yet subtle, movements allow him to create separation with ease.
With no help over the top, he'll make you look silly.
And it's not just in one-on-ones. Team drills, 7-on-7 – you name it, Samuel has been making plays in every situation this camp.
He's routinely blowing by defenders for deep balls, making contested catches over the middle and using his quickness to get open underneath. That's led to a lot of first downs, touchdowns and dance moves.
As a result, his confidence is soaring.
"When I'm in my zone," Samuel said, "I don't feel I can be stopped."
It's not just talk. Unstoppable is an accurate way to describe the third-year wideout right now.
"He's had a heck of a camp. Watching him improve is amazing," running back Christian McCaffrey said. "Obviously, he's got foot speed that's rare; not just in the league, I'd say in the world."
The world-class speed is always what's made Samuel so appealing as a prospect. And now he's becoming a more complete receiver.
Offensive coordinator Norv Turner, who doesn't throw out compliments haphazardly, said Samuel is "becoming an outstanding route-runner."
Everything from lining up, to reading the defense, to attacking the ball looks more natural for Samuel. And we know he came out of Ohio State with a unique ability to make people miss as a ball-carrier in the open field.
"You know, he's always been quick, he's always been fast. He's just gotten a lot better at his route-running and also great hands," veteran wide receiver Jarius Wright said. "Some of the catches he's been making are just great catches. He's still a young player and getting older, so it's only room to grow."
Samuel had a hard time staying in healthy as a rookie in 2017, posting just 15 receptions for 115 yards. He emerged as a contributor in 2018, recording 39 catches for 494 yards and seven total touchdowns (five receiving and two rushing) while posting some impressive advanced stats.
Year Three has the makings of a major breakthrough.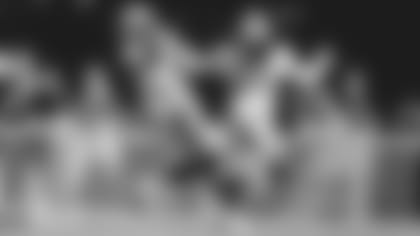 "He's light years from where he was when he came in as a rookie." head coach Ron Rivera said of the former second-round pick. "One thing that I talk about is that we have a group of young guys that do need to take that step, and he is one of them. A lot of it has to do with his work ethic, how hard he has worked, the extra things that he does, the things he does before practice. Then you see him take it and transfer it onto the field."
OK, now here's the part where we pump the brakes a little bit. Samuel has earned all the plaudits this summer. He's been phenomenal. But the 22-year-old is not close to being a finished product.
"He flashes. That's the kind of player he is – he's flashy. We just have to keep working on consistency and the routine stuff," wide receivers coach Jim Hostler said. "He's got great talent, obviously. It's about growing in all three (receiver) positions to be able to have a route tree that everyone trusts and knows you're going to be in the right spot. And he's still working on that."
And look, there are those who aren't going to put a whole lot of stock in training camp practice production. Let's see it in the games; let's see it for a full season.
"I just have to continue to do what I'm doing. With the limited number of snaps that I've had (the last two seasons), I feel like I've produced," Samuel said. "I feel like I'm having a great camp. As long as I'm getting reps and I'm staying healthy, I'm going to become a much better player."
A WR1 type player? A 1,000-yard type player?
The Curtis Samuel fan club – which grows larger by the day – certainly believes so.
"To the ones that support me, keep it going," Samuel said. "To the ones that doubt me?