CHARLOTTE – About 70 area elementary teachers enjoyed an afterschool special of sorts Tuesday, heading from their classrooms at the end of the school day to Bank of America Stadium.
"We had no clue – just the excitement of coming out to the Panthers stadium was enough," Winterfield Elementary School teacher Nikia Cockerham said. "To know that we're going to get an extra bonus of supplies to help us in the classroom, that was great to hear."
A whirlwind of excitement for the teachers ended with a big reveal near midfield, when Panthers owner David Tepper announced a $120,000 donation to Classroom Central that will provide school supplies to about 800 elementary classrooms at the 19 Title I school represented by the teachers Tuesday.
"I know sometimes you guys – and my mother did – spend your own money on supplies," Tepper told the group. "We're excited we can provide this funding."
The teachers who visited with Tepper after the announcement were excited as well.
"Having these supplies to finish off the year strong – it's great. We'll definitely use the pencils, papers, notebooks and everything," Cockerham said. "Usually at the beginning of the year, kids come with many of their supplies and can afford most of them then. But by mid-year, many of the supplies are used, and they're needing new supplies to finish out the second half of the year."
That's where this donation comes in.
Much like when Tepper spearheaded an effort that provided 12,000 backpacks filled with supplies to Charlotte area schools in August, this gift courtesy of The David A. Tepper Charitable Foundation, Carolina Panthers Charities and the John M. Belk Endowment is a unique one in the Panthers' long-standing relationship with Classroom Central.
Founded in 2002 with a helping hand from the Panthers, Classroom Central makes it possible for teachers at 199 schools in six districts to shop for free supplies at its store on a monthly basis. But with this gift, the 800 impacted classrooms will have a kit delivered to their doors that will provide an immediate boost for the second half of the school year.
"It is very unique – very similar to our backpacks program in that it's going directly to schools," said Karen Calder, executive director of Classroom Central. "The order has been placed and shipped. They should get them tomorrow."
In addition to the gift, the teachers selected to be on-hand for Tuesday's announcement enjoyed some special treats they won't soon forget.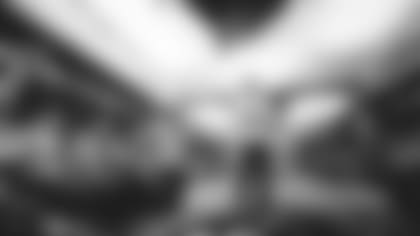 Decked out in Classroom Central T-shirts that were provided upon arrival – embossed with "Students are the reason" across the front – the teachers got to mill around the locker room for a few minutes. After many congregated at either end of the locker room, taking lots of pictures at Cam Newton's locker at one end and Luke Kuechly's at the other, they took their seats in the middle and for a question-and-answer session with Panthers tight end Greg Olsen.
"I am the product of two high school public educators," said Olsen, whose parents worked nearly 80 years combined in New Jersey public schools. "I know firsthand a lot of the sacrifices, a lot of the work that goes in. Your days do not start when the bell rings; they do not end when the bell rings. I think that's something that too often in our country doesn't get enough praise, doesn't get enough recognition, doesn't get enough support.
"Outside of their parents, no one makes a great impact on a child than their teachers."
Next the teachers headed out on the field and they did so in style – running through the tunnel the players run through on game day to a hero's welcome. Once on the field, Tepper shared his family history in education (his mother, aunt and daughter were teachers) before sharing the gift.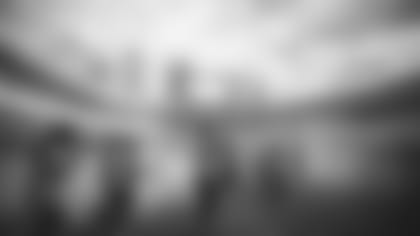 "This is a great platform – the Carolina Panthers – to do a lot of good things, for me and for our players," said Tepper, who added he hopes to outfit schools in both states with backpacks in time. "You see the players out there again and again, doing things for the community. I think it's my responsibility to do things, too, and I do think we're a team of the Carolinas.
"We're doing things here – this is where you start, this is where you stadium is – so there's obviously some things to do here, but we think it's our responsibility to do things in both Carolinas."
In the case of one teacher, Tuesday's donation might have done even more than improve her classroom; the generosity improved her outlook on her classroom.
"While I still have a passion for it, I have considered leaving," said Karen Weatherspoon, a fourth-grade literacy teacher at Statesville Road Elementary. "Well, he just restored my faith.
"It's exciting. It's rejuvenating."
View photos from the reveal of a $120,000 donation to Classroom Central from the Tepper Charitable Foundation, Carolina Panthers Charities and Belk Endowment.