CHARLOTTE — Whenever a rookie begins the season as a starter, there's an unknown element to how he fits his team's scheme. With no preseason games in 2020, there's even more mystery entering Week 1.
Such is the case for Raiders wide receiver Henry Ruggs III and Panthers' cornerbacks who will have to defend the speedster. The Alabama product ran a blistering 4.27 40-yard dash at the NFL Scouting Combine in February — and was disappointed with it.
Ruggs has the kind of speed that keeps defensive coordinators up at night because he's a deep threat on every play. And if he gets the ball in space, defenders have a hard time catching up to bring him down.
The Raiders selected Ruggs at No. 12 overall in the draft, feeling his addition could open the entire offense.
"When you're in the division we're in, and you look at Kansas City, and you look at what they have on offense, and what their explosion looks like, we needed to get faster," Raiders general manager Mike Mayock said on draft night.
But no one outside the Raiders knows how he'll be implemented. Las Vegas head coach Jon Gruden offered few hints when asked about Ruggs this week.
"He'll play a little bit. We're hoping he's ready to go. That's all I'll say," Gruden said. "I've got a lot of confidence in him. We're going to ask him to do a number of different things, and we'll see what he brings to us."
With such a lack of information, how is cornerback Donte Jackson preparing for Ruggs?
"In that type of situation, you want to study the offense, study what they like to do, and just kind of get a clear understanding for how you think they would want to use a guy with his type of attributes," Jackson said.
He's also watched Alabama film to get a better feel for Ruggs.
"How he likes to release, how he is at the top of his routes, how strong his hands are, stuff like that," Jackson said. "But you can't try to get too much because obviously, he's with pros now. He's with a pro quarterback, pro offensive linemen, he's learning from pro coaches. So now it's an elevated game that you're going to get, and he'll be better."
If there's any corner equipped for Ruggs' speed, it's likely Jackson. His 4.32 40 time at the 2018 combine tied for fastest among cornerbacks. But there's more to it than that, mainly because Ruggs can break any coverage cushion.
"You have to play with your technique and let that work for you instead of trying to go out there and make plays that aren't quite there because he's a guy who can put you out of position really fast," Jackson said.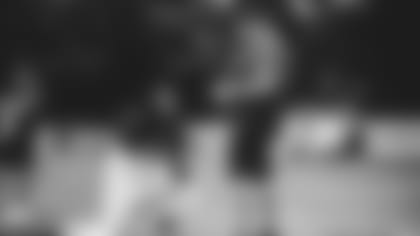 Jackson has received consistent praise from head coach Matt Rhule and defensive coordinator Phil Snow in the lead up to the season. Rhule said last month that he feels like Jackson has reached the level of a top-flight corner.
While Jackson was limited to just 10 starts last year, veteran safety Tre Boston has seen plenty of growth in the third-year corner.
"I expect 'D. Jack' to step up for us big time," Boston said. "He had a season where he feels like he needs to come back and dial in and I think he has that season now because of how focused he is."
Covering Ruggs likely won't be Jackson's only assignment Sunday, but it will be critical.
"Two guys who can get out of there in terms of speed — it'll definitely be a fun, anticipated matchup," he said.