CHARLOTTE — Kawann Short was a first-time captain last year, but the defensive tackle wore the "C" on his chest for just two games before a shoulder injury ended his season. Now, he's been voted captain again, humbled to earn the role for a second time.
"It's an honor just to be on the forefront of a bunch of tremendous guys that voted for me," Short said. "Those guys trust me to put forth that effort, and I really appreciate those guys just allowing me to be a spokesman for this team."
Players voted for captains on Thursday, with veterans' votes carrying more weight than those of younger players. But head coach Matt Rhule has seen Short as one of the club's leaders since he arrived as head coach.
"He has everyone's back, and he cares about people. I can't think of a better captain, just in my time of being here," Rhule said. "I just have a lot of respect for him. He's got a special way about him."
The eight-year veteran has put that leadership into action the past few months by mentoring fellow defensive tackle Derrick Brown. Short praised the first-round pick multiple times Thursday, and when asked about Brown's progress, Short shared some of the advice he's given.
"I like Derrick, man. He came in and he wasn't that guy that said, 'I'm a starter, I'm going to do this, I'm going to do that.' He came in willing to get better, and you can play with those guys," Short said. "I told him, it's not a redshirt year. That's what I've been told since I was a rookie.
"'They drafted you because they want you to play. They know you're a key aspect to this team, and what you can do, we're going to need it now.
"We're going to need you to be that dominant guy that you were in college. Nobody cares what you did then, but we need you to bring that same energy, those same plays you made in college, bring it to the NFL.'"
Rhule has noticed the type of leadership Short's providing for Brown, saying the veteran has mentored the rookie, "in all things big and small — from stance and first step, little things like that, all the way up to how to be a pro."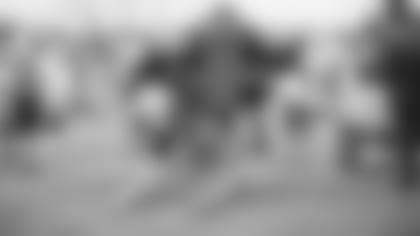 Short and Brown are a combined 633 pounds in the middle of Carolina's defense, which, taken alone, should make for improved resistance against the run. But the Panthers gave up a league-worst 5.2 yards per carry in 2019, which means teams like the Raiders will likely test them early.
"They've got some good O-linemen up front, guys who've got years invested and know the ins and outs of what to do in this league," Short said. "But I feel that our front, our guys up front, we put in the work daily to put ourselves in the position to stop the run and get after the quarterback."
Still, Short recognizes facing the Raiders' veteran linemen like left guard Richie Incognito and center Rodney Hudson will be a challenge.
"You've got to come in, and you've got to state your ground," Short said. "They're pretty good, but we can definitely get a good jump on them."
Even in this unique season, Short is embracing everything that has and is to come. It's why his teammates voted him a captain. And after missing 14 games last year after sitting out just two his first six seasons, Short has more perspective to pair with his excitement for the new year.
"It's a blessing to be able to come back from one of those kinds of injuries. If you'd have asked me that about four or five months ago, it would've been a different answer. But I feel good," Short said. "I'm blessed to be in this position, and I can't take it for granted."
— Short, linebacker Tahir Whitehead, linebacker Shaq Thompson, quarterback Teddy Bridgewater, left tackle Russell Okung, and running back Christian McCaffrey are Carolina's six captains.
"It's definitely a massive honor," McCaffrey said. "I'm excited to lead this team. We have a great group of captains, but we've got a lot of guys who are going to find a way to lead as well."
— Players are allowed to wear helmet decals honoring victims of systemic racism and police violence this season, and safety Tre Boston plans to sport one that reads, "Black Lives Matter."
"It's something that's important to all of us," Boston said. "It was something neat that they said we could do, and guys are willing to do it."
Boston revealed players are planning to meet Friday to decide if there will be a team demonstration for Sunday's game and what it would be.
— Rookie cornerback Troy Pride Jr. is in line to start his first game on Sunday. The fourth-round pick said this week has felt "surreal."
"It's something I've dreamed of, that I've prayed for, and I've worked for," Pride said. "I'm very excited and ready to compete."
"He's a guy you can take to the side, tell him one or two things, and the next time he attacks it and does it right," Boston said.
— Because there won't be much noise in an empty Bank of America Stadium on Sunday, the Panthers are planning to move their offensive huddle father back from the line of scrimmage to reduce the chance the Raiders' defense can pick up an important aspect of the play call.
"It's really unique to this season," Rhule said.
View photos from Thursday's practice as the Panthers prepare to take on the Raiders in Week 1.