And even though he's not working out tonight at the Scouting Combine, he's put enough on tape that his NFL future is pretty clear.
Neal's part of a deep class of top-shelf offensive line talents, and the Alabama left tackle could be the first player chosen in this year's draft. He's clearly part of the top group the Panthers are studying closely (and meeting with), if they get the chance to take one with the sixth overall pick.
"I feel like I'll be able to come in and make an impact immediately like I did at Alabama," Neal said this week. "Everything will present its challenges, and I'm going to have my growing pains, but as I get acclimated to the speed of the game I feel like for sure I'll be able to make that adjustment."
Neal's waiting until Alabama's pro day on March 30 to work out, but he measured in Friday at 6-foot-7 1/2 and 337 pounds, with 34-inch arms and an 83-inch wingspan, with 10 1/8-inch hands. He played in the 350-pound range in college, but is leaner now, and better able to move. Photos from his pre-draft trainer show a remarkably lean body for someone his size, a different profile than offensive linemen of generations past.
"I've always just been a big guy," Neal said. "I never looked at myself as having a weight problem. I felt comfortable playing at all of those weights, but I definitely feel more comfortable at the weight I'm at now."
The Panthers have acknowledged that the top of this class at tackle interests them, and while their officials aren't getting into specifics on individual players, Neal stands out to league evaluators in terms of his resume.
"Extremely impressive, what he did at Alabama," Ravens GM Eric DeCosta said of Neal. "Imposing, physical, strong run blocker. Has a chance to be an outstanding pro."
Neal started 13 games at left guard in 2019, moving to right tackle in 2020, and left tackle last season.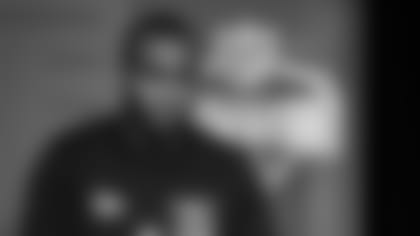 "I bring versatility," he said. "You can pretty much plug me in any place other than center. I had 39 starts at Alabama, started as a true freshman, and I have a lot of game experience for sure.
"I learned to be versatile. Sometimes not everything is the way you want it, but you do what is best for the team. I feel like it all helped me out in the long run for sure."
Neal also showed some resilience, coming back from a bout of COVID-19 prior to the 2020 SEC Championship Game, which he admitted was a struggle. He couldn't work out, so his prep work for the title game amounted to stretching and film work.
"I missed two weeks of practice, so I didn't have any preparation," Neal said. "I was basically a couch potato for two weeks. I got cleared the day before the game, and I played in the SEC Championship with no practice, no anything. It felt like I was breathing through a coffee straw.
"But my teammates believed in me, my coaches believed in me, and I believed in myself. I just kept pushing through it. It felt great. I can't describe a better feeling than winning that game, especially under the circumstances I played with for sure."
And with the way he played, he has a chance to be the first No. 1 overall pick from Alabama since 1948.
"It would mean everything," Neal said. "There are a whole lot of Alabama players who were worthy of being drafted in that spot. For it to be me would be really special."