CHARLOTTE — The Panthers continued to work through their draft class, and now have their top pick taken care of.
Cornerback Jaycee Horn agreed to terms on his four-year rookie deal (which carries an option for the fifth year) before the start of Tuesday's minicamp practice.
Horn, the eighth overall pick, was the eighth of their 11 draft picks to take care of the business side.
They envision him stepping into the starting lineup and making an immediate difference, joining a secondary which includes Donte Jackson and A.J. Bouye. And after growing up the son of former Saints wideout Joe Horn, they anticipate him being ready for the spotlight.
"Talking to him, as I said, he is somebody that is extremely serious about not just being an NFL player but being a great NFL player," Panthers head coach Matt Rhule said. "Knows this region, obviously, not too far away playing, playing right down the road in Columbia. As I said, besides just being a great player, is a good person and is also a really good fit for us in terms of understanding what it means to be an NFL player.
"He's seen it his whole life. There's a lot of things fit wise that just made too much sense."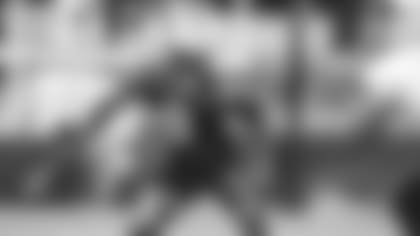 Horn said his father instilled a sense of responsibility in him, that he's carrying into his new workplace.
"He gave me a lot of advice, but the two main things were first, never feeling like I know it all, keeping that empty cup and being willing to learn from any and everybody in the building. Learn from the vets, learn from the coaches, everybody.
"And two, just recently he was telling me that it's a business. You've been picked high, you've got a job to do out there, and it comes with a lot of weight. So make sure you're prepared, and ready, and be there when the time comes."
And now, the time is here for the younger Horn to get to work.
See Carolina's first-round pick step on the field at Bank of America Stadium for the first time as a Panther.