It's crunch time. Get ready for game day, and don't forget the chips when the Panthers face the Packers on Saturday. Here are five things to watch for in the matchup.
At varying points this season, the Panthers have had flashes of competence on offense.
Problem is, those haven't necessarily come in the final moments of close games, and that sent quarterback Teddy Bridgewater back to the tape this week looking for answers.
Of the seven times the Panthers have lost one-score games this year (tied for most in the league), the failures haven't been the kind you can pin on one guy.
A missed field goal isn't necessarily Bridgewater's fault, but other breakdowns put the focus back on the quarterback — as it always is in the NFL. Bridgewater rushed a third-down play before the two-minute warning last week, and their fourth-down play fell well short of the sticks, the kind of sequence that brings all the attention back to the guy who takes the snap.
"It's definitely a hump that we want to get over," Bridgewater said. "And we're capable of getting over. We just have to execute when that situation comes. And it starts with me being better in those situations. That's what it is. We just have to be better in those situations.
"It's very frustrating because you know what you're capable of doing. And you're aware that you've had some success in the past finishing games, and putting drives together, giving your teams opportunities to win football games. Just one of those deals, we have to execute. You can point out this reason, that reason, but you just have to execute things. And like I said, that starts with me."
Taking ownership of it is one thing, but fixing it is another.
Bridgewater said he spent the early part of this week going over his own mechanics with quarterbacks coach Jake Peetz and offensive coordinator Joe Brady, dissecting the fine points of his own footwork and motions to make sure he's doing everything he can.
"As you through the course of the season, you can't forget the little details that make you a good player," Bridgewater said. "I have to just get back to the little things and apply them to Sundays."
Bridgewater's taken plenty of heat this year, for problems that are largely systemic. Football coaches and players like to say they don't want to make excuses, but it's hard to just gloss over the fact their best offensive player (Christian McCaffrey) has played a grand total of three games this year and won't play against the Packers.
PACKERS HAVE BIGGER GOALS
A focused and motivated Packers team is the last thing the Panthers need.
But that's what they'll get, as Green Bay has a path to the top spot in the NFC playoffs.
Thanks to Philadelphia's inexplicable win over the Saints last week, the Packers are tied for the top spot in the conference with the Saints (10-3), a game clear of the Rams and Seahawks (9-4)
And with a Week 3 win over the Saints and the head-to-head tiebreaker in their pocket, the Packers can clinch the top seed in the NFC if they win out.
The Packers close the season with the Titans at home next week and a trip to Chicago. The Saints have the Chiefs this week, followed by the Vikings and a trip to Carolina in Week 17.
The one seed is more precious this year, since it's the only one that gets a bye in a seven-team playoff field in each conference.
Bridgewater will be relieved to have wide receiver DJ Moore back on the field Saturday, for many reasons.
Primarily, he provides the vertical threat the Panthers desperately need. Without him last week in Denver, the offense didn't have the room to breathe he can provide.
Moore's caught 50 passes for 924 yards this year, but his 18.5-yard average per catch is highest in the league among players with at least 35 receptions. When he's available, he provides a complement to Robby Anderson and Curtis Samuel in a way that's greater than the sum of the parts.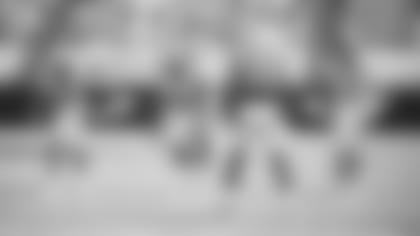 It's clichéd to call Packers quarterback Aaron Rodgers a generational talent.
But he's at least worth a couple of years of Panthers' quarterbacks.
Rodgers has 39 touchdown passes in 13 games this year, more than all Panthers' quarterbacks the last two seasons combined (32).
On that tally, Kyle Allen had 17 last year, followed by Bridgewater's 14 and PJ Walker's one. Neither Cam Newton nor Will Grier threw a touchdown pass last year.
Head coach Matt Rhule is like a lot of coaches, who makes sure to wear shorts to practice on chilly days. But it's a more basic motivation that's driving one of his fashion choices this week.
He joked that he considered wearing a trench coat on the sidelines like Packers legend Vince Lombardi: "But I don't think I can pull it off. I'd look like an idiot."
Rhule's reverence for the Hall of Fame coach is obvious, as he named his son Bryant Vincent Rhule after Bear Bryant and Lombardi.