CHARLOTTE – Frank Okam had already interviewed for a defensive line coaching job with Matt Rhule before.
This time, it came with a live audition.
When the Panthers promoted Okam from assistant defensive line coach to the top position job last month, it came after he filled in in that capacity during the Senior Bowl, a point at which he began to feel at home again.
"When you're working in this profession, every day is a chance to get better and improve your craft," Okam said. "With the Senior Bowl, I wanted to take advantage of the situation and use it as an opportunity to grow.
"It was my first time in a year leading a room again, and it gave me a chance to get into a rhythm and learn even more about what I wanted to do."
Of course, Okam was a known commodity to Rhule and defensive coordinator Phil Snow, working for them as the defensive line coach at Baylor before coming here last season.
Snow said they were clearly confident in Okam, but since he hadn't been a full position coach in the NFL previously, they wanted to bring in a more experienced coach at first. It didn't take long for Okam to gain their trust with a room again.
They've still surrounded the 35-year-old Okam with experience (longtime line coach Don Johnson was brought in as a pass-rush specialist), but Snow said Okam has stood out as being capable for some time.
"First of all, Frank is really bright," Snow said. "But he's got a really good feel for the position, having done it himself, but he has an ability to connect with players and communicate what we want taught."
Okam played in the league, but his background gave him plenty of stuff to draw from. He was listed at 6-foot-4, 319 pounds when he played, and he had the skills to fill a variety of roles across the line. He talked about the challenges of playing everywhere from nose tackle to a "seven technique" defensive end, but he's now using it to teach a cast of players that aren't stamped out of a mold. Snow said the closest comp on the current Panthers' roster to Okam (in role, as opposed to body type) is Efe Obada, who came up as a defensive end but developed into a strong interior rusher last year.
"He was genetically gifted, in that he was a big guy who could move," Snow said of Okam, the player, who spent five years in the NFL with the Texans and Buccaneers, along with stints with the Seahawks, Giants, and Patriots. "But the hardest thing about finding a defensive line coach is finding guys who can teach pass-rush. When we interviewed Frank at Baylor, he really impressed us with his ability to communicate the concepts and make sure guys could really understand."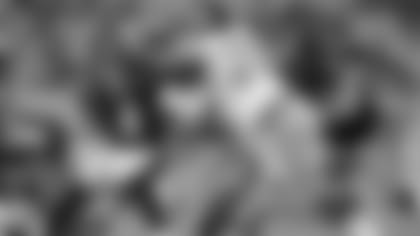 And while Okam might not have been a standout, he hung around long enough to play under a wealth of coaching talent.
He had seven different defensive line coaches during his time in the league, working under mentors including Keith Millard (who used to own the sack record for defensive tackles with 18 in 1989, before some guy named Aaron Donald came along). Okam also played under Bill Kollar, Dan Quinn, and Jethro Franklin, among others, giving him a broad base of experience to apply to his own coaching career.
"I took a little bit from each of those guys," Okam said. "But I think the biggest thing I learned was that coaches sometimes make an assumption that they (players) know how to accomplish the thing you want them do. You have to assume instead that you have to teach them, that you make sure you're communicating exactly what you're trying to get across."
Okam added that requires figuring out how each player learns to tailor his instruction if a guy is more of a visual learner or needs practice on the field to see and understand.
"Some guys get it on the board, some guys get it in film, some guys need to rep it to make sure," Okam said. "I want to challenge these guys emotionally, psychologically, and physically to help them become the best version of themselves."
Okam is a fast-talker, and he's got his coaching points from Rhule down pat. He can talk about the "no excuses, own where you are, what's next mentality" that is common on this staff.
But the 35-year-old also brings his own approach to the job, and now has another chance to put his imprint on a group.