CHARLOTTE – There have been times in his life when Terrance Knighton wanted to leave the nickname behind him.
But it's so good, and it fits so well, that it would be kind of a shame to send it back to the kitchen.
The former NFL defensive tackle known as Pot Roast during his playing days is comfortable with that moniker now, as he sets off on the next chapter of his football career as a coaching assistant with the Panthers.
"I guess Pot Roast fits," he said with a laugh over a carryout box of lunch. "I think it's a good nickname for a nose tackle."
Knighton admitted he'd much rather go to Ruth's Chris and order a steak, but on that fateful and long flight home from Seattle to Jacksonville in 2009, steak wasn't an option.
No matter what else he did in his seven-year NFL career, Knighton would be best remembered by the nickname born on that flight back from a loss his rookie season, when a flight attendant offered a large man who doesn't eat things from the ocean a choice between Shrimp Alfredo and Pot Roast.
"I had never had it before, I just knew I didn't want seafood," Knighton said, shaking his head at the memory that would follow him throughout his playing days.
Since the flight was dark and teammates were sleeping, he tried to low-key it when the attendant walked down the aisle offering pot roast, leaning into the aisle and gesturing with his hand to say "right here."
To Knighton's chagrin, linebacker Clint Ingram heard him.
When he signed with the Broncos as a free agent four years later, part of him hoped to leave the nickname back in Florida.
"When I went to Denver, I thought maybe this is my chance to get rid of it, but as soon as I signed, fans were on social media going, 'We got Pot Roast,' so I guess it's sticking," Knighton said.
Of course, being a 350-pound-plus nose tackle made it resonate, but it's also a working man's meal, and Knighton was willing to do the grunt work then and now.
His job with the Panthers is the absolute entry-level position on an NFL coaching staff, as he learns to communicate what he knew as a player.
Knighton spent the last three years coaching at Wagner, learning the basics of coaching at the FCS level, far from the catered flights of the NFL. And his connection with Panthers head coach Matt Rhule (once his position coach at Temple) earned him a shot to take a step up.
(For the record, Rhule refers to him simply as "T," since their Temple days were pre-Pot Roast.)
"It's just like anything else, when you're the best midget football player, you go to high school and you're a freshman again. When you go to the NFL, you're a rookie — it's the same thing," Knighton said. "Whenever you start something new, it's important that you're humble and you're open-minded about things. . . .
"Starting here this week, I'm just learning as much as possible, learning the verbiage, learning the playbook, doing my due diligence so that when I have the responsibility to do something, that I'm ready for it."
Knighton had one of the truly unglamorous jobs in the NFL, but he also knows enough about the game to know that good nose tackles do more than take up space. He also had the chance to get some in-person lessons from two of the game's greats in Denver, veterans who taught him what it truly meant to prepare.
"The great players in this game, they always talk about their mental approach, not their physical approach," Knighton said. "Everyone lifts weights, everyone runs, everyone takes care of their bodies the right way for the most part. If you look at the great players, it's their mental approach. Playing with Peyton Manning and DeMarcus Ware, guys like that, you see their approach to the game mentally is just as vital as playing the game."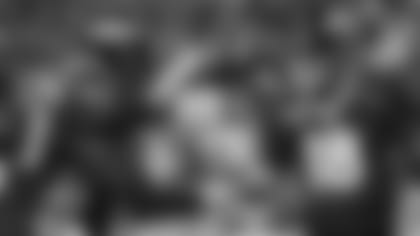 Knighton marveled at Manning's attention to detail, and said sitting in the same meeting room as Ware taught him how to really take notes, rather than just scribbling things on paper.
And as he spent more time in the league, he realized the approach he was learning was pointing to a career as a coach, and several of his bosses told him the same thing.
"I always considered myself a high-IQ football player," he said. "I could kind of see the game from a coaches' perspective a lot. When I was on the field, I could verbally spit back things we did all week. Had a photographic memory so I could remember things I'd see on tape. Coaches put a lot on me as a player because of how I saw the game. It helped me as a player, so when a coach tells you something, you listen."
Knighton was with the Patriots in the 2016 offseason but was cut before the start of the regular season and spent the rest of the year "getting my mind wrapped around the whole retiring thing.
"I missed the game," he said. "I sat there on Sundays watching games, looking at guys saying, 'You should have done this, should have done that.' I just wanted to be around the game. That's all I've known since I could walk, was football. So doing something in any aspect with football makes me happy."
Happier, at least, than Shrimp Alfredo. Which frankly, would have been a terrible nickname.