GLENDALE, Ariz. – Daryl Williams was coming off a game in which he struggled. Rookie Greg Little had recovered from his preseason concussion and was ready to make his regular season debut.
So it was the perfect time to give both an opportunity to play in Week 3 against the Cardinals.
Williams, a predominantly a right tackle before this season, started at left tackle for the third straight game. But Little – the second-round pick from Ole Miss – stepped into that stop for Carolina's third series, and he stayed there for the next two possessions before halftime.
"Of course, as a young guy, I was anxious," Little said. "But I was ready to get in there. After the first drive and a half the nerves went away. Had to get after it."
Rivera felt good about the veteran Williams starting things before giving Little a taste of the action.
"We wanted him to get an opportunity to settle in," Rivera said. "(Little) was drafted for a reason and he's got to get opportunities to play, and same thing with Daryl. He is a big, stout football player and we've got to find ways to use him as well."
Williams was back out there at left tackle at the start of the second half – a seven-play, 75-yard drive that ended with a touchdown pass to tight end Greg Olsen.
Then Little checked in for the next possession, which lasted only two plays as running back Christian McCaffrey broke free for a 76-yard touchdown run.
The pair continued to alternate by series during the second half. But it should be noted that late in the game, once Trai Turner had exited with an ankle injury, Williams was plugged in at right guard and Little stayed at left tackle.
While rotating left tackles isn't exactly commonplace, this tactic made sense in Carolina's situation.
"Daryl and Greg did a great job splitting time," left guard Greg Van Roten said. "It's really tough to do, to get into a rhythm. But they both played well today. That was good to see."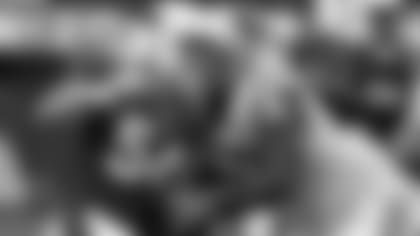 It wasn't perfect, of course. Williams was disappointed with the strip-sack he gave up to edge rusher Chandler Jones.
He said the decision to rotate Little into the game was "understandable."
"Just doing what they say," Williams said.
Little is taking the same approach.
"Just do my job, man. Just trying to focus and work hard," Little said. "I'm cool with whatever coach needs from me."
The 21-year-old Little was often matched up against veteran sack artist Terrell Suggs, a 37-year-old veteran of 17 seasons. But he wasn't overwhelmed. He looked in total control.
"I didn't hear (O-line coach John) Matsko scream into the headset, so…" Rivera joked.
Yup, that's a great sign.
"I belong in the league. I'm young and I have to keep getting stronger and better," Little said. "It was fun. I had a great time. Just have to build off this game."
Neither Little nor Williams is sure what the plan at left tackle will be going forward. That's not something you'd expect Rivera to reveal at this point. But he certainly likes having options.
"It's a nice problem to have," Rivera said.