CHARLOTTE – New Orleans is where it all started for quarterback Kyle Allen. In last year's regular season finale, Allen made his first career start and led the Panthers to a Week 17 win over the Saints.
Now, eight starts and almost a whole year later, Allen will return to the Superdome -- the place where he first showed people he could make some things happen in this league.
"I didn't really have much time to think going into New Orleans last year in Week 17. It was a wild year for me," Allen said. "Really, I was just trying to take advantage of an awesome opportunity. Obviously, a lot of good memories coming out of that game with a win."
Since then, the memories haven't all been as sweet for the second-year quarterback, though. After starting his career with a perfect 5-0 record, Allen and the Panthers have dropped three of the last four games. During that span, Allen has thrown just three touchdowns compared to nine interceptions, including four in Sunday's loss to the Falcons. As head coach Ron Rivera said, these things happen and the Panthers are prepared to deal with the growing pains associated with a young quarterback.
"Kyle gets it and understands these things are going to happen," Rivera said. "I've been in this league long enough, I know what it feels like when the snowball is going downhill and you can't stop it," I've been on both sides of that. Something will happen and then it clicks, and then he'll get on a roll."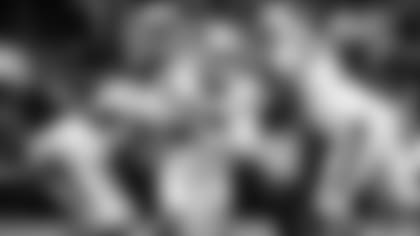 Neither Rivera nor quarterbacks coach Scott Turner have noticed a change in Allen's demeanor during his recent slump. Instead, he's as even-keeled as always. Like Rivera, Turner understands these ups and downs are part of the process for a young quarterback like Allen.
"With any young player, he came in, he had some success early," Turner said. "But you have to think about him really like a rookie. If you compare him to some of the other guys that are put in the same situation, that's the only way you're going to get better, to learn from your mistakes."
Turner said that in Allen's lone start last season, the Panthers were just trying to put together a game plan the rookie quarterback would be comfortable enough to execute. The result was Allen going 16-of-27 for 228 yards and two touchdowns in a 33-14 victory. You can rewatch the highlights from that game below.
Since then, Allen's understanding of the game has grown, but not necessarily his style of play.
"I don't think my game has changed much," Allen said. "I think just the mental part has changed. I've seen more. I've seen more defenses, I've seen more schemes, more blitzes."
Even though he's already emerged from the Superdome victorious once, Allen doesn't anticipate last year's win will help too much.
"I think really the only thing I can take from that game is playing in New Orleans in the stadium, just familiarity," Allen said. "We didn't have much on the line."
The Saints were 13-2 and had already secured the NFC's top playoff seed. This week, however, there will be quite a bit at stake. At 5-5 in an extremely competitive NFC playoff race, the Panthers need to be near perfect down the stretch if they plan on making the post season.
That starts with Allen improving to 2-0 as a starter at New Orleans.