INDIANAPOLIS – There is one team former Baylor stars James Lynch and Clay Johnston aren't expecting to spend much formal time with at the NFL Combine, for obvious reasons.
"Coach Rhule was like, 'Yeah, we know everything about you,'" Lynch said with a laugh. "They won't waste an interview on me. But it's been cool to see them and catch up with them."
Johnston's face lit up when he talked about messing around with his former coaches in Indy. Those bonds are strong. There is a lot of love.
"Those guys are just so genuine and real," Johnston explained. "Coach Rhule brought that family atmosphere. That's something he'll bring to Charlotte. I'm thankful for him coming into my life."
Now Lynch, a disruptive and versatile defensive lineman, and Johnston, a playmaking linebacker working his way back from a season-ending knee injury, are using what they learned at Baylor to launch their NFL careers.
Lynch declared for the draft after his junior season. He was one Rhule's first big recruiting wins in Waco, committing to a coach and a program at the onset of a major rebuild.
"Coach Rhule, during that whole (recruiting) process I could call him or FaceTime him and we would pick up within a couple minutes," Lynch said. "Just knowing he was always there for me and willing to share information – it was a big trust thing for me. I believed in what he was selling."
It wasn't easy, especially in that first season. But the tide turned.
"Our first year we went 1-11 and people were questioning if we should be having these tougher practices or whatever, but once the whole team bought in, that's why we were so good this year," Lynch said. "Everyone was on the same page. We became that family."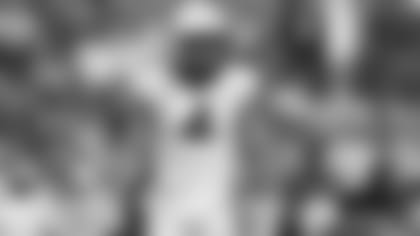 Added Johnston, who had been with the program for two years when Rhule took over: "We started seeing progress in Year 2 and after that year we had a group of seniors that really bought in and the chemistry started flowing. We became selfless and meshed. We loved each other in the locker room and started having success."
Lynch and Johnson were impact players on a defense that got better and better under defensive coordinator Phil Snow, the veteran coach who is getting his first shot to be an NFL coordinator with the Panthers.
Both of them were effusive in their praise for defensive mastermind.
"He is the smartest man I've ever met," Lynch said. "We learned offense before we even learned defense. People thought it was weird at first and were wondering why we were doing this. But we call him the Yoda of football. His knowledge is unmatched. It's just unreal. He would sleep in his office and made sure he was ready for us. He was the best coach I had. I love him so much."
As the MIKE linebacker, Johnston worked closely with Snow to communicate the calls and make sure everyone was properly positioned. Snow taught him the ways of the force, so to speak. And now Johnston is impressing NFL staffs by showing off his knowledge of defensive schemes and principles on the whiteboard.
"Snow is amazing. We call him the Yoda, that's his nickname. He's just this old man that's a super genius," Johnson said. "We all love him. He's a stud. I know everyone there in Carolina is going to love him.
"He's going to bring the total package. He's so willing to adapt. If a new formation came out, he'd have something for it right away. All these different personnel groups. It's a complicated defense, but once you get it down, you can thrive."
Johnston and Lynch both feel they owe a lot to Rhule, Snow and that Baylor coaching staff for developing them and pushing them.
And they believe the Panthers players will soon have similar things to say.
"They've done it for the last two teams they've been with and I don't see anything being different in Carolina," Lynch said of his former coaches. "I know what they can do."