There was a natural connection through the coach's son Van Jefferson, a former Ole Miss receiver who never overlapped with Mingo in college but kept a bond as Van transferred to Florida and started his NFL career with the Rams.
Mingo gave off solid impressions early. At 6-foot-2 and 220 pounds, he had a physical frame to help him stick out in his draft class and (at the time, potentially) on Carolina's roster. At Ole Miss, he came up big after the catch and showed he was a willing blocker. Jefferson liked getting to know him in interviews.
The Panthers' second-round pick from this year's draft got on the field for the first time during rookie minicamp, and he showed his coaches what they'd hoped to see when they selected him 39th overall.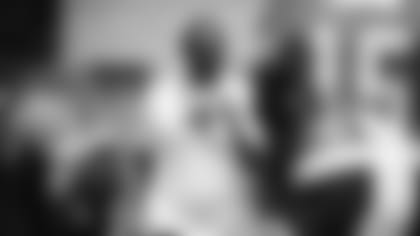 "He was everything we thought during the interview process, at the combine, and here on the 30 visit," Jefferson said. "He's intact. He's very mature for his age – very, very smart. He picked up things well. He's a fast processor. So everything right now that we saw throughout the whole process is on par with what we're seeing. Again, this kid is a self-starter."
Mingo's stats weren't particularly flashy, and he didn't break out until his last year in college when he put up 861 yards on 51 catches with five touchdowns. But he was flashy for the Rebels – setting a program record when he put up 247 receiving yards against Vanderbilt in 2022, one year after a foot injury.
Mingo said he brings a high understanding of football to the table. He knows the game, thinks fast, and reads defenses well.
He said he likes to "play mind games" with defensive backs, which may underestimate his speed and physicality. Mingo called himself "faster than most would think," the kind of player who can get open and block as well.
Jefferson said Mingo made it obvious he's putting in the work early, diving into the playbook, and studying his first pro offense.
"He's one of those kids that he can't get enough, late nights and stuff like that," Jefferson said. "He'll give you a text like, 'Hey, I need to go over this real quick.' He wants to know."
On the field, Mingo takes pride in what he can do when he gets the ball.
He said his ability to extend plays, like turning a 5-yard hitch into a touchdown, is the kind of production he feels will pair well with rookie quarterback Bryce Young.
"I feel like once I get the ball … the first person shouldn't bring me down," Mingo said. "I feel like it's always going to be hard to bring me down."
He'll share a link to Young as the second player selected by the Panthers in the same draft, and head coach Frank Reich said he saw the two already building a connection early in rookie minicamp.
Mingo and Young were on opposite sides in the SEC, with Ole Miss playing Alabama every season. Mingo never won in a game against Young, but now their progress in the NFL is tied together. And he's working to help them both improve.
"I've been on the opposite side of Bryce for the last few years, so I'm 0-2 against him," Mingo said. "It's finally a blessing to be on his side. But we just got to keep building our chemistry, just trying to help the team win. It's just keep practicing and make each other better. He's making me better. I'm making him better."
And as for Mingo, Jefferson is impressed with the early work his rookie receiver has already put in – a sign of what could be to come.
"One of the things we talk about in our room is find out before you get found out, so he's doing a lot of finding right now," Jefferson said. "So the sky's the limit for this kid. I'm just blessed to be working with him."
View photos from the Panthers' offseason workouts on Thursday.