CHARLOTTE — As long as he's been able to talk, sports have provided the soundtrack for Mick Mixon's life.
Whether it was shooting baskets under the streetlight as a child or rolling a putt in on Finley Golf Course growing up in Chapel Hill, there was always someone to call the games that were unfolding in front of him.
After this fall, he'll have a different kind of game to call — one that involves walking the woods, and tractors.
Mixon chose to retire after the coming season for the Panthers Radio Network, but he doesn't want to make a big deal of his 17-year run. He's still going to be around from time to time after the season, hosting some events and serving as a de facto ambassador for the team. But what he can't wrap his mind around yet is how it will feel when he walks away, to not have ballplayers and coaches and broadcasters and reporters around every day.
"I've tried to, but I can't get there. It'll definitely be new for me," Mixon said. "This is all I've ever wanted to do since I was a little Mickey Mixon growing up in Chapel Hill. All I've ever wanted to be is a sportscaster.
"I have no idea what it's going to feel like to not have a press box or a practice to go to or a game to call or a plane to catch. But I'm looking forward to trying to figure it out."
Given the renaissance life he's lived so far, you feel confident he'll discover it.
Mixon might describe himself as a simple sportscaster, but he's been far more than that.
He's a classic storyteller — the kind they don't make so often anymore — a raconteur even, the kind of guy who can speak extemporaneously for a tight five minutes on any topic pulled out of the ether. That can be sports, but it doesn't have to be, as his breadth and depth of knowledge extends to local history, music, or just about anything else.
"He's just so effortless, he's so smooth, so eloquent," said former Panthers quarterback and current radio analyst Jake Delhomme. "Things that aren't easy, he makes it look easy, because you see how much joy he gets from it."
"He could have been a doctor, he's already a musician, there are so many things he could have done besides radio," said Mixon's longtime teammate Jim Szoke. "He's just super smart, has that dry wit, and we can ham-and-egg it and finish each other's sentences.
"I love him as a broadcaster, but mostly he's my friend."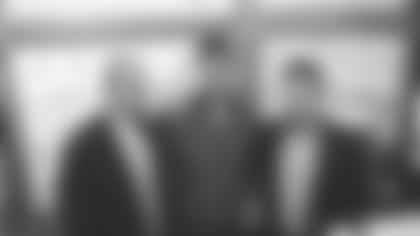 As Szoke noted, Mixon is also a drummer of some repute, having played in a couple of bands (including one with a lovely lead singer named Dawn, who now happens to be Mrs. Mixon). But after so many nights on the road, it's almost time to go home.
"It's retirement," Mixon said. "My wife and I bought some land in Alamance County. We've rejuvenated an old farmhouse, there's vegetation that needs to be cut back. There's a tractor in my future with a lot of implements, and there's a radio headset in my future to listen to the Panthers games and pull for the Panthers moving forward."
It took Mixon some time to come to the conclusion that it was time. He said he considered making his final year in the booth last year but didn't want the chilly distance of the COVID-19 restrictions to mark his final lap. He's also pretty insistent that we not talk about it in such terms, as he has no interest in a farewell tour or a rocking chair.
"I'm made extremely uncomfortable by any kind of attention," he said.
Mixon has, however, fit comfortably into the story of the Panthers for most of the last two decades. Of course, there have been classic games he's called, scenes he's set, history he's watched unfold. But mostly, he'll miss the people.
He has a special fondness for retired linebacker Thomas Davis, for a particular reason. Mixon was once emceeing an event, and when it came time for the Q and A, an audience member asked about a sensitive topic the team was dealing with at the time (the arrest and subsequent suspension of former defensive end Greg Hardy). Rather than leaving Mixon on the spot alone, Davis took the microphone and answered for him.
"And I thought, 'Thomas Davis is now my brother,'" Mixon said. "Who does that? It was so classy and cool that he did that. . . .
"Some of them feel like my children. And I love all of my children, but some of them I love more than others."
That's going to make it hard to step away, but he has another goal in mind.
At 62, Mixon's reached the age where people start thinking about retirement. And he's haunted by the fact his parents were never able to.
His parents, Forest Orion Mixon Jr. and Sandra Mixon, were killed in a commercial airline crash in Sioux City, Iowa, in 1989. They were 57 and 54 at the time, never able to reach the moment Mixon's hoping for in 2022.
His father was a chemical engineer, who wanted nothing more than to get in his workshop to build things. His mother was an artist, with many more masterpieces to create.
"A small part of the equation for me was, I watched my father contemplate retirement, the next stage of his life," Mixon said. "He so wanted to have time in his workshop to tinker around. My mom was an artist, and she so wanted to have time to just paint and just be, and they never got to do that. A small part of my motivation is I want to try to experience that next stage of life while I'm still young enough to enjoy it."
But first, there's a season to call, and he's already planning to make it a memorable one.
"My preference would be to fade into the sunset," he said. "But other than convincing Dawn Elizabeth Thomas to add my last name to hers, this gig has been the great honor of my life. There's no way I can pay the Panthers back for the faith and trust they've placed in me.
"But my colleagues and I are going to try to do that this year. We're going to try to broadcast the heck out of this season."
It sounds so natural when he says it like that, a simple story, simply told. But that's Mixon's style, and if it sounds easy, it's only because it's a talent that's been polished from his beginnings at WCGC in Belmont and WIS in Columbia, to a year calling Triple-A baseball in Maine, to his years calling games alongside Woody Durham at his alma mater in Chapel Hill.
It's what he's been doing all his life.