CHARLOTTE — Panthers tight end Tommy Tremble knew that when he was growing up outside Atlanta, there was some famous dude who lived in his neighborhood.
But considering the Braves' last World Series win happened five years before he was born, Tremble can probably be excused for not knowing all the players on that roster, even the ones in the Baseball Hall of Fame.
"What was his name, Glavine I think?" he replied when asked if he had a favorite baseball player.
Yes, Tom Glavine was pretty good at pitching, and Tremble is excited to see his hometown baseball team playing for another title. He actually bought tickets for Saturday night's Game 4, but is passing them off to family since he'll be busy getting ready for Sunday's game against the Falcons.
Tremble said he played baseball when he was a kid, but started concentrating on football in middle school. He said growing up, he had a Michael Vick jersey, and later "when I was also little" a Matt Ryan model.
Asked if he'd swap jerseys with the 36-year-old quarterback, he replied: "If he'd take my jersey, I'd 100 percent take his."
Even though he grew up 25 minutes away, Tremble said he hasn't been inside Mercedes Benz Stadium since it opened in 2017 to replace the Georgia Dome.
"I'm excited to go there and try to show out," he said.
The rookie tight end has made some timely plays this year, and credited his teammates and coaches with helping him learn on the fly how to play a bigger role.
"There's a lot, especially with the tight end position and the position I'm in; it's a lot to try to absorb," Tremble said. "I think the way my coach and teammates help me detail out, it helps me a lot. They really want me to be successful here, and I really feel like they're helping me prepare that way."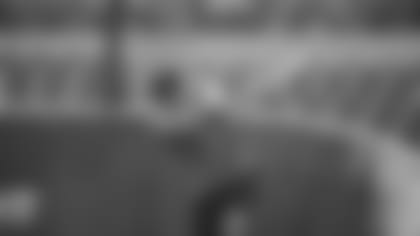 — Panthers offensive coordinator Joe Brady admitted Thursday it has been difficult seeing how his side of the ball has struggled in recent weeks, coming off a 25-3 loss at New York, which included benching quarterback Sam Darnold. 
But he also said he's trying to keep his focus forward.
"Yeah. You know, you're a competitor, so when you come out of games, you want to win the football game," Brady said when asked if he had been frustrated lately. "For a natural competitor, even when you win, you're always going to find things that you could have done better and should have done better. If you really trust in the process, you should approach it the exact same every single week. When you're not having success, it's obviously frustrating, but you can't let one week roll into the next week, roll into the next week. 
"You have to come in on Monday, figure out what it's going to take each week, and approach it like that. When you lose, you're frustrated. But you can't let the past week's frustration roll into the next one."
— The Panthers are expected to sign veteran wide receiver Willie Snead to the practice squad Friday. He was still in transit Thursday, and had to take a physical here, so he wasn't on the practice field.
Snead was on the practice squad here in 2014. Brady worked with Snead with the Saints in 2017, and likes what he can add to the group.
"Willie's extremely tough. A tough football player," Brady said. "He has a veteran presence about him. Strong hands, great route runner."
— After putting defensive tackle Daviyon Nixon on injured reserve Thursday, the Panthers have just 50 players on the 53-man roster at the moment.
They'll need spots if they want to activate anyone from the group of defensive backs Stephon Gilmore, Juston Burris, or Myles Hartsfield, though there are some other positions which could be addressed.