CHARLOTTE — Things began to look ominous even before Sunday's first snap from scrimmage.
On the opening kickoff, tight end Chris Manhertz was called for an illegal double-team block. That put the Panthers at their 10-yard line for their opening drive, not an ideal place to be against Chicago's fierce defense.
Moments later, running back Mike Davis was dropped for a 1-yard loss on the first play from scrimmage. Quarterback Teddy Bridgewater was sacked at the 1-yard line on the second. Then Bridgewater threw the first of two interceptions when his pass was batted up by cornerback Jaylon Johnson and intercepted by safety Tashaun Gipson Jr.
The four plays were a nightmare scenario for a team looking for its fourth straight win. They also symbolized something larger that lasted through the afternoon.
"I thought offensively we are just out of sync," head coach Matt Rhule said. "Way too many miscues."
Carolina knew the challenges of facing Chicago's defense. The Bears entered the week ranked No. 4 in total defense and No. 9 in points allowed. They were second in third down defense and opponent passer rating and first in opponent red zone scoring and opponent completion percentage. Plus, the club has a terrific pass rush led by outside linebacker Khalil Mack.
So the Panthers had to be sharp offensively to have a good shot at winning. But from the first drive, that just wasn't the case.
"There were times we were running routes, and guys were not where they were supposed to be, running the wrong route," Rhule said. "I just thought it was a global issue today offensively."
But it wasn't just receivers making uncharacteristic mistakes. Veteran left tackle Russell Okung was flagged for a pair of false starts.
"I can't do that. I'm 11 years in," Okung said. "That's not leading by example. I'm going to need to really work on that, make sure that I'm hearing things the right way, understanding them, and then focusing and being attentive from play to play."
The final stats illustrate the Panthers' struggles. Entering the game averaging 6.2 yards per play, Carolina finished at just 4.9 on Sunday. Chicago held running back Davis to only 52 yards on 18 carries, an average of 2.9 yards. Bridgewater finished 16-of-29 passing for 216 yards with no touchdowns and two interceptions, his 50.4 passer rating the worst of the year.
"This game will humble you, and I'm pretty sure it humbled a lot of people today," Bridgewater said.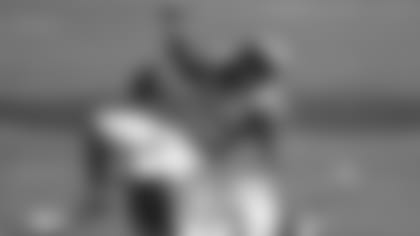 The Panthers also had three turnovers: Bridgewater's two interceptions and a Davis fumble, his first since 2016, and just his second in over 400 career touches.
"It's going to be hard to overcome the turnover battle when it's 3-1," Rhule said.
The red zone has been a consistent topic for the Panthers' offense over the last few weeks and will continue to be after they had to settle for 21- and 20-yard field goals to cap long drives in the first half. Carolina's only touchdown, a 1-yard run by Davis in the fourth quarter, was set up by a defensive pass interference penalty.
Rhule acknowledge the offense inside the 20 is "clearly an issue."
Two weeks after dismantling Arizona's top-rated third down defense, Carolina could not do the same to Chicago. The offense finished just 3-of-13 in the category.
Arguably the team's top third-down weapon, wide receiver Curtis Samuel, was inactive with a knee injury. Still, the Panthers weren't able to convert the vast majority of opportunities.
"We just have to be better on third downs," wide receiver DJ Moore said.
Part of Carolina's third down struggles had to do with Chicago's constant pressure. With locked-down coverage and a collapsing pocket, Bridgewater often had to scramble to avoid getting taken down. Bridgewater, who was sacked four times and hit at least another six times, finished with eight rushes for 48 yards, with only one carry appearing to be a designed run.
"Teddy ran the ball more than I've seen him run the ball," Rhule said. "Their pressure gave us problems at times, and like I said, (we) just could never quite get into sync."
Okung and Bridgewater both mentioned the Panthers were humbled on Sunday, noting that everyone needed to take accountability for what happened and learn from it.
"I think we have that on our team," Okung said. "I think our values are conducive with that level of servitude and care and responsibility of one doing their job."
Carolina has been pretty consistent offensively this season. But self-inflicted wounds against a Bears team that already makes things so challenging was too much to overcome.
"We were knocked off course from the opening kickoff, and it was like we never really got back on track," Bridgewater said. "We've just got to find a way when things aren't going the way we expect it to. We've just got to find a way to feed off our defense or find our own energy, and that'll take care of itself."